THIS WISCONSIN VETERANS EVENTS WEB PAGE
MAY BE OFF THE WEB BY MAY 15TH
ONLY ONE OF ITS KIND IN THE STATE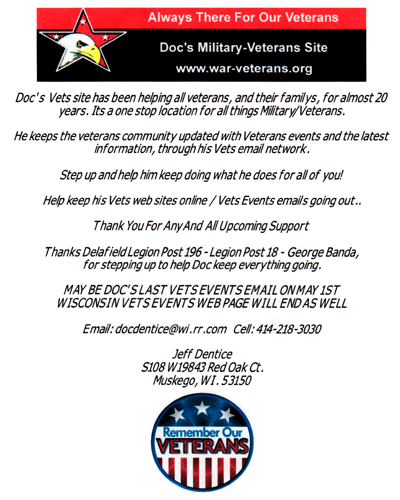 2014 Veterans Events
Have Veterans / Military Events You Would Like Posted And Promoted
Glad To Support Our Veterans.
Jeff Dentice (Doc)
414-218-3030



ARMED FORCES DAY
MAY 17, 2014


May 12-17, 2014
Events Info
NEW AFW WEB SITE
CLICK HERE
Support The Troops Ride
Saturday, May 17, 2014



Milwaukee Armed Services Committee
Halís Harley-Davidson
Harley-Davidson Museum®
Armed Forces Day Celebration and the 11th Annual Support the Troops Ride.
Gather at Halís Harley-Davidson at 9:00 a.m.
Free pancake breakfast before riding to the Harley-Davidson Museum®

CLICK HERE Print out MacArthur Memorial Week Program


July 20, 2014
Active Military and Veterans will be admitted free to Festa Italiana.
Present your valid ID at the cashier window at main gate and receive a voucher to enter the grounds.
Festa Italiana thanks you for your service.


PURPLE HEART DAY
AUGUST 7, 2014


Summerfest Grounds - Milwaukee
Saturday - Sunday, August 23rd / 24th
Free admission from 12:00 noon to 1:00 p.m.
For Active Duty Military and Veterans with ID.


VETERANS DAY
NOVEMBER 11, 2014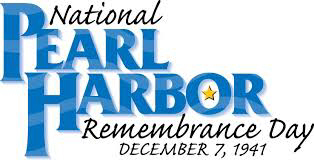 CLICK HERE to print out the flyer

Jeff Dentice will accept contributions throughout 2014.
Food items will be accepted from December 1-11, 2014
Send Jeff an Email



CLICK HERE to print out the flyer

CLICK HERE
to print out the donation form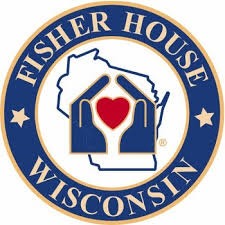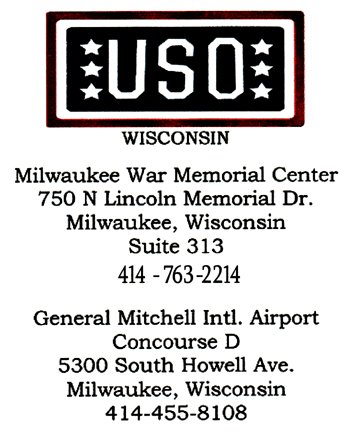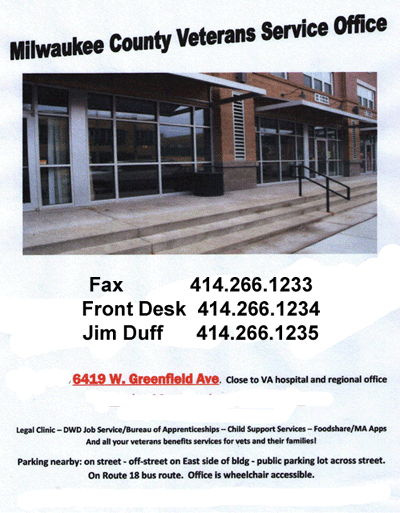 Veterans Information

Doc's Vets Calendar
Veterans-Military Reunions & Events
If you want an event posted
E-mail Doc


All National & State Events

Sites Below Created By Doc Dentice