VETERANS LEGISLATION



2014 Legislation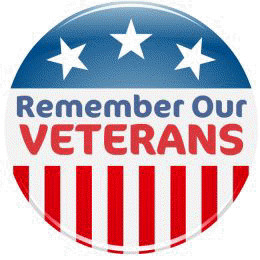 August 18, 2014
Veterans' Access Act Expands and Improves GI Bill
Although the Veterans' Access to Care through Choice, Accountability, and Transparency Act of 2014 focused
on the VA Health Care Crisis, it included two important GI Bill education benefit changes.
The first change expands the Marine Gunnery Sergeant John David Fry Scholarship to include surviving
spouses of service members who die in the line of duty on or after September 11, 2001.
The Fry Scholarship was created to honor the memory of Marine Gunnery Sergeant John D. Fry who
was killed on March 8, 2006, leaving behind his widow and three small children. The benefit originally only
provided Post-9/11 GI Bill benefits to eligible children.
The change expands eligibility to surviving spouses as well as their children. The scholarship covers up to
36 months of education benefits. Surviving children have until their 33rd birthday to take advantage of the benefit.
In addition, children under age 18 cannot use this benefit even if they have completed high school. Surviving
spouse eligibility expires either on the 15th anniversary of the servicemembers death or if the surviving spouse remarries.
The second Post-9/11 GI Bill change requires state-operated colleges and universities to provide in-state tuition to
veterans and eligible dependents, (who are using the GI Bill) in order for the school to remain eligible to receive GI Bill education payments.


President Signs New VA Health Care Law
August 11, 2014
President Barack Obama signed the bill to improve access to health care for veterans and reform the
Department of Veterans Affairs. The $16.3 billion bill will enable VA to recruit more doctors, nurses and
other medical providers to care for the surging number of veterans returning from wars in Iraq and Afghanistan.
Veterans on long VA waiting lists and those who live far from VA facilities may see private doctors or go to
community health centers, Department of Defense facilities and Indian Health Centers. The new law will also
pay for leasing 27 new clinics in 18 states and Puerto Rico.
VA HEALTH CARE LAW DETAILS
VA to Issue Choice Card
August 11, 2014
Stars and Stripes reports that the Department of Veterans Affairs plans to issue a 'Veteran's Choice Card.'
The new card will buy care from non-VA care providers for veterans if they face long waits for VA care --
defined initially as more than 30 days -- or if they reside more than 40 miles from VA care. The intent is to
eliminate VA patient wait lists. The new card will be an informational insurance card to be presented to non-VA
health care providers to identify the veteran and to verify eligibility for episodes of care that, sometime earlier, were
arranged through and approved by a VA care coordinator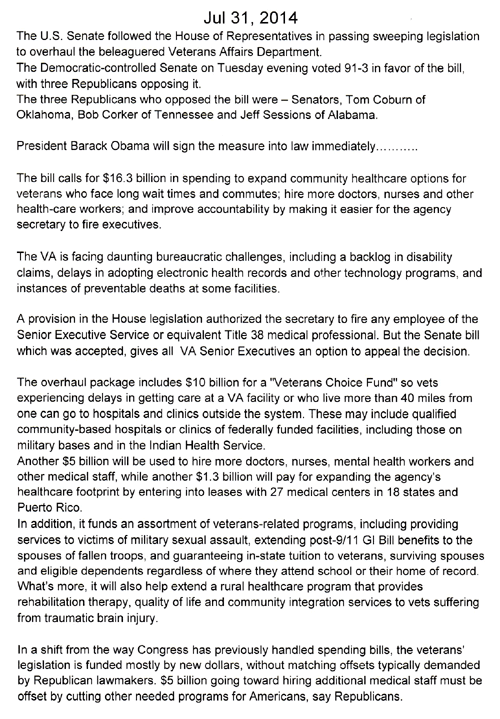 June 6, 2014
. Senate VA Bill Moves Forward: On Thursday, Senate VA Committee Chairman Bernie Sanders (I-VT) and Sen. John McCain (R-AZ)
laid out a bipartisan bill that broadly outline solutions to VA healthcare scheduling and access deficiencies.
The VFW is pleased that the Senate has reached a compromise that will begin to improve access to care and
rebuild veterans' confidence in VA. We urge both the Senate and the House to move quickly on this and other measures
to provide timely and quality care for veterans. As this bill moves through the process, we will keep you informed.
The text of the bill is not yet available, but the provisions discussed would:
* Authorize a two-year program that allows veterans to seek medical care outside the VA if they cannot get an appointment
within a reasonable time (based on a VA wait time metric), or who reside 40 miles or more away from a VA hospital or clinic.
* Authorize 26 new major medical facilities leases in 18 states.
* Provide an expedited hiring authority for VA to employ more doctors, nurses and other medical providers.
* Permit the VA Secretary to fire employees immediately without pay, but allow employees to appeal to the Merit System
Protection Board within one week of dismissals.
* Create independent commissions on capitol planning and scheduling.
* Improves access and care for victims of Military Sexual Trauma.
* And provide in-state tuitions for veterans at public colleges and universities, which is VFW-supported legislation that has already cleared the House.

House Passes Bill with Pay Raise Intact
Week of May 26, 2014
The U.S. House of Representatives passed a $601 billion defense bill that would spare cuts to military benefits
next year, despite a veto threat from the White House and major areas of disagreement in the Senate.
The House voted 325-98 in approving its version of the National Defense Authorization Act for Fiscal Year 2015, which
sets policy goals and spending targets for the fiscal year beginning Oct. 1. The bill would give troops, with the
exception of general and flag officers, a 1.8 percent pay raise.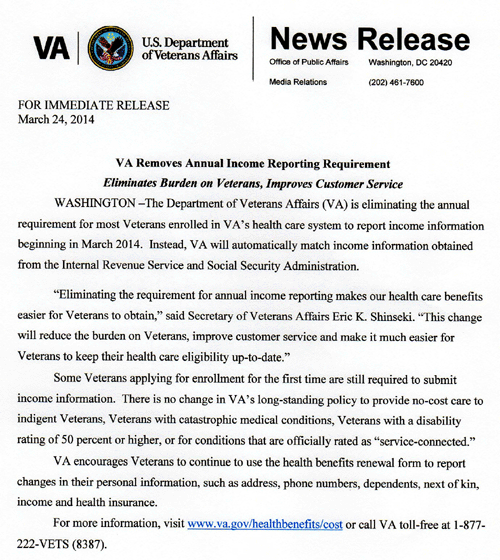 February 6, 2014
Vet Groups See Budget Cuts as Broken Promise
The2015 budget proposal, released by the Pentagon on March 4, calls for an increase in out-of-pocket
health care costs for active duty service members and retirees. The plan would scrap the current trio of available
Tricare options in favor of one consolidated plan. Other portions of the proposal call for a decrease in Basic
Allowance for Housing allotments for active duty families, an annual active duty pay raise cap of 1 percent, and
cuts to the commissary that could force stores to raise their prices by about 20 percent.
The changes to Tricare will have a particularly major impact on beneficiaries with disabilities.
. Currently, active duty families with disabled children, for example, regularly pay $1,000 a year
out of pocket for care. Under the new proposal they will be forced to pay up to $5,000.
"When you add all those [cuts] up, you're looking at almost $6,000 out of pocket for an O-3 and $5,000
for an E-5," said Mike Barron, MOAA's deputy director of government relations. "That's significant
on a military family, it really is on their ability sustain their families."

Military Retiree COLA Cap Repealed
February 24, 2014
President Obama signed the law on Feb. 15th which excludes current retirees and servicemembers from the 1 percent Retirement COLA reduction.
The law does not exclude servicemembers who joined on or after January 1, 2014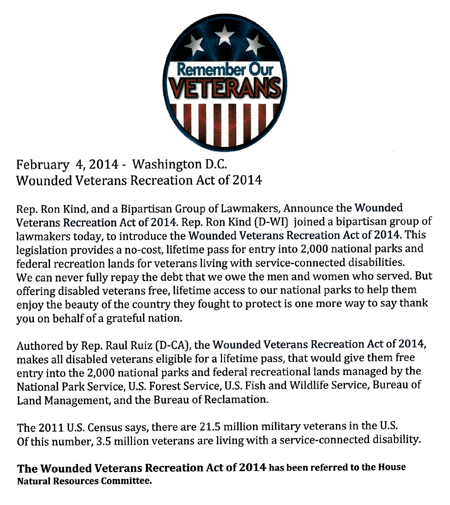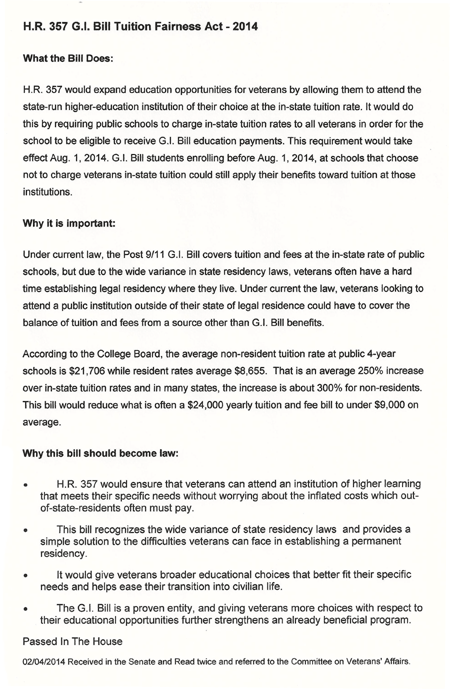 Comprehensive Veterans' and Health Benefits Package !
January 23, 2014
Senate Veterans' Affairs Committee Chairman, Bernie Sanders introduced the Veterans Health and Benefits and
Military Retirement Pay Resotration Act of 2014. The bill, S. 1950, is the most comprehensive veterans legislation to be introduced in decades.
If signed into law, this sweeping legislation would expand and improve health care and benefit services to all generations
of veterans and their families. Most notably, it would expand the current caregiver law to include all generations of
veterans and provide advance appropriations to ensure monthly compensation and pension as well as
education payments are protected from future budget battles.
The bill also offers in-state tuition protection for recently transitioned veterans, improves access to mental
health and treatment for victims of sexual assault in the military, and authorizes construction of more than 20
Community Bases Outpatient Clinics to serve veterans in rural and remote communities.
Action Needed: Call or email your Senators today. urge them to pass S. 1950, the Veterans Health and Benefits
and Military Retirement Restoration Act of 2014. Tell them that this historic legislation will provide vital services
to all generations of veterans and their families. Remind them that past, present and future veterans have
earned these services this legislation will provide.
The VA has decided that Vietnam veterans who qualify under Agent Orange exposure, will now be covered for strokes.
There are a range of diseases and conditions already approved for such exposure.
Vets can contact their VA benefits office or local Service officer...................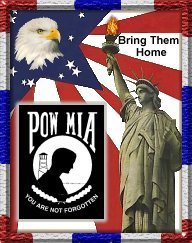 Department of Veterans Affairs
Secretary Robert A. "Bob" McDonald
PENDING CONFIRMATION
ANNOUNCED 6/30/2014
http://www.va.gov
114th Congress
Senate Veterans Committee's
Chairman Bernie Sanders
Rockefeller IV, John D. (WV)
Murray, Patty (WA)
Brown, Sherrod (OH)
Tester, Jon (MT)
Begich, Mark (AK)
Blumenthal, Richard (CT)
Hirono, Mazie (HI)
Richard Burr (R - NC)
Isakson, Johnny (GA)
Johanns, Mike (NE)
Moran, Jerry (KS)
Boozman, John (AR)
Heller, Dean (NV)
114th Congress
House Veterans Committee's
Chairman Jeff Miller
Doug Lamborn (CO)
Gus M. Bilirakis (FL), Vice Chairman
David P. Roe (TN)
Bill Flores (TX)
Jeff Denham (CA)
Jon Runyan (NJ)
Dan Benishek (MI)
Tim Huelskamp (KS)
Mark Amodei (NV)
Mike Coffman (CO)
Brad Wenstrup (OH)
Paul Cook (CA)
Jackie Walorski (IN)
Michael H. Michaud (ME)
Corrine Brown ( FL)
Mark Takano (CA)
Julia Brownley (CA)
Dina Titus (NV)
Ann Kirkpatrick (AZ)
Raul Ruiz (CA)
Gloria Negrete McLeod (CA)
Ann McLane Kuster (NH)
Beto O'Rourke (TX)
Tim Walz (MN)

The Committee's mailing addresses are:
House Committee on Veterans' Affairs
335 Cannon House Office Building
Washington, D.C. 20515
U.S. Senate Committee on Veterans' Affairs
412 Russell Senate Building
Washington D.C. 20510
HOUSE VETS AFFAIRS COMMITTEE:
http://veterans.house.gov/
SENATE VETS AFFAIRS COMMITTEE:
http://veterans.senate.gov/
Wisconsin
Assembly Vets Committee
Senate Vets Committee
Illinois
Senate Vets Committee
House Vets Committee
Iowa
Senate Vets Committee
House Vets Committee
Minnesota
House Vets Committee
Senate Vets Committee