VETERANS LEGISLATION



2017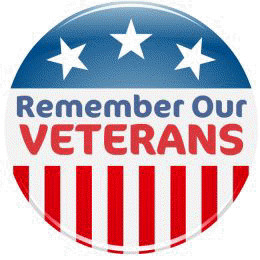 Tax Fairness Act to Reimburse Veterans
January 09, 2017
For several decades, the government knowingly and wrongfully taxed the severance packages of many veterans who
suffered service-ending combat disabilities. The total amount taken from around 14,000 veterans is estimated to be
about $78 million. Both houses of Congress unanimously passed H.R. 5015, the Combat-Injured Veterans Tax Fairness
Act of 2016. Once the bill is signed into law, the veterans will be allowed to file an amended tax return to get their money.
The bill will also keep this from happening in the future. For more information,
Read the bill on the Congress.gov website.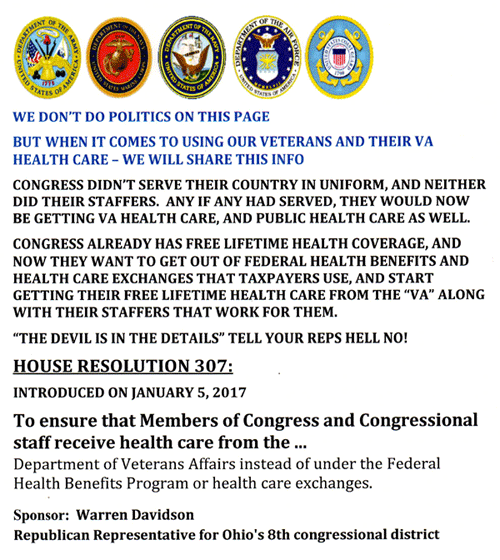 LAST LEGISLATION PASSED IN 2016
Jason Simcakoski Memorial Opioid Safety Act
Tomah VA Wisconsin
June 25, 2015
The bill sponsored by Sen. Tammy Baldwin, D-Wis., calls for an update to guidelines for the use of opioids for
pain management, new safety training for health care providers, and real-time reporting and tracking of veteransí
narcotic prescriptions. Sen. Shelly Moore Capito, R-W.V., cosponsored the bill.
Sen. Johnny Isakson, R-Ga., chairs the Veterans Affairs Committee and said it will consider the bill to make
sure it does not duplicate any narcotic safety measures already in use by the VA.
If this new bill duplicates VA safety measures already in place, then those safety measures never worked.
The new regulations are supported by the VFW, American Legion, Paralyzed Veterans of America, Vietnam Veterans of America and others.
H.R. 2591:
To amend the Internal Revenue Code of 1986 to allow taxpayers to designate overpayments of tax
as contributions, and to make additional contributions to the Homeless Veterans Assistance Fund, and for other purposes.
Referred to Committee on Jun 1, 2015
This bill was assigned to a congressional committee on June 1, 2015, which
will consider it before possibly sending it on to the House or Senate.
June 1, 2015
House Passes 'Brave Act' to Help Vets Get Jobs
The House of Representatives has unanimously approved a bill, titled the Boosting Rates of American
Veteran Employment Act or 'BRAVE Act.' The BRAVE Act authorizes the Department of Veterans Affairs
to give preferences to companies that employ veterans on a full-time basis in awarding contracts for the procurement
of goods and services. The legislation would allow the VA to bar employers who willfully misrepresent the
veteran status of employees from contracting with the VA for five or more years. The BRAVE ACT
has been referred to the U.S. Committee on Veterans' Affairs for further action.
S.1463
May 26, 2015
This bill passed in the Senate on May 22, 2015 and goes to the House next for consideration.
(Referred to House Committee).
Veteran resides more than 40 miles (would be calculated based on distance traveled) from a VA medical facility
including a community-based outpatient clinic, that is the closest such medical facility to the
residence of the veteran that is able to provide to the veteran the hospital care or medical services that the veteran needs;
Modification of distance requirement for expanded availability of hospital care and medical services for
veterans through the use of agreements with non-Department of Veterans Affairs entities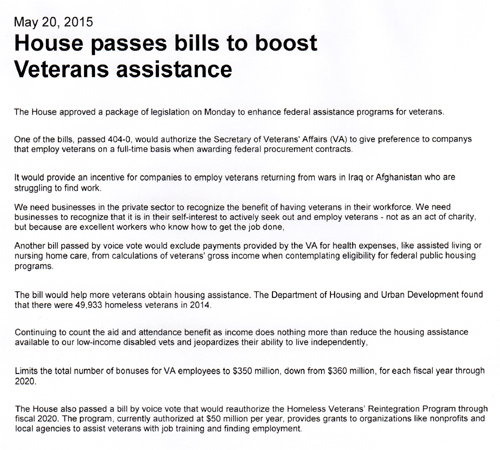 May 18, 2015
H.R. 474: Homeless Veteransí Reintegration Programs Reauthorization Act of 2015
Last Action: On motion to suspend the rules and pass the bill Agreed to by voice vote.
This bill passed in the House on May 18, 2015 and goes to the Senate next for consideration.
Introduced: Jan 22, 2015
Status: Referred to Committee on Jan 22, 2015
To amend title 38, United States Code, to provide for a five-year extension to the homeless
veterans reintegration programs and to provide clarification regarding eligibility for services under such programs.
This bill was assigned to a congressional committee on January 22, 2015, which will
consider it before possibly sending it on to the House or Senate as a whole.
The House Majority Leader indicated on May 14, 2015 that this bill may be considered in the week ahead.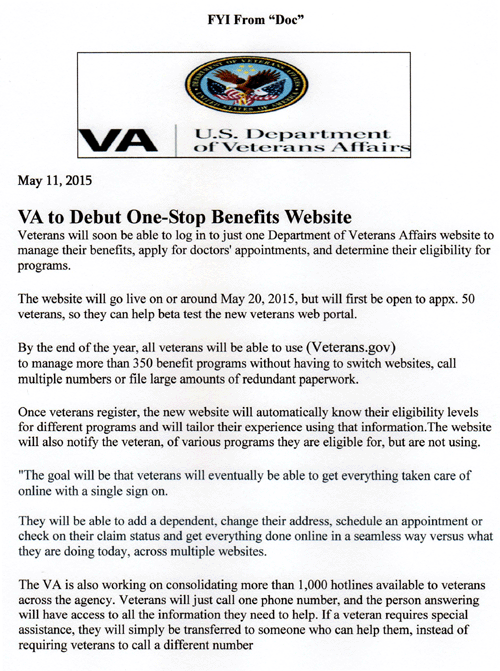 House Passed Veterans Bills
Long-Term Care Veterans Choice Act (H.R. 294)
Introduced by Rep. Jeff Miller
3/2/2015
H.R. 294 authorizes the Secretary of Veterans Affairs (VA), during the three-year period beginning on
October 1, 2015, to transfer a veteran for whom the Secretary is required to provide nursing home care to a medical
foster home that meets VA standards pursuant to a contract or agreement with the VA, at such veteran's request.
Requires such veteran to agree, as a transfer condition, to accept VA home health services.
Status: Pending in Senate (House Passed 3/2/2015)
Legislation Enacted into Law
The Clay Hunt SAV Act (H.R. 203)
2/12/2015
Introduced by Rep. Tim Walz
H.R. 203 would increase access to mental health care and capacity at VA to meet demand, improve the
quality of care, boost accountability at VA, and develop a community support system for veterans.

Senators Seek VA Probe to See if Mishandled Claims Systemic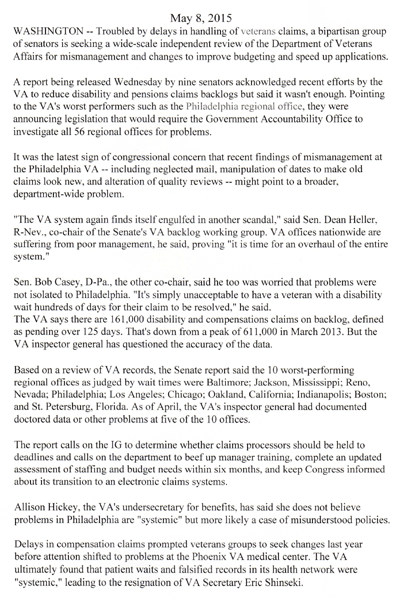 SAV Act Reintroduced in 114th House and Senate
The Suicide Prevention for American Veterans (SAV) Act, a bill that the VFW strongly supported last
Congress, has been reintroduced in both the House and the Senate. This critical legislation would begin to
address the crisis of veteransí suicide by allowing VA to hire more psychiatrists, collaborate with local non-profit
mental health organizations, and expand successful peer support networks. Taken up late last year, the SAV Act
failed to pass due to Senate procedural difficulties, despite broad bipartisan support. The VFW will work closely
with the billís sponsors, Representative Tim Walz (D-Minn.) and Senator Richard Blumenthal (D-Conn.) to
ensure that the SAV Act remains a top priority for the 114th Congress.

Veterans Choice Program
January 05, 2015
The Choice Program is a new, temporary benefit allowing some veterans to receive health care in their
communities rather than waiting for a VA appointment or traveling to a VA facility. A veteran must have been enrolled in
VA health care on or before Aug. 1, 2014, or be eligible to enroll as a recently discharged combat veteran within five
years of separation. Also, a veteran must also meet at least one of the following criteria: (1) be told by his/her local
VA medical facility that he/she will need to wait more than 30 days from his/her preferred date or the date medically
determined by his/her provider; (2) the veteran's current residence is more than 40 miles from the closest VA
health care facility; or (3) the veteran faces a geographic challenge that presents a travel hardship. To use the Choice
Program, veterans must obtain preauthorization from the national call center at (866) 606-8198. For more information,
visit the Veterans Choice Program website at www.va.gov/opa/choiceact/.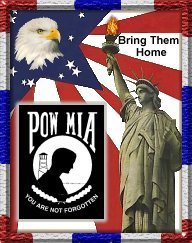 Department of Veterans Affairs
Secretary Robert A. "Bob" McDonald
http://www.va.gov
The Committee's mailing addresses are:
House Committee on Veterans' Affairs
335 Cannon House Office Building
Washington, D.C. 20515
U.S. Senate Committee on Veterans' Affairs
412 Russell Senate Building
Washington D.C. 20510
HOUSE VETS AFFAIRS COMMITTEE:
http://veterans.house.gov/
SENATE VETS AFFAIRS COMMITTEE:
http://veterans.senate.gov/
Wisconsin
Assembly Vets Committee
Senate Vets Committee
Illinois
Senate Vets Committee
House Vets Committee
Iowa
Senate Vets Committee
House Vets Committee
Minnesota
House Vets Committee
Senate Vets Committee