Looking For Our Donut Dollies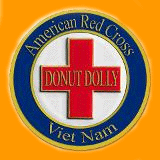 MUSIC PLAYING ON THIS PAGE

Who Are These Dollies ?
Email Doc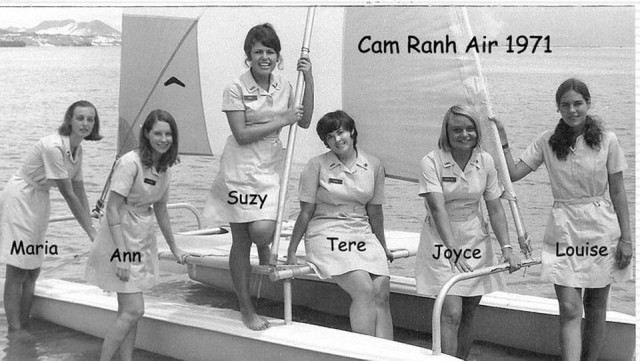 Know who these other Dollies are ? Email Doc
picture from 2/502.org
SRAO Red Cross girls at Cam Ranh AFB in Vietnam 1969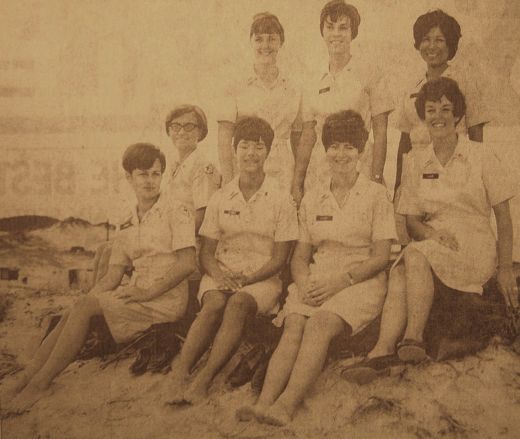 These "Donut Dollies" were stationed in the "war zone."
In 1968, they posed on the Cam Ranh Bay beach in Viet Nam for a group picture.
One of these pictures ended up being used in the TV show "China Beach"
Mary Laraine "Larry"Young (front row 2nd from the right)
Know who these other Dollies are ? Email Doc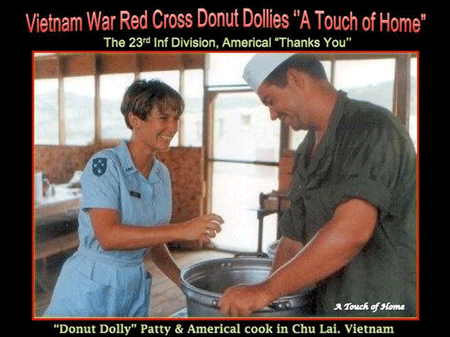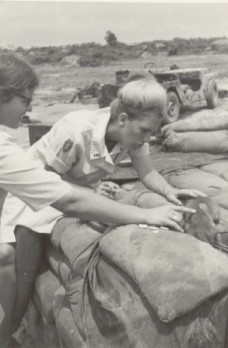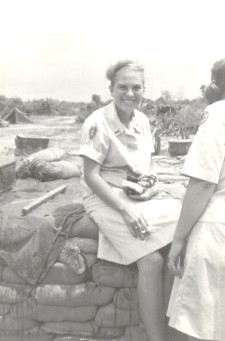 Who is this Dollie in the photo on the right in CuChi, Vietnam?
Photo on the left is The blonde is Christine Campbell and Sharon Cummings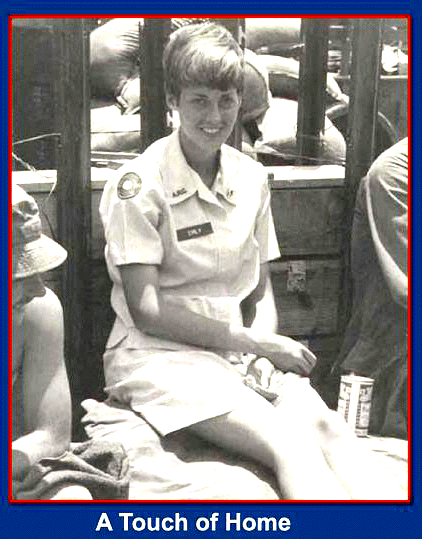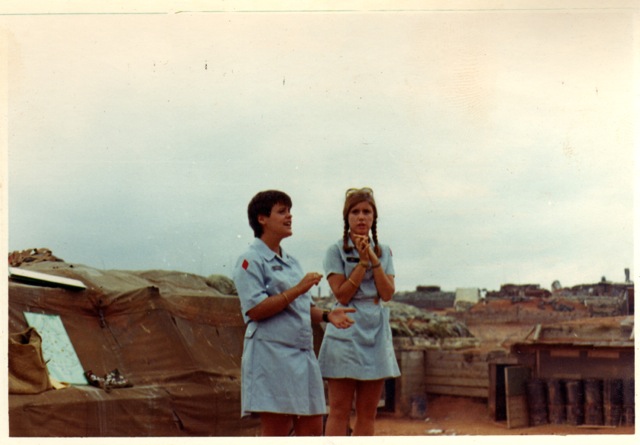 B 1/61 inf, 1st bde 5th ID (Mech) Christmas 1970.
C-2 FSB just south of Con Thien (A-4)
Photo from - Dan Phariss 2nd plt, B 1/61
Could the Dollie on the left be Susan (Bradford) McLean?
Who is the Dollie on the right??
Email Doc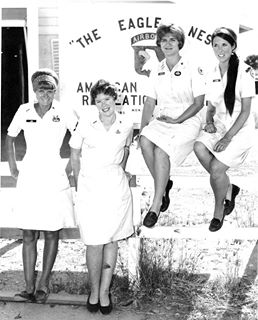 Pic from Don F. Pratt Museum-101st Airborne Division (Air
Know who these Dollies are? Email Doc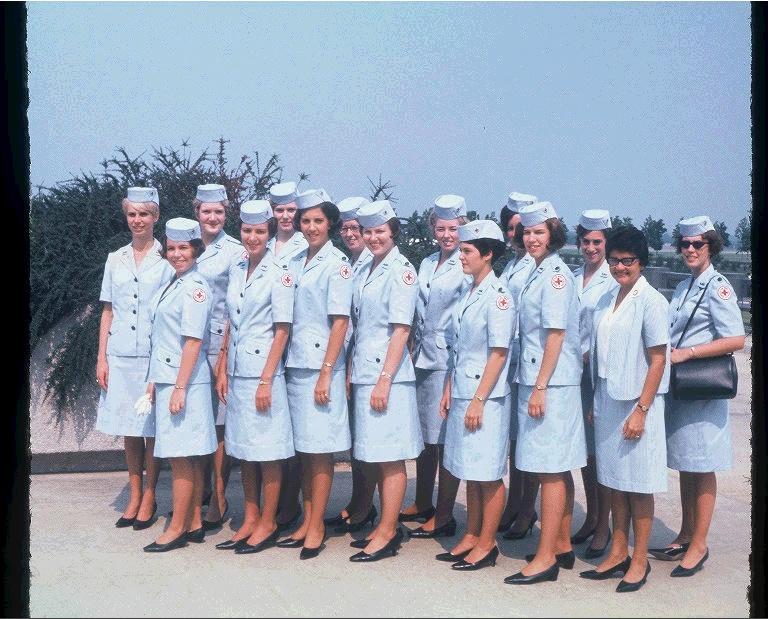 Korea Dollies - Class Of July 1967
Back row far right is Joyce Herman
Front row left to right
Elizabeth Ann Story, Anne Mears, ?, Rita Babraitis from Boston, Susie Heinzelman, ?, ?, last on right-Maryann ?
Washington, DC - Training Class
Know who these Dollies are ? Email Doc
.....Submitted by Betty Denney, Red Cross Donut Dollie, Korea 1967/68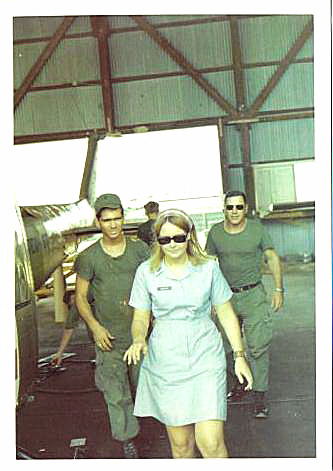 Know who this Dollie is ? Email Doc
Photo in 1970 while 165th Transportation Company (ADS) was at
Bien Hoa Airbase in the 145th CAB area.
I cannot remember her name, but do remember her being very nice.
PAT COLLINS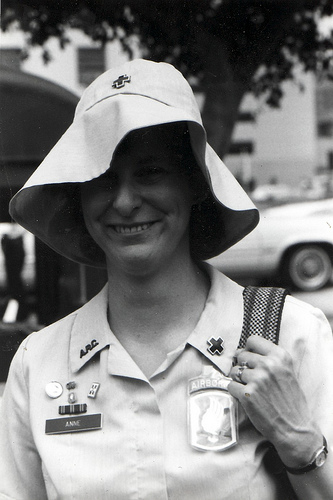 Know who this Dollie is ? Email Doc
Doc
Found your Dollies site-Thank You
I too was in Vetnam 1967-1968. 25th div. 1/5 Mech.
Maybe you can help me find a Dollie from Cu- Chi????
She was a Donut Dollie from Washington state from a little town called Camas.
She grew up just down the road from there. We spent about 3 hours talking about old swiming holes,
cruising the D.Q. down town. At the time it made me forget about the war.
I would love to find her and thank her. Joe (Red) Burdick

Dollies Fashion Show In Vietnam
Know who these Dollies are ? Email Doc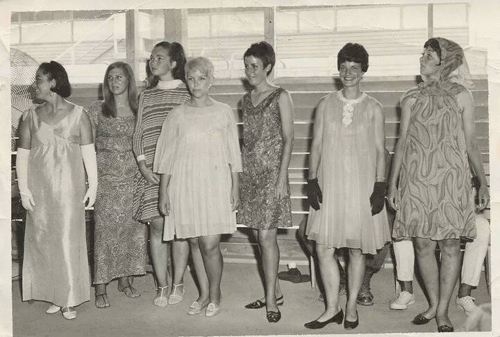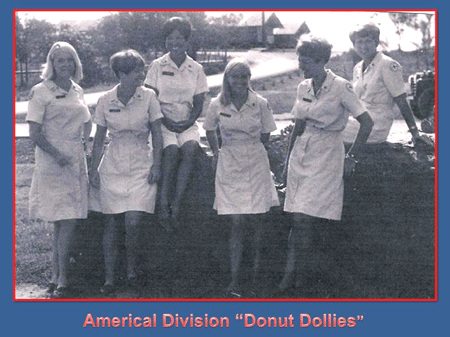 Know who these Dollies are ? Email Doc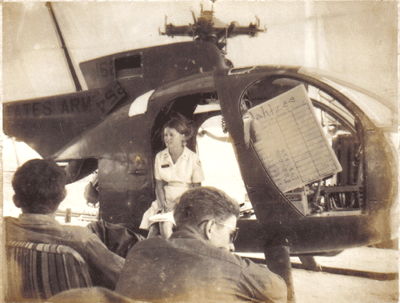 Know who this Dollie is ? Email Doc
Also contact Joe Gwizdak
HHC, 3rd Bde, 101st ABN Div.
(Thunder Aviation) at Camp Evans in Northern I corps
Summer of 1969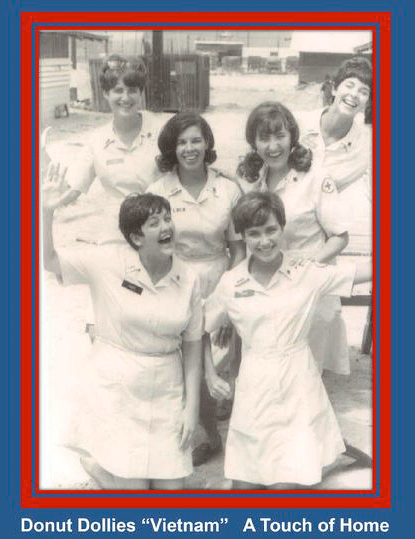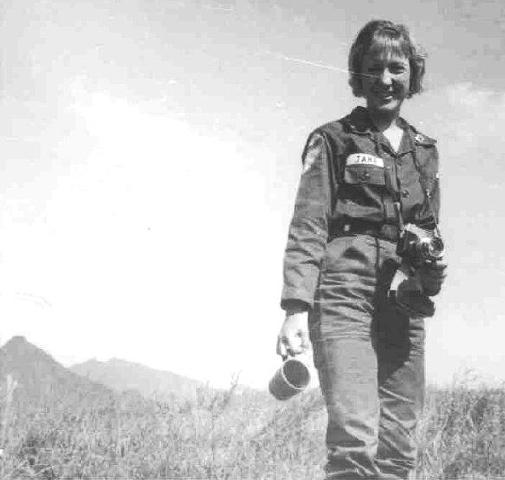 An unknown Dollie from 1964 by the name of Jane. This can be read on her shirt ......
Submitted by Sp4 Charles D Townsley, A Btry 2nd BN 19th Arty, 1st Cav Division.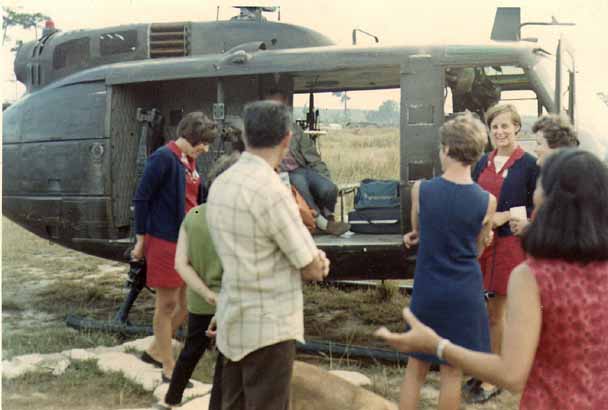 MACV- Ferry's Dollies around Vietnam
(Christmas in Vietnam, 1969)
by Jim Schueckler
Know who these Dollies are ? Email Doc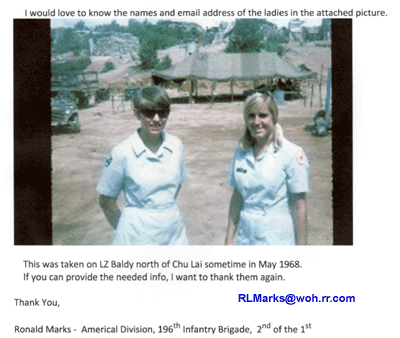 Dollie Pam Harvey is on the right.
Jim Caccavo American Red Cross Photographer, Vietnam, 1968-70
Took Pams picture in Nam and it ran as a poster for the Red Cross.
Know who the Dollie on the left is? Email Doc
Also email Ron -email is on the picture.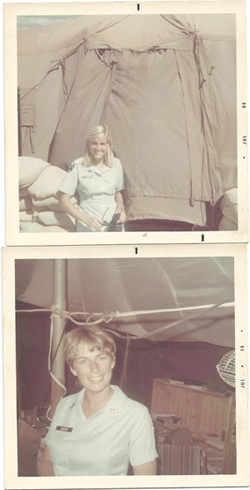 Patti ?



25th Division Donut Dollies
OKAY DOLLIES - IF YOUR IN THE PICTURE ABOVE - Email Doc
Picture taken by Sp4 Richard Fitzpatrick 1/5 Mechanized Infantry, 25th Infantry Division in Cu Chi.
MARGOT IS 3RD FROM THE RIGHT IN SUNGLASSES IN THE PICTURE ABOVE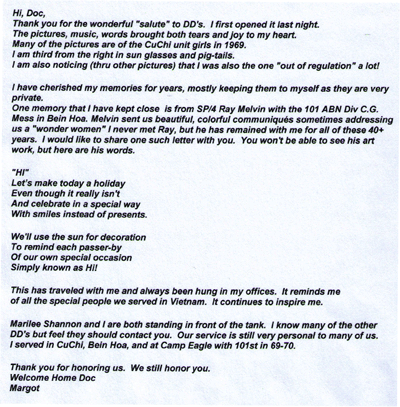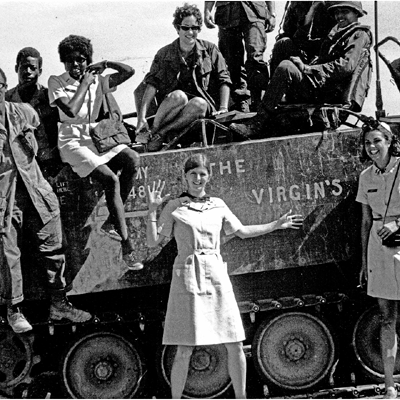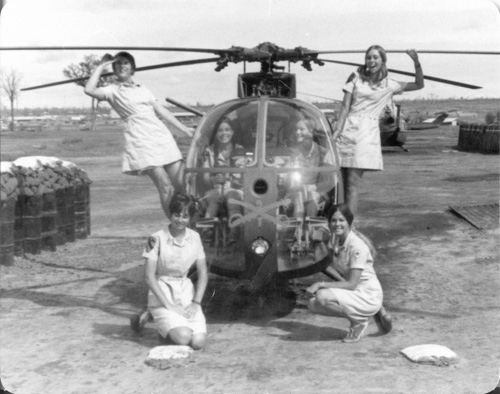 Doc would like to know who these Dollies are, and where the picture was taken.
Know who these Dollies are ? Email Doc
.
Bryan Smothers would like to credit the person who shot this original, pay them for usage rights, and get a high resolution image.
He is writing a book on his Vietnam experience and wants to use this photo.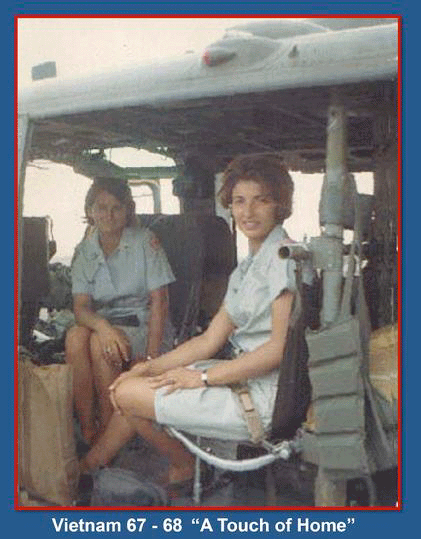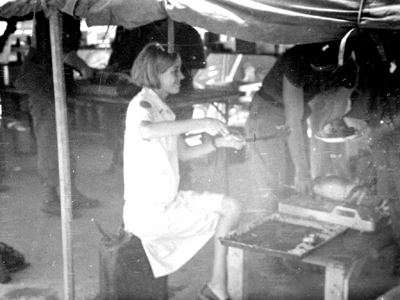 Does anyone know who this Dollie is?
Phu Loi, Vietnam January of 1967
Know who this Dollie is?Email Doc
Also contact
Sgt E5 Terrence M.Fitzgerald
He Talked with this Dollie in Nam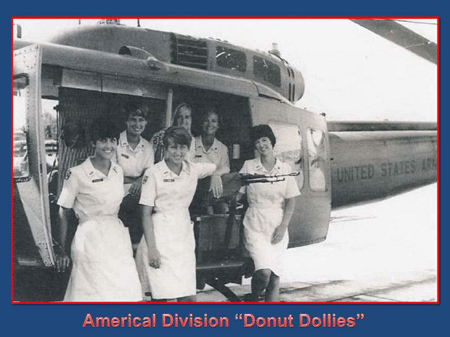 Know who these Dollies are ? Email Doc

Robert Park is asking who these Dollies are?
Know who these Dollies are ? Email Doc
General Fred Weyand welcoming two Donut Dollies to CuChi in 1966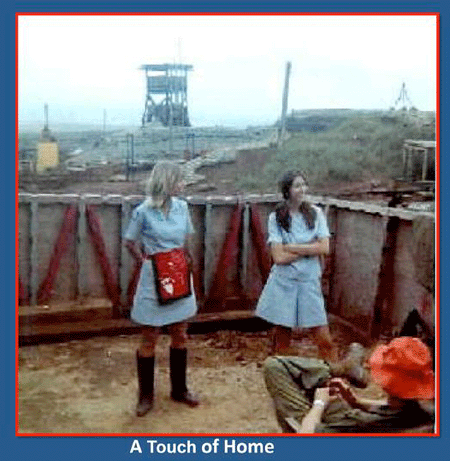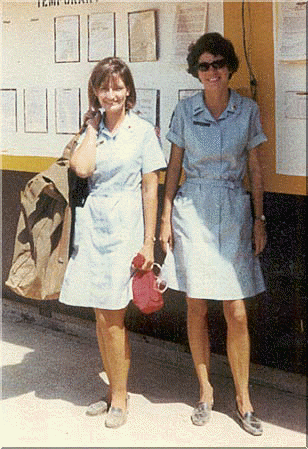 "Donut Dollies" (names unknown)
Phu Bai base camp
Know who these Dollies are ? Email Doc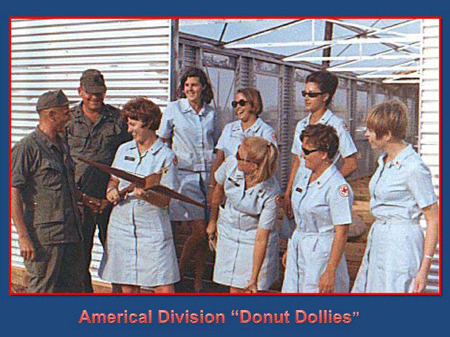 PLEIKU SUPPORT BASE FEB. 1968
Rita Babraitis the dollie holding the crossbow served in Vietnam for ten months.
Know who these Dollies are ? Email Doc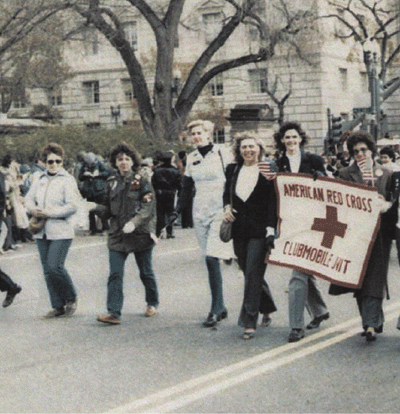 DOLLIES AT WASH.D.C. PARADE
Know who these Dollies are ? Email Doc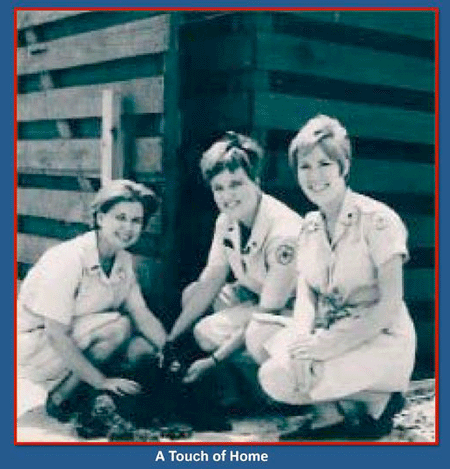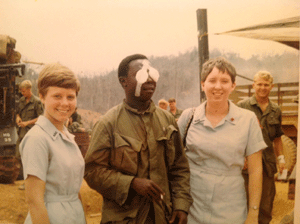 I was with A Troop 3/5 Cav. Supporting the 101st, in 1969.
This picture was taken of one our guys with these Dollies
Betsy Tanner is on the left)
Who is that dollie on the right?
Email Doc
Camp Evans area north of Hue City - 101st Dollies
Wanted to pass it on after running upon your website.
Tom Mlynarski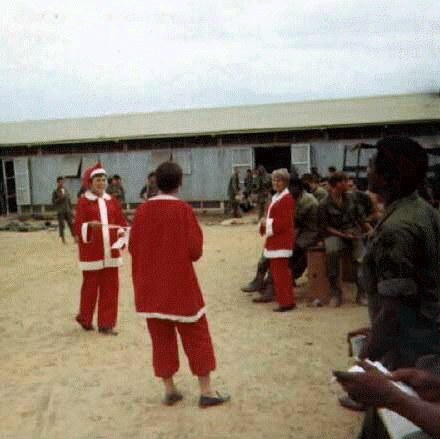 9th Infantry, Dong Tam, Christmas 1968
Know who these Dollies are ?Email Doc
Betsy Tanner is on the left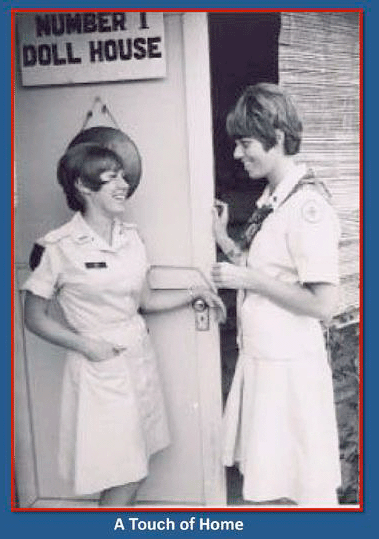 Doc - I Am Looking For My Dollie Friends
I served from '68-69 in Qui Nhon and Bien Hoi. I would so love to get in touch with old friends.
Thank you,
Mary D.. Coster (Marydiane Coon)
2key2@comcast.net
Looking for Donut Dollie Ginnie Berryman - 68/69 Danang, Vietnam
Rob Wood - Las Cruces, New Mexico
robwood@wwdb.org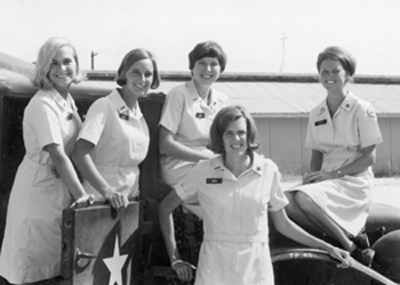 2nd 502 Vietnam Tribute To The Donut Dollies
Know who these Dollies are ? Email Doc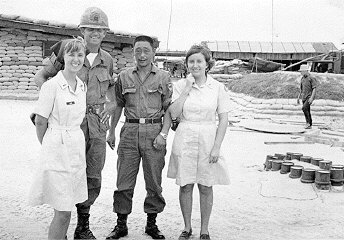 15th Field Artillery Regiment
C/7/15 Captain with ROK commander and USO "donut dollies"Vietnam
Know who these Dollies are ? Email Doc
Photo: Dave Holdorf

Do you know the Donut Dollie in this picture I took in Vietnam in December 1970 on Fire Support Peggy?
This dollie is Marcie, she is also in the 2nd picture belo on the right.
Email Bob Anders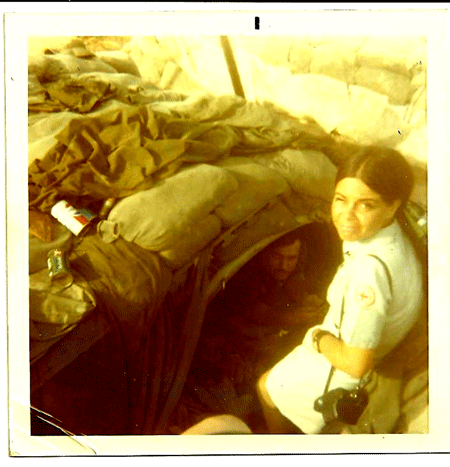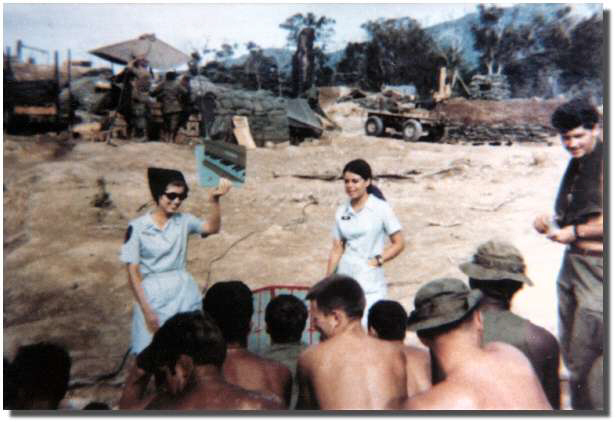 E Company - 2/7 Marines - Vietnam
Know who these Dollies are ? Email Doc
Photo by Phil Adams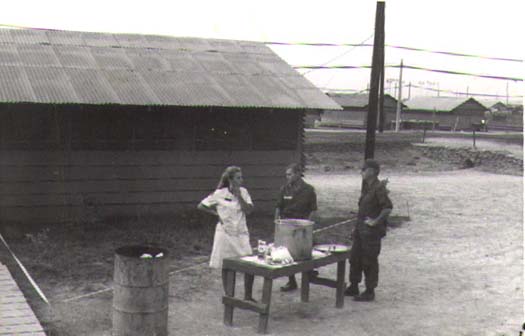 "Donut Dolly" Cu Chi Vietnam '66'
Know who this Dollie is?Email Doc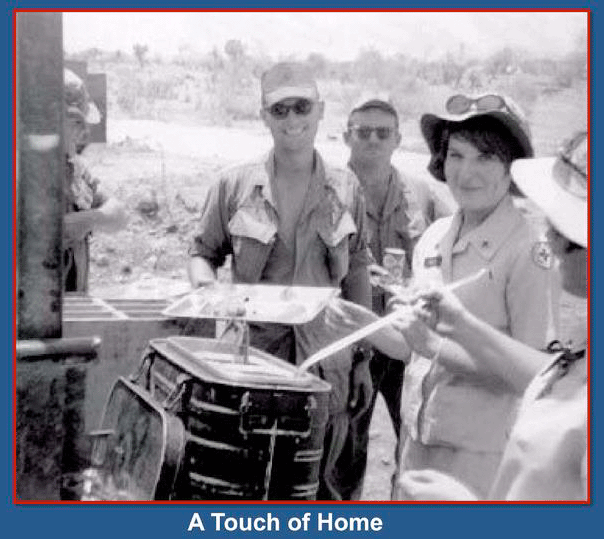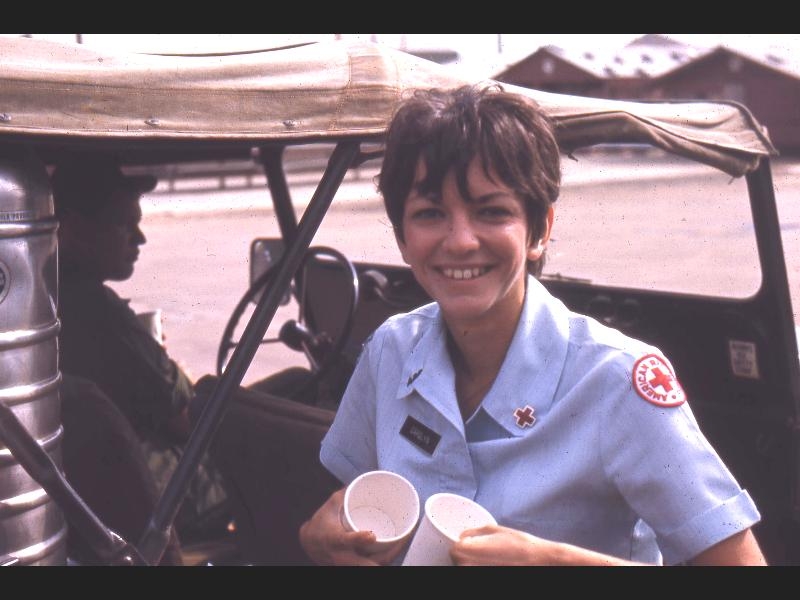 This Dolly named Carolyn visited my Marine squadron at ChuLai in 1969. I hope she can be
found to thank.These women provided a great boost to morale and I will always be grateful to them.
Know who this Dollie is? Email Doc
L. Wiseman
USMC RVN '69-'70 San Jose,CA
6yiamlky@sbcglobal.net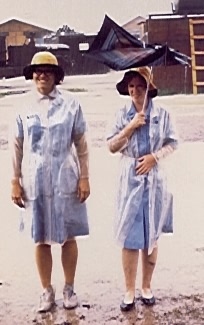 Donut Dollies at Cu Chi, Vietnam
Spring 1967, Monsoon Season
Know who these Dollies are? Email Doc
Photo by Sharon Cummings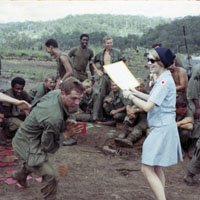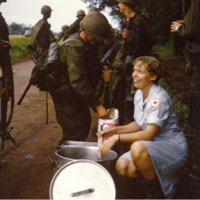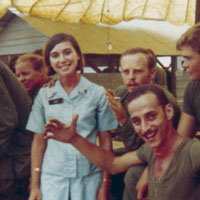 Know who these Dollies are ? Email Doc


Sites By Jeff Dentice (Doc)