Wisconsin
1998-2013
Freedom Fighters
Last & Final National POW/MIA Balloon Launch
16 Years - Largest Launch In The U.S.A.
ANY OTHER BALLOON LAUNCHES AFTER 2013 IN WISCONSIN
WOULD BE A LOCAL EVENT - NOT NATIONAL
DOCS WAS THE LAST FREEDOM FIGHTERS LAUNCH IN WISCONSIN
DOC STARTED WISCONSINS 1ST LAUNCH IN BACK IN 1998
THE EVENT IN WIND LAKE, WI. IN 2014, WAS THEIR 1ST LOCAL EVENT.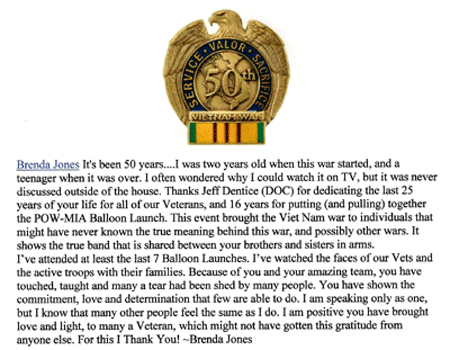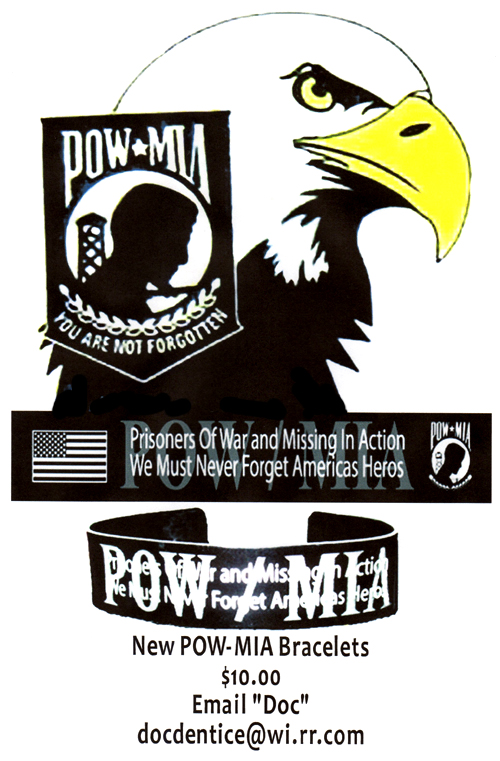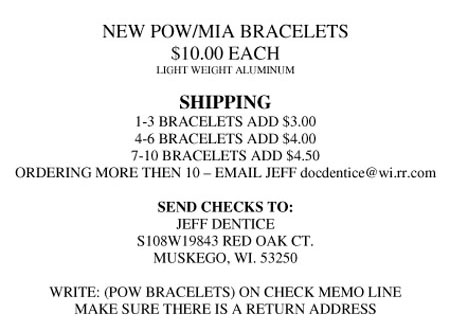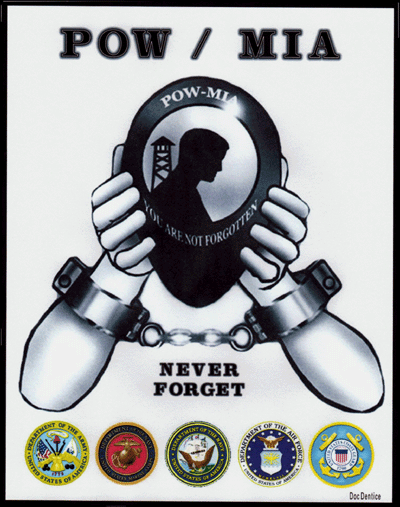 A Nites POW/MIA Watch! 52nd Fighter Wing
September 18-19, 2014
http://youtu.be/8g2i-6StV3o


American POWs Kept Behind After the Korean War
What Happened to Them?
Korean War Personnel Fact Sheet

BOWE IS COMING HOME
PRISONER EXCHANGE MAY 31, 2014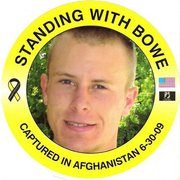 PRISONER of WAR FOR 3 YEARS
SGT (promoted in absence) Bowe Bergdahl has been a prisoner of war since June of 2009.


Hagel Orders Shakeup of MIA Accounting Agencies
Stars and Stripes | Feb 21, 2014 | by Jon Harper WASHINGTON
In the wake of numerous reports of misconduct and poor management practices by personnel
charged with recovering and identifying the remains of missing servicemembers from past
conflicts, Secretary of Defense Chuck Hagel has ordered the Pentagon to come up with a plan
to consolidate all Defense Department assets into a single, more accountable entity that will
manage all personnel accounting resources, research and operations.
On Thursday, Hagel directed Michael Lumpkin, the Under Secretary of Defense for Policy, to
deliver the plan to him within 30 days, Pentagon Press Secretary Rear Adm. John Kirby told reporters.
In a memo obtained by Stars and Stripes, Hagel said Lumpkin's action plan should propose ways to:
Maximize the number of identifications.
Improve transparency for families.
Reduce duplicative functions.
Establish a system for centralized, complete, fully accessible personnel case files for missing personnel.
In the memo, Hagel suggested he is considering making wide-ranging changes in areas such as:
Civilian and military personnel policies.
Contracting and acquisition policies.
Statutory and regulatory authorities.
Facilities.
Budgets.
Procedures.
Oversight of laboratory operations.
"This is a top priority for the department," Hagel said.
The initiative follows embarrassing revelations and unflattering reports about Joint POW/MIA
Accounting Command and the Defense POW/Missing Personnel Office, the two agencies
with primary responsibility for recovery and identification efforts.

Wisconsin 2014 POW-MIA Recognition Day Rally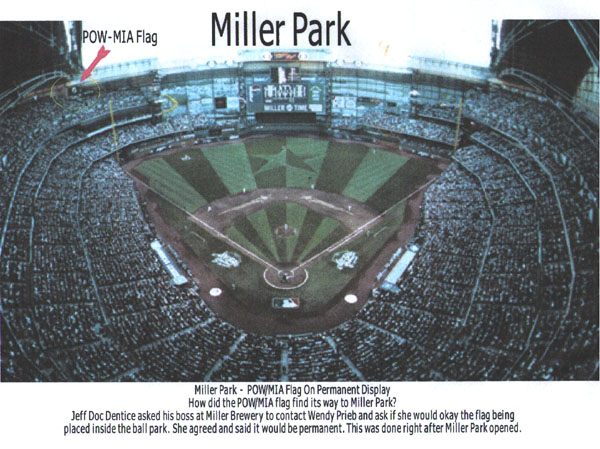 59 Possible Live POWs In Vietnam
19 New POWs still held in Vietnam
"Defense Department files contain evidence that at least 59 Americans were -- or may have been --
taken prisoner and their precise fate is still unclear. This includes the 20-30 not officially acknowledged by
Vietnam in 1973. This represents the minimum number of possible live POWs today."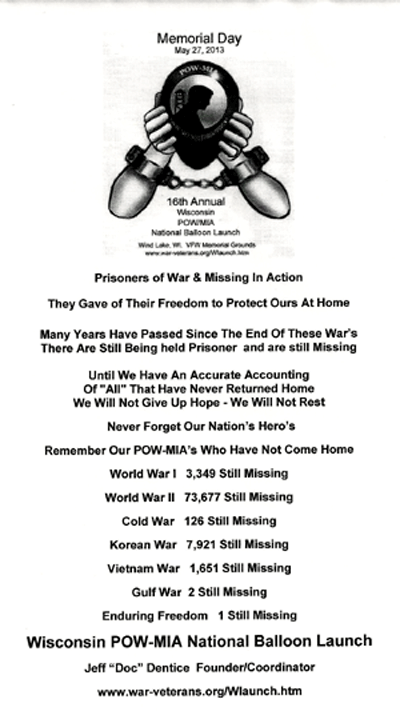 Wind Lake,Wisconsin - POW/MIA Balloon launch
Check Out The Video's......Click Here.....
American officials believed from the earliest days of the armistice that concluded the Korean War without a formal peace treaty in July 1953 that the Chinese and North Koreans withheld a number of U.S. POWs, possibly in retaliation for U.S. refusal to repatriate those Chinese and North Korean POWs who chose not to be returned to their home country out of fear of retribution.
Gen. Mark W. Clark, the American commander of U.S.-led forces during the final stages of the Korean War, wrote in a 1954 account that "we had solid evidence" that hundreds of captive Americans were held back by the Chinese and North Koreans, possibly as leverage to gain a China seat on the U.N. Security Council.
Over time, however, U.S. officials muted their concerns, while periodically pressing the Chinese in private. Publicly, the Pentagon's stance today is that China returned all the U.S. POWs it held.
On June 1, 1951, Captain Harry Cecil Moore, an Air Force Pilot during the Korean War, was shot down by enemy fire in North Korea.

Unaccounted For
POW/MIA
WWII - 73,690
Korean War - 7,910
War Cold War -126
Vietnam War - 1,677
Gulf War - 2
Iraqi Freedom - 1
Enduring Freedom - 1
Total - 83,462
Wisconsin's
Doc's 6th & Final Wisconsin POW-MIA Balloon Launch
Wisconsin POW-MIA Launch Video
Launch Video-Missing Man Table Ceremony

Check out the Wisconsin POW-MIA Balloon Launch Video




CLICK ON THE LOGO ABOVE

"And The Waiting Goes On"
NOW PLAYING ON THIS SITE
Written By James Purtell-VietnamVet-Wisconsin
Sung By Mark Brinkman-Wisconsin
This Poster & Song
Contact:
James Purtell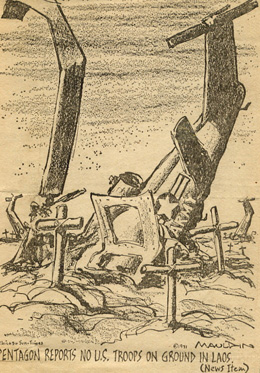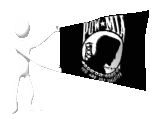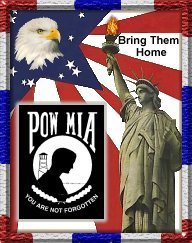 CALL TO ACTION
H.Res 111

We've set up a web page providing you with the text of H.Res 111, a contact list for
Congressional Representatives, with email links and fax numbers.
There is also a sample letter. Use it, change it or write your own letter.
This information may be accessed from our website. Follow the links.

Text of H.Res 111 visit
www.nationalalliance.org/legis/hres111.htm
Contact List for Congressional Representatives
www.nationalalliance.org/legis/110congress.htm
Sample Letter
www.nationalalliance.org/legis/sample.htm
Seven Reasons We Need H.Res 111
www.nationalalliance.org/legis/reason.pdf
Documents Supporting the Case for H.Res 111
www.nationalalliance.org/legis/documents.pdf
Make sure you contact your congressional representative,
asking them to co-sponsor H.Res 111.
H.Res. 111 – To establish, in the House of Representatives a Select Committee on POW/MIA Affairs. Introduced January 30, 2007
by Congressman Peter King (R-NY), H.Res 111 calls for a select committee to "conduct a full investigation of all unresolved matters relating
to any United States personnel unaccounted for from the Vietnam era, the Korean conflict, World War II, Cold War Missions, or Gulf War, including MIA's and POW's."
The Senate Select Committee on POW/MIA Affairs concluded in 1993 that; "There is evidence, moreover, that indicates the
possibility of survival, at least for a small number, after Operation Homecoming...."
Isn't it time we find out what happened to that "small number" and address the "unresolved matters" relating to our POW/MIAs
Since the last congressional hearings were held in 1996, much new information has surfaced regarding the mis-handling and
suppression of POW/MIA information. A former analyst with the Defense POW/MIA Office, provided this information along with many
other disturbing details requiring Congressional attention. Specifically, he detailed a report referred to, in house, as the "185 Report,"
This report discussed the possibility that as many as 185 American POWs were alive as late as 1976. During the same time frame the
Joint Casualty Resolution Center (JCRC)concluded their own study. They found the possibility
existed that as many as 57 American servicemen might be alive.
In March 2006, memos written by a former Defense Intelligence analyst while serving as an investigator with the Senate Select
Committee on POW/MIA Affairs were discovered. These memos detailed the Vietnamese admission that some 19 servicemen listed as
died while missing were in fact captured. These servicemen survived in captivity for varying lengths of time, one by Vietnamese admission
survived three years. The committee never addressed this matter. In an interesting side note, 10 of the nineteen servicemen Vietnamese
official acknowledged "survived into captivity" are among the 57 our own (JCRC)concluded might still be alive.
In February of 2005, the Joint Commission Support Directorate, the investigative arm of the U.S./Russian Joint POW/MIA Commission
concluded; "Americans, including American servicemen, were imprisoned in the Soviet Union."
This is but the tip of the iceberg, requiring congressional attention.
It is time to address the volumes of new information available on POW/MIA matters from World War II, Korea, Cold War, Vietnam and the Gulf.
Co-Sponsors Are Needed For H.Res 111 NOW
We ask you all to contact your congressional representatives and request that they co-sponsor H.Res 111.
We've posted a list of all 435 congressional representatives on our web site, along their phone and fax numbers.
There is a sample letter linkl below.
Use it, as is, alter it to make it more personal, or write your own letter.
It's time for Congress to take another look at the POW/MIA issue.
Make sure you contact your congressional representative, asking them to co-sponsor H.Res 111.
Contact List for Congressional Representatives-http://www.nationalalliance.org/legis/110congress.htm
Sample Letter You Can Use-http://www.nationalalliance.org/legis/sample.htm
1,677Americans are still missing and unaccounted for from the Vietnam War:
Vietnam - 1,304 Laos - 332 Cambodia - 59;
Peoples Republic of China territorial waters - 7.
Jen Bauer
http://www.powmiaff.org


DOC
With the help of all of your team in
Milwaukee, Wisconsin, this event has been one of our most successful in
reaching folks about the issue and helping to keep the issue alive.
On behalf of the Executive Board and Membership of the POW/MIA Freedom
Fighters, we would like to present you with this Special Recognition Award for
Exceptional and Continual Service Above and Beyond on Behalf of our
POW/MIA's. This award was created especially for you all by our board members.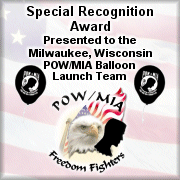 To: Jeff Doc Dentice
Dear Doc,
I don't know if you remember ex-POW Col. Ted Guy, but back in 1998 when we first came up with the
idea of getting communities to do a POW/MIA Balloon Launch, we got a lot of heat from POW/MIA
activists balking at the idea. But Col. Guy told me to hang in there and to get this event going. He felt it
was a great way to keep this issue alive. With the help of all of your team in Milwaukee, Wisconsin, this
event has been our Largest & most successful in reaching folks about the issue and
helping to keep the issue alive.
On behalf of the Executive Board and Membership of the POW/MIA Freedom Fighters, we would like to
present you with this Special Recognition Award for Exceptional and Continual Service Above
and Beyond on Behalf of our POW/MIA's.
Thanks to all of you that made this happen, the Milwaukee, Wisconsin POW/MIA Balloon Launch has
been one of our oldest POW/MIA events, having participated since day one in 1998, and has become
one of our largest launches, reaching folks that never knew about the issue.
We want to personally thank all of you that have participated since day one, and including those that
have participated in this last POW/MIA Balloon Launch on Memorial Day 2004:
This award is not given lightly. In fact, as a member of the POW/MIA Freedom Fighters,
you and your team, are our very first recipients.
Thank you again for another job well done!
Keep up the great work!
God Bless!
Jen Bauer
President & Founder, POW/MIA Freedom Fighters


Vietnam POW exhibit opens at Air Force museum
DAYTON, Ohio (AFPN) -- Visitors can get a rare glimpse into the lives of prisoners of war through
a dramatic new exhibit at the National Museum of the United States Air Force.
The exhibit, titled "Return with Honor: American Prisoners of War in Southeast Asia," located in the
museum's Modern Flight Gallery, is now open to the public.
Visitors enter the exhibit next to a reproduced doorway to the "Hanoi Hilton," the name given by Americans to Hoa Lo Prison.
Photographs, videos, dioramas and artifacts tell the story of prisoner torture, political exploitation,
filthy living conditions and endless attempts at communist indoctrination.
Visitors can look inside re-created, life-size prison cells for an up-close picture of POW living conditions. Several artifacts, including
handmade games, rings, cigarette cases and clothing that were created by the prisoners during their confinement, also are on display.
"We are extremely honored to have an exhibit that pays tribute to the courage and bravery exemplified by these POWs," said museum
director retired Maj. Gen. Charles D. Metcalf. "The POW story is one that ignites emotion and this exhibit will give visitors
a greater understanding of the inhumane conditions the POWs endured."
The exhibit also features a Son Tay prison camp rescue raid display. Although the raiders in November 1970 found that the prison camp
did not hold any POWs, the raid proved a success in other ways. A daring raid so close to Hanoi showed that the United States had
the will to carry out exceptional operations to ensure POW well-being. POW morale soared on account of the raid.
The exhibit also highlights the story of U.S. forces' final combat in Southeast Asia, which occurred in May 1975 when the American cargo
ship SS Mayaguez was seized by the Cambodian Khmer Rouge navy while it was in international waters. Featured in this display are a
life ring from the Mayaguez and a beret worn by one of the pararescuemen who participated in the operation.
The National Museum of the United States Air Force is located on Springfield Pike, six miles northeast of downtown Dayton. It is open 9 a.m.
to 5 p.m. seven days a week (closed Thanksgiving, Christmas and New Year's Day).
Admission to the museum and parking are free. For more information about this and other exhibits at the museum, please call (937) 255-3286, Ext. 302.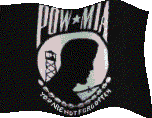 "POW-MIA FLAG"
"IS HANGING HIGH AT MILLER PARK IN MILWAUKEE"
Still Hanging High
The New Miller Park Stadium in Milwaukee Wisconsin
is flying the POW-MIA flag in left field. When "Doc" asked
Ms. Wendy Selig Prieb the owner of the Milwaukee Brewers
if she would do this for our POW-MIAS she said she would
get back to me. Well she did and had A custom huge POW-MIA banner
made and hung in the stadium. Her email to me a weeks ago telling me it was
a done deal was more then I could have imagined. The Veterans in
Wisconsin send a Proud Salute to Ms. Prieb for going the eatra mile. I can
only hope that all the stadiums across the country will follow
her lead in making sure that our Nation's Hero's will never be forgotten....
Thank's Wendy!
You've made this Vietnam Medic A believer.
Jeff Doc Dentice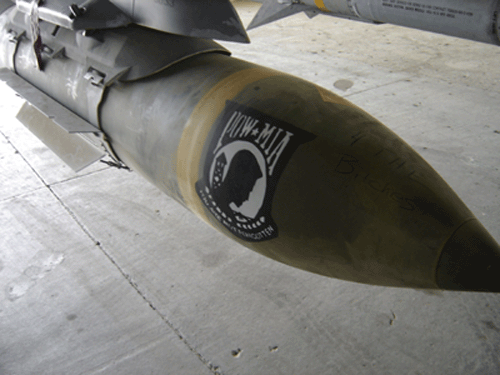 Photo taken while on their tour in Iraq last fall at Balad AFB in the middle of the Sunni Triangle.
I'm pretty sure that the F-16 that was carrying the bomb was with his squadron,
the Black Widow Squadron from Hill AFB in Ogden, Utah


POW/MIA Hour
With/ Rod Utec
4:00pm Central
Every Sunday Afternoon



LISTEN LIVE


Loss Coordinates: 103441N 1063728E
Status (in 1973): Killed/Body Not Recovered
Category: 5
Aircraft/Vehicle/Ground: UH1C
Other Personnel
In Incident: none missing
REMARKS:
On 3 September 1968, Sgt. Paul R. Frazier was the crew chief aboard a
UH-1C helicopter (hull number 66-66613) that was participating in a
combat mission near Saigon. As the Huey flew low over the hotly
contested countryside, it was struck by hostile ground fire, crashed and
exploded on impact approximately 5 miles north of Can Duoc and 10 miles
south of Saigon, Quang Nam Province, South Vietnam.
Numerous hamlets and villages of various sizes surrounded the area of
loss. It was also laced with rivers, canals, waterways and rice fields. There
were two primary roads running south from Saigon that bracketed the
crash site. One was located 1 mile west of the helicopter's wreckage, and
the other was 3 miles east of it.
Search and Recovery (SAR) operations were immediately initiated and
American ground forces inspected the crash site within 4 to 8 hours of the
crash. With the exception of Sgt. Frazier, the remains of the rest of the
personnel aboard the Huey were recovered. Those remains were
transported to a US military mortuary in Saigon where they were later
identified and returned to the men's families for burial.
The crash site was inspected thoroughly on 7 and 8 May 1973 by a Graves
Registration team from the Joint Casualty Resolution Center (JCRC) who
confirmed the identification of this helicopter as being Sgt. Frazier's
aircraft. No remains were found in or around the crash site during this
search. At the time this SAR operation was terminated, Paul Frazier was
listed Killed in Action/Body Not Recovered.
On 29 June 1973, nearly 5 years after his loss and 6 months after the end
of US involvement in the war, JCRC personnel determined that for Paul
Frazier "no remains were recoverable as his remains were destroyed by
explosive ordnance, aircraft fire or removal from site by other means."
Further, JCRC recommended that no further operations be planned to
recover Sgt. Frazier unless new information became available and that the
case be closed.
Over the years several reports have been received by US government
agencies pertaining to the location of remains that might relate to Sgt.
Frazier; but to date no positive correlation has been made. Likewise, no
remains have been recovered or identified as his.
There is no doubt Paul Frazier died in the loss of his Huey. However, by
JCRC's evaluation of his record there is a good possibility that his body
was removed from the wreckage by either local villagers or Communist
forces and buried.




Panel 45W Line 32
I DID THIS RUBBING OF PAULS NAME AT
THE 15TH ANNIVERSARY OF THE WALL
NOVEMBER 11,1997
VETERANS DAY


Vietnam War: U.S. Military Casualties, 1956-1998
about Paul Reid Frazier
Name: Paul Reid Frazier
Birth Date: 11 Mar 1949
Death Date: 3 Sep 1968
Gender: Male
Age: 19
Race: Caucasian
Home City: Milwaukee
Home State: Wisconsin
Religion: Lutheran (also Missouri Synod)
Marital Status: Single (Spouse Not Listed)
SSN/Service #: 16890183
Citizen Status: U.S.
Death Date: 3 Sep 1968
Processed Date: Nov 1968
Casualty Country: Republic of Vietnam (South Vietnam)
Casualty Type: Hostile - Killed
Casualty Reason: Aircraft Loss/Crash Not at Sea
Casualty Air: Helicopter Air Casualty - Other Aircrew
Body Status: Body Not Recovered
Service Branch: Department of the Army