Wisconsin
1998-2013
Freedom Fighters
Last & Final National POW/MIA Balloon Launch
16 Years - Largest Launch In The U.S.A. & 12 other countries
BALLOON LAUNCHES AFTER 2013 IN AMERICA
WOULD BE LOCAL EVENTS - NOT NATIONAL
DOCS LAST LAUNCH, WAS THE FINAL FREEDOM FIGHTERS EVENT IN THE U.S.A.
DOC STARTED WISCONSINS 1ST LAUNCH IN BACK IN 1998 AT WOODS NATL. VETS CEMETERY
THE LAUNCH OF RED/WHITE/BLUE BALLOONS IN WIND LAKE, WI. IN 2014, WAS JUST A LOCAL EVENT.
Doc Gives His Final Salute At His 16th and last POW-MIA Balloon Launch.
Was A True Honor To Keep America Remembering Our Prisoners Of War/Missing In Action
Thank You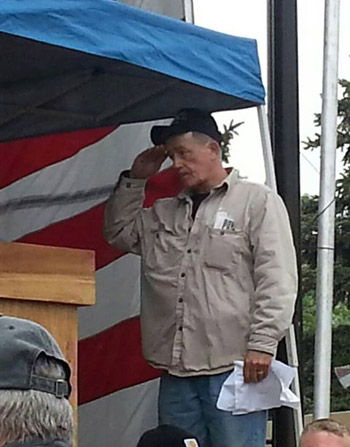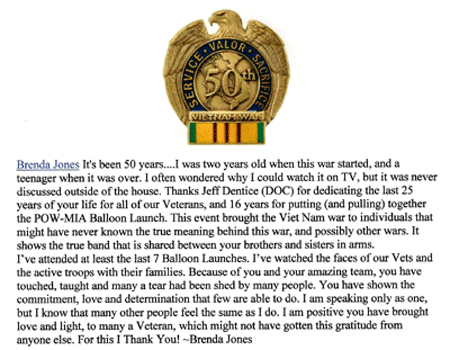 Click On The Logo Above
Jeff Doc Dentice - POW/MIA Wisconsin National Balloon Launch
Wisconsin's
2017 POW-MIA Recognition Day Rally

POW/MIA
WWII
73,624

Korea
7,883

Cold War
126

Vietnam
1,642

OEF / Others
6

Total
83,281



Click Here
Wisconsin Vietnam POW/MIA 40 Tribute By Jeff Doc Dentice


Wisconsin POW-MIA National Balloon Launch
Doc's Last Launch
May 27, 2013
THANKS TO ALL MY WONDERFUL VOLUNTEERS & SPONSORS
50 degree's Cloudy - Cold
At 10am the Volunteers began preparing for Docs 16th and final
POW/MIA Balloon Launch. Balloons were being filled and the volunteers
were all in good spirits. Ceremonys began at 2:45pm and a large crowd
was on hand to see the Tribute.
Thank You to all the Volunteers for being there for me all these year.
There were many tears flowing through the crowd as Doc talked about our POW/MIA's
and what it has meant for him for the past 16 years.
The wind was kickin butt, and looks like the balloons were headed for Minnesota and beyond.
If so, that would be the 1st time ever, that they headed West.
Remembering those who have fallen and those who are still POW-MIA
Thats what this event was all about.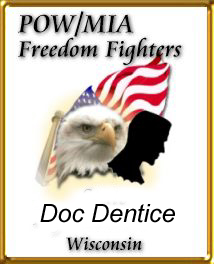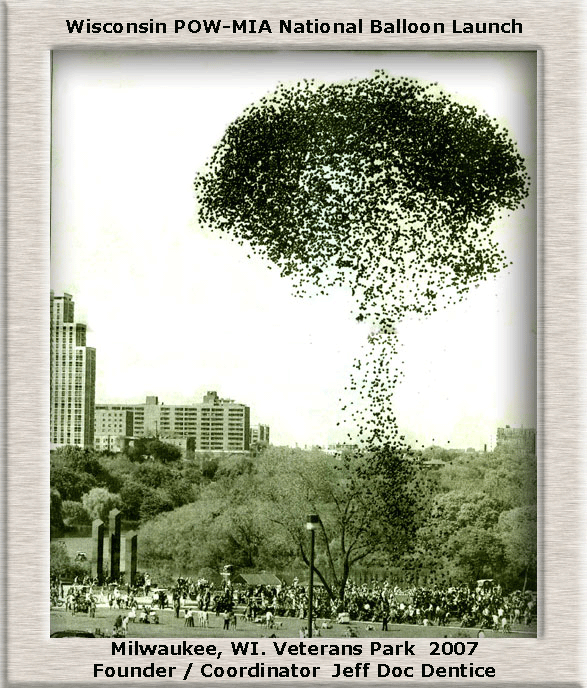 10TH ANNIVERSARY
WISCONSIN POW-MIA NATIONAL BALLOON LAUNCH
25,000 BALLOONS - LARGEST LAUNCH IN THE COUNTRY
PART I

PART I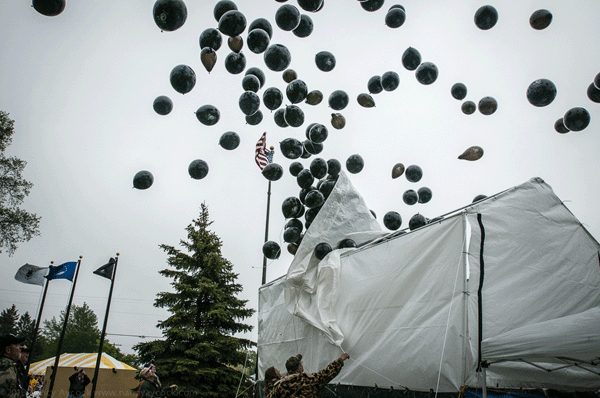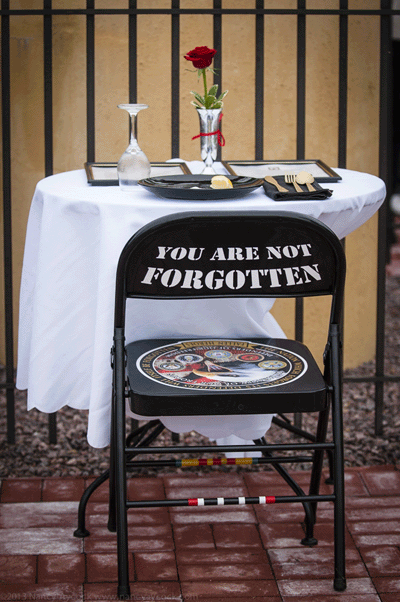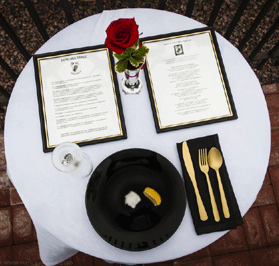 Docs daughter Caleigh Dentice(center) and friends from the Muskego HS choir sing the
National Anthem at the Wisconsin POW/MIA Balloon Launch.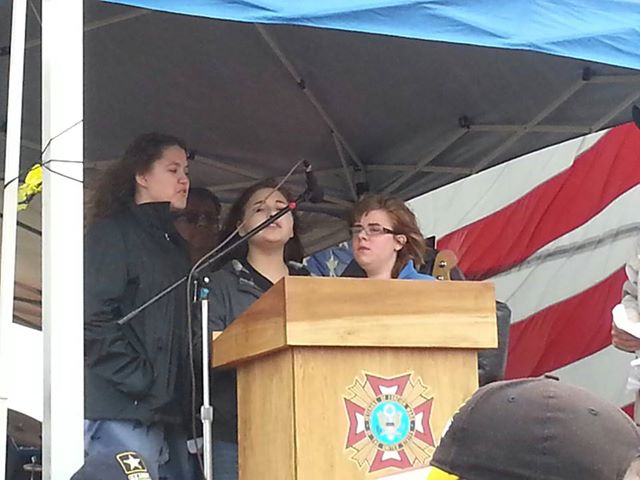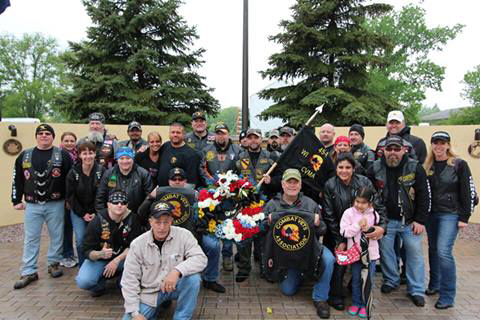 Doc with the Combat Vets Motorcycle Association Chapter 45/1
Thanks Everyone For Being There & presenting your POW/MIA wreath.


Veterans Of America MC forms Honor Line and presents POW/MIA wreath
Thanks Voamc - Much Appreciated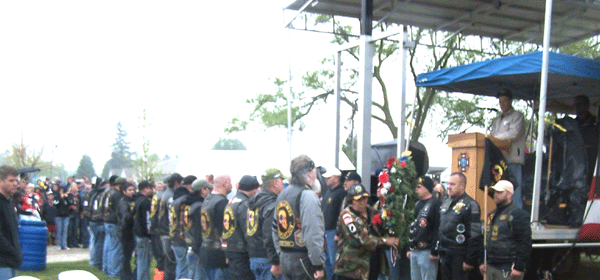 Doc Doing The Wreath Presentations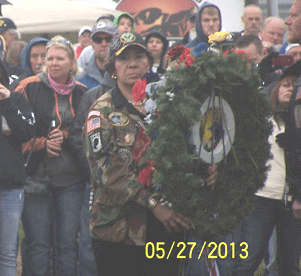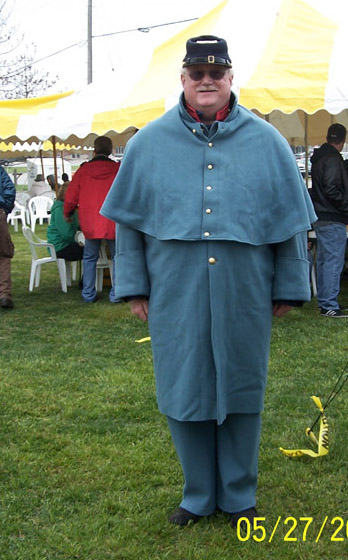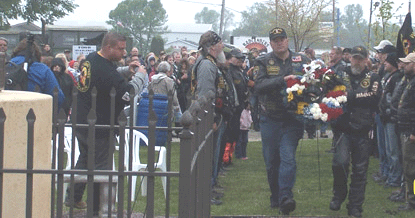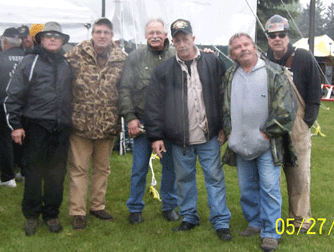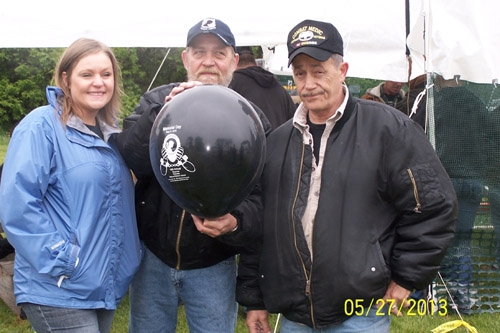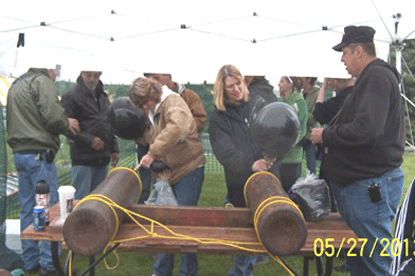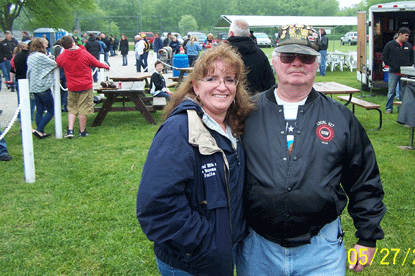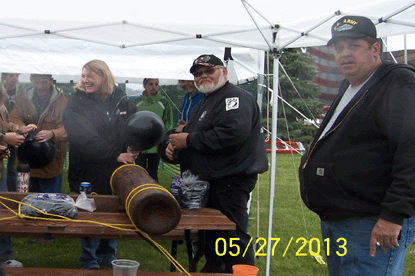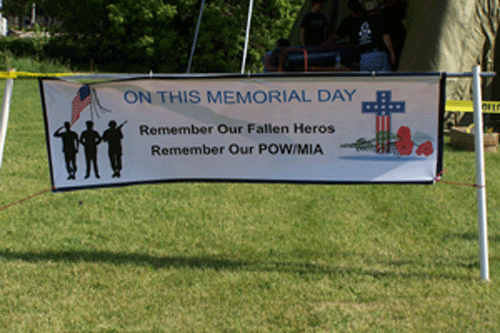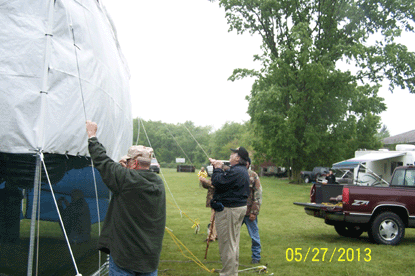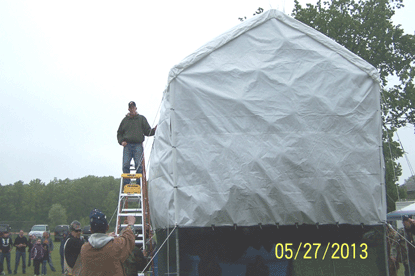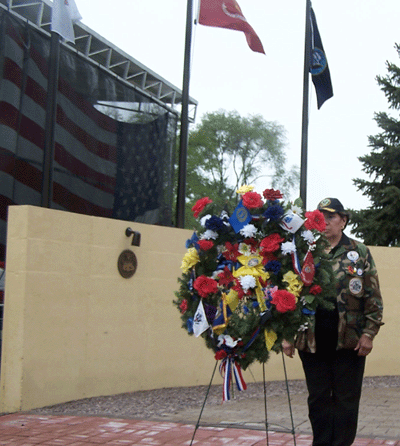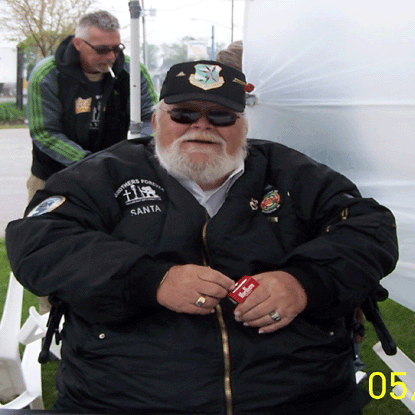 National Alliance Of Families
For the Return of America's Missing Servicemen
Thanks to my good friend Lynn O'Shea for all your support.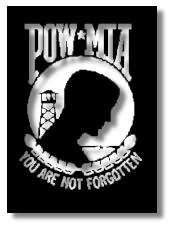 POW-MIA Balloons Found In Past Years
MICHIGAN QUEBEC CANADA - TORONTO CANADA
MAINE - MONTREAL CANADA - VERMONT
NEW YORK - NEW HAMPSHIRE - PENNSYLVANIA ILLINOIS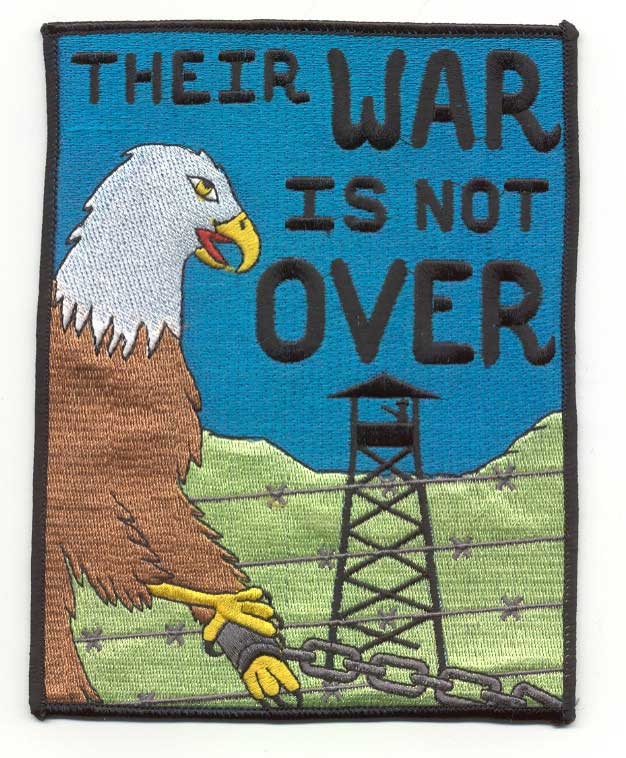 Jeff "Doc" Dentice has put together the largest & longest running
POW/MIA Balloon Launch in POW/MIA Freedom Fighter's history and the Nation!
Join him and the Crew on Memorial Day 2012 for the 15th Anniversary Wisconsin POW/MIA Balloon Launch!
Jen - POW/MIA Freedom Fighter's
National Alliance Of Families
For the Return of America's Missing Servicemen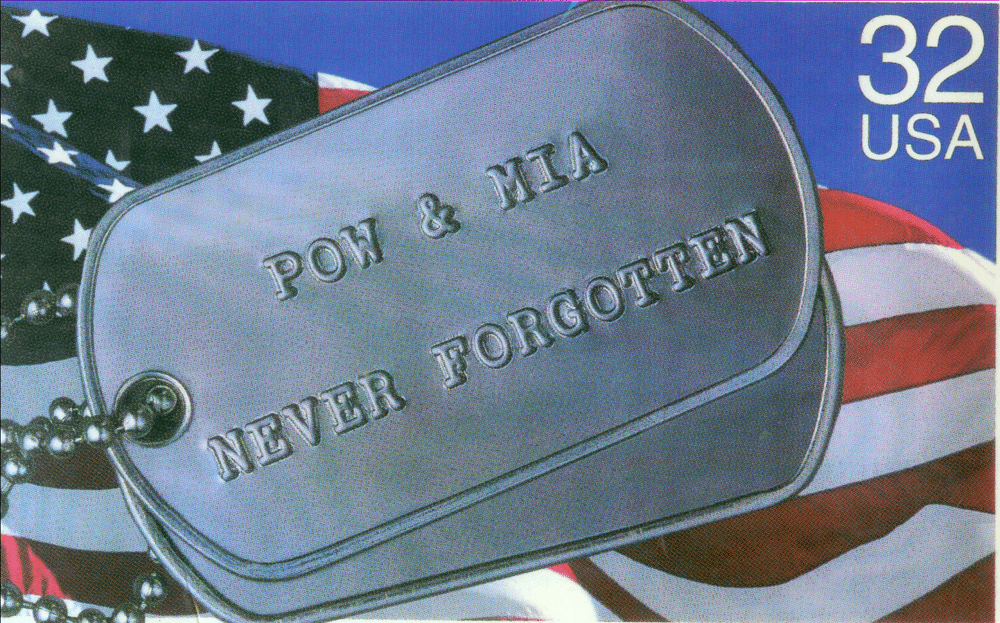 America's POW/MIA


WWI


WWII


Cold War


Korea


Vietnam


Persian Gulf War


Operation Enduring Freedom


Dear Doc Dentice
Please accept our sincere appreciation for your many years of dedicated effort to publicize the
need for our Nation to achieve the fullest possible accounting for US personnel missing from the
Vietnam War and wars and conflicts further past. The fact that we've collective been able to obtain
answers on 936 of our men since the end of the Vietnam War is due in large part to the support and
commitment of our veterans, certainly including those like you who put their time, money and talent
into such meaningful projects. God Bless you on your 16th and final balloon launch.
We are deeply grateful to you for your tireless effort for our POW/MIAS.
Best wishes,
Ann Mills-Griffiths
Chairman of the Board
National League of POW/MIA Families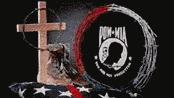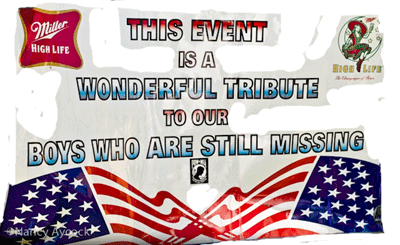 TO: JEFF " DOC" DENTICE
Wisconsin POW/MIA National Balloon Launch Founder/Coordinator
I have a story to share with You.
It's ABSOLUTLY true because I just lived it!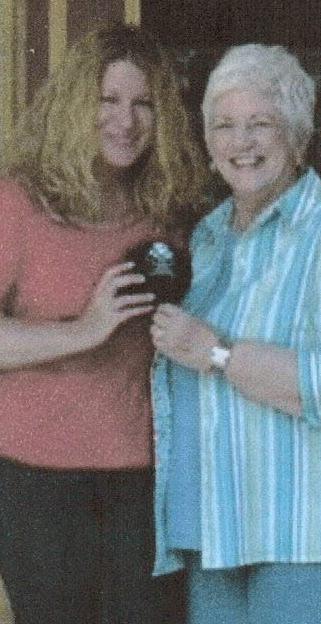 This past Memorial Day 5/28/2012 I attended a POW-MIA Balloon Launch.
I had never heard about this "annual" event taking place in Wind Lake WI only 15 miles from my home; and it was now
in its 15 year of remembrance, celebration & dedication to our Military and the true meaning of Memorial Day. So me, my
husband Jim, our youngest son Dean my granddaughters Ellie 7, Sadie 3 & my sister Debbie said lets go see what it's all about!
We saw an incredible variety of mankind, all ages assembled for only one reason and that was to honor our military, the fallen, the
missing and the troops serving today and in the past. I have to say that this wonderful event encompassed them all so beautifully in
a ceremony of utmost respect & dignity. I was pleasantly surprised, touched and thankful to have been able to thank so many vets!
At the end of the ceremony a bag pipe played, the color guard gave a 21 gun salute & taps were blown, then
they released 15,000 black POW/MIA balloons…all I can say is wow…an overwhelming WOW!
About 45 minutes after we left Wind Lake my daughter Denise called me on my cell phone.
She was so excited about what just took place and needed to share it…now this is were the story gets
"goose bump special"…now remember Denise's birth father & my first husband was Lieutenant Richard Burbach who
died in Vietnam 2/7/1969; Also be aware at this point, that Denise did not know about the balloon launch in Wind Lake, nor did
she know I had gone to it, because I never told her about it mainly because I had no ides what it was all about. I also knew she was
going to the cemetery to make sure her father's grave had a flag on it which she does every year and then she was going to help
her friend Sam open his pool at his home in Hales Corners, 11 miles and a million trees & wires away from Wind Lake.
Denise was setting the table/getting ready to bring food outside when she saw what she thought was a black ball floating in
the pool, she went over and picked it out of the pool and was literally blown away to find it was a balloon marked POW-MIA launch Wind Lake WI!
Now a lot of you may dismiss this as an event of pure coincidence but we know for that balloon to drop into Sam's pool & for
Denise to be there then find it on Memorial Day, was one of those moments of being "TOUCHED BY THE ANGELS IN UNIFORM"
or more beautifully put as her brother Darren said to her…"what an awesome way for your father to say hi"!
This is my special story and I hope you enjoyed me sharing it with you…it brought all of us joy, hope it brought you some as well!
Much love to you Jeff Doc Dentice, and may you find many "goose bump special moments" in your life.
Sandy Burbach Wilber & Denise
Dear Jeff,
Having been a young military wife & mother & subsequently a widow during the Vietnam War was challenging to
say the least, but not as tough as what you young men went through and witnessed with your entire beings, and then having to return to this ungrateful nation…
sometimes it hurts so much to remember how disgusting they treated you & your brothers back then!
I truly want to thank you from the bottom of my heart for your service to our Country while actively serving and now by commemorating
so beautifully for all those so deserving, past & present. Because of you and your counterparts the selfless brave of today's military are
welcomed home with the honor & glory they so deserve; honestly I am humbled by your astonishing dedication and I applaud you!
Looking forward to the next balloon launch & will be checking out your Christmas event.
God Bless you & may the angels continue to embrace you in your future endeavors!
Respectfully, Sandy Burbach Wilber

Dear Doc,
WI's POW/MIA Balloon Launch
What a beautiful site this is!
I haven't even come close to viewing it in it's entirety, but did view the pictures from the 2010 Balloon preparation and launch.
Tears (are still) streaming down my cheeks as I view them.
God Bless you in all your endeavors and especially with the coming 2011 event.
I want to thank you for your service! God Bless!
Judy Cherbonneau
Hillsboro, NH
May 2011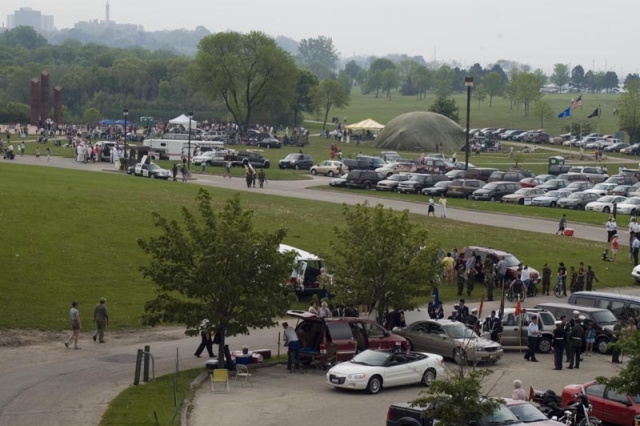 10th Anniversary & last POW-MIA Balloon Launch on Milwaukee's lakefront - 2007
25,000 black balloons were released - largest ever in the USA


Hi Jeff Doc Dentice!
From Jen & the POW-MIA Freedom Fighters
Jeff "Doc" Dentice has put together the longest running POW/MIA Balloon Launch in POW/MIA Freedom Fighter's history!
Join him for the 15th Anniversary Wisconsin POW/MIA National Balloon Launch on Memorial Day 2012!



________________________________________________________________________________________________
This was back in the early days of the POW/MIA Freedom Fighters and we were trying to come up with any kind of idea to
get folks inspired and keep the flame under the issue. I had heard about a school that did a balloon launch in memory of Vets and thought we
could do one similar for POW/MIA's. That first year, we got a lot of flak from the enviromentalist poo-pooing the idea saying the balloons
would hurt the environment and that it killed the sea life and any wild life that ate the balloons that landed. Some people wanted to let
ff butterflies, others doves, but we felt it just wouldn't send the kind of message we needed to send for our POW/MIA's.
We were running a large POW/MIA mailing list at that time with another organization and discussing all this, when Col. Guy wrote me privately,
angrier than heck. I hadn't known he was gravely ill at this point, but was hearing the murmurs of this doctor's appt and that. Anyway, he told me,
"To hell with those idiot environmentalists that care more about the environment than getting our guys home. We need to shake folks up!" He had
told me that he felt certain there was a chance that if just 1 (one) balloon could get to a living POW and give them hope that they were not forgotten and
we were doing something about it, then anything we could do to make that happen would be worth it. It was like, this was his last big chance to be a
part of something that he believed in 100% that could make a difference. "We're not going to leave them behind, Jen. We're going to let them know
we are doing something. Don't listen to idiots. Do it. Do it for all of them that want to come home. Do it for all the families still waiting for answers."
And I promised him I would. And we did.
We did research and found out that with the proper kind of balloon we could keep the environmentalists happy
as these balloons disintergrate at the same rate as a leaf and thus, are biodegradable and not bad for the environment.
We encouraged putting names of POW/MIA's, or links
to info about them on paper in the balloons, or on the balloons, anything to inform the public that men and women are still waiting to come home
and families are still waiting for answers. We encouraged folks to let us know when they found them. Some balloons traveled pretty darn far -
one from New Mexico was found in Maine! We sent out press releases, did radio talk shows. Had some t.v. coverage.
Our first few years were huge successes. All over the world POW/MIA Freedom Fighters Balloon Launches were held.
But as you know, without committed people staying committed, some of the launches began falling by the wayside.
However, it's a whole other story for Wisconsin!
With you and your family and all your friends help,
your launches have most definately been our greatest success story.
"Doc", you stayed stong! You hung in there.
You put together a great team, got the businesses involved, made it a citywide event.
It was wonderful! You Launch Crew has continued to keep the flame burning,
continue to inspire, continue to remind us all that
we have a job to do and it isn't done until all our men and women are home.
When one thinks of the POW/MIA Freedom Fighters Balloon Launch, they think of
Milwaukee, Wisconsin, because you "Doc" made it
happen and put the event in the chronicles of history!
Thank you for all you do and continue to do Jeff Doc Dentice!
God Bless! Jen & the Freedom Fighters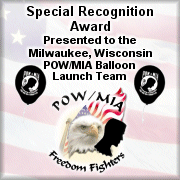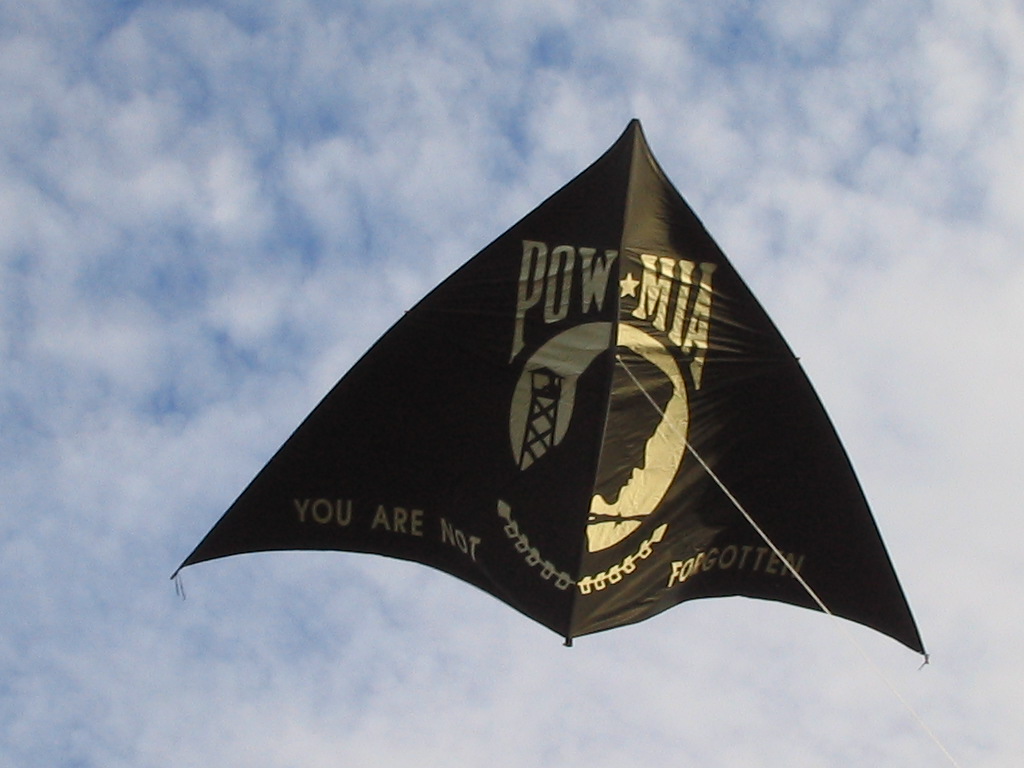 Wisconsin 10th Anniversary
POW-MIA Launch Video

WISCONSIN POW-MIA LAUNCH 10th Anniversary PICTURES
LAST EVER LAUNCH AT ON MILWAUKEE'S LAKEFRONT
"And The Waiting Goes On"
Written By James Purtell-VietnamVet-Wisconsin
Sung By Mark Brinkman-Wisconsin
This Poster & Song
Contact: James Purtell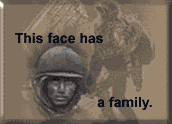 WHEN ONE AMERICAN IS NOT WORTH
THE EFFORT TO BE FOUND,
WE AS AMERICANS HAVE LOST!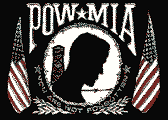 YOU ARE NOT FORGOTTEN
HONOR AND SACRIFICE
America, look into your heart and ask yourself why.
Why do you turn your back on this "great" nation's lost warriors?
How do you think this nation became so great?
They gave to you, what they no longer have, FREEDOM!
How can you continue to ignore them, year after year?
They are your brothers, who have too long been left alone and forgotten!
So, look into YOUR heart, and ask yourself, WHY?
If that were you, what would you want your country to do?


Balloon Launch Story & Pictures
Doc & the Crew's Last & Final Launch!
WISCONSIN LAUNCH 2007 PICTURES
Launch Video-Missing Man Table Ceremony

10th Anniversary
Wisconsin
Balloon Launch Pictures & Story

POW-MIA Remembrance Ceremony-
Missing Man Table & Honors Ceremony-
Missing Man Formation-
_______________________________________________________________
We encourage you to place Doc's link on your webpages, in your e-mails,
everywhere, to educate others
that the POW/MIA issue is still very much alive.
http://www.war-veterans.org/Wlaunch.htm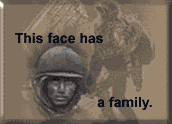 ____________________________________________________________________

ONE EX-POW FROM VIETNAM (COL.TED GUY) HAD
A DREAM AND I AM GRATEFUL TO HAVE BEEN
ABLE TO MAKE IT A REALITY FOR HIM.
Jeff "Doc" Dentice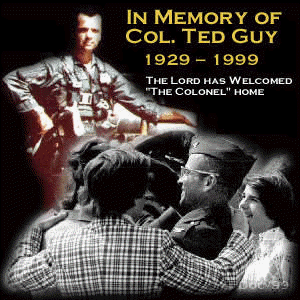 I HAVE BEEN BLESSED WITH A GREAT CREW
HERE IN WISCONSIN, WHO HAVE COME FROM
MANY STATES TO HELP.
Jeff "Doc" Dentice
(Founder) Wisconsin POW-MIA Balloon Launch
Coordinator

______________________________________________________________________________________________________________
_________________________________________________________________
POW-MIA FREEDOM FIGHTERS
The Milwaukee, Wisconsin POW/MIA Balloon Launch was exactly what
Col. Ted Guy, former (POW-MIA) had in mind when he wanted this project done.
He is gone now, but you have made his dream become a reality.
It gives me goosebumps looking at the pictures
and thinking of what these wonderful people have
accomplished in honor of our POW/MIA's!
Thank you "Doc" and Your Milwaukee Crew!
Jen


Hi Doc,
Thank you for all your hard work and dedication and keeping this event going.

To: Jeff Doc Dentice
Dear Doc,
Ex-POW Col. Ted Guy,
back in 1998 came up with the
idea of getting communities to do a POW/MIA Balloon Launch,
With the help of of your
team in Milwaukee, Wisconsin, this
event has been one of our most successful in reaching folks about the
issue and helping to keep the issue alive.
On behalf of the Executive Board and Membership of the
POW/MIA Freedom Fighters, we would like to
present you "Doc" & Your Crew,with this Special Recognition Award for
Exceptional and Continual Service Above and Beyond on Behalf of our POW/MIA's.
Thanks to all of you that made this happen, the Milwaukee,
Wisconsin POW/MIA Balloon Launch has
been one of our oldest POW/MIA events, having participated
since day one in 1998, and has become
our Nations Largest Launch, reaching folks
that never knew about the issue.
This award is not given lightly. In fact, as a member of the
POW/MIA Freedom Fighters
you and your crew, are our very
First Recipients.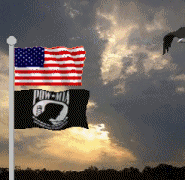 "FREEDOM IS NOT FREE"
THIS EAGLE WILL NEVER FLY FREE UNTIL
ALL OUR POW-MIAS ARE ARE BACK HOME!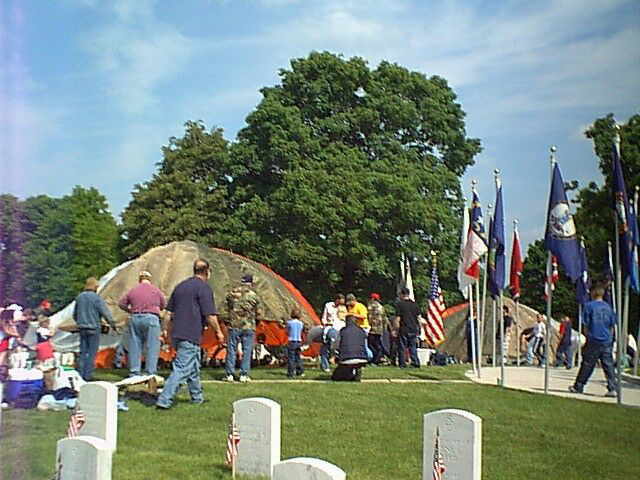 1st ever Wisconsin POW-MIA Balloon launch in 1988 at Wood National VA Cemetery

Doc
Thanks so much for the awareness you bring to our effort
It is greatly appreciated by those of us still working hard for answers.
Please give my very best wishes to your POW-MIA Launch Crew
Sincerely,
Ann Mills Griffiths
Executive Director
National League of POW/MIA Families

THEY FOUGHT FOR OUR FREEDOM
THEY HAVE NEVER COME HOME
JOIN US IN REMEMBERING THEM
THIS MEMORIAL DAY
& POW/MIA RECOGNITION DAY.


Wisconsin 2012 POW-MIA Recognition Day
REMEMBER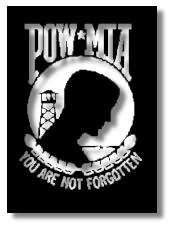 3rd Friday in September is National POW/MIA Recognition Day.
Every US Post Office in the country is required, by law, to fly/post our POW/MIA flag.
If it's not up, make sure they are aware of the law that requires it be posted six days a year:
Armed Forces Day, Memorial Day, Flag Day, Independence Day, National POW/MIA Recognition Day and Veterans Day.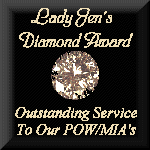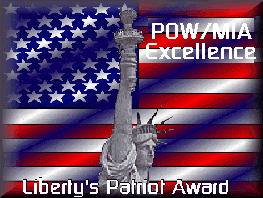 Click on Doc's Veteran's Events Page
If you have a Veterans Events flyer you want posted
Email Doc



All Upcoming Reunion's & Events




Sites Below Created By Doc Dentice
nm