"GOLD STAR MOTHERS" SONG NOW PLAYING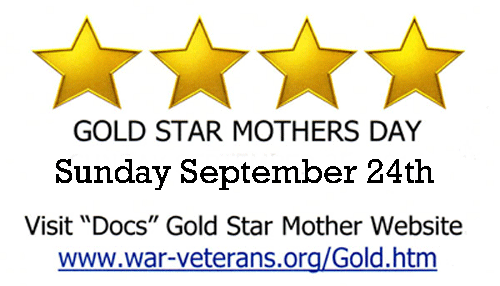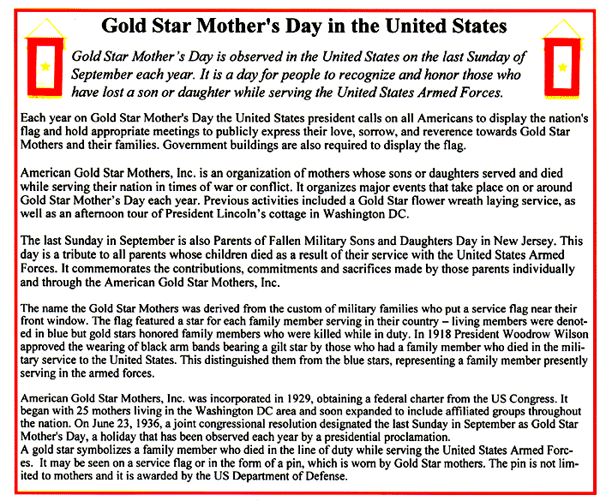 SONG NOW PLAYING WAS WRITTEN BY DOC'S FRIENDS RON HEALY & SUNG BY HIS FRIEND DAVE HUMMEL
THIS SONG WAS SUNG LIVE AT "DOCS" WISCONSIN POW-MIA NATIONAL BALLOON LAUNCH IN MILWAUKEE
IF YOU WOULD LIKE A COPY OF THE SONG - LET HIM KNOW
DOC SERVED AS AN ARMY MEDIC WITH THE 25TH TROPIC LIGHTNING DIVISION AT CUCHI, VIETNAM
IN 1967/1968. I MET MY ADOPTED GOLD STAR MOM, LINDA DRIZA AT A VETS DANCE AT THE
15TH ANNIVERSARY OF THE VIETNAM WALL. WHEN I RETURNED HOME, I CREATED A WEB SITE IN HER HONOR,
AND TO HONOR ALL GOLD STAR MOMS & FAMILY MEMBERS.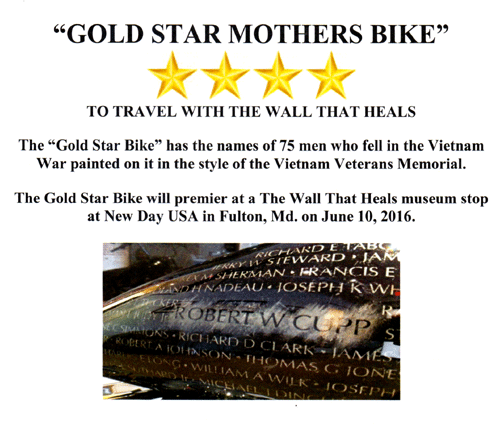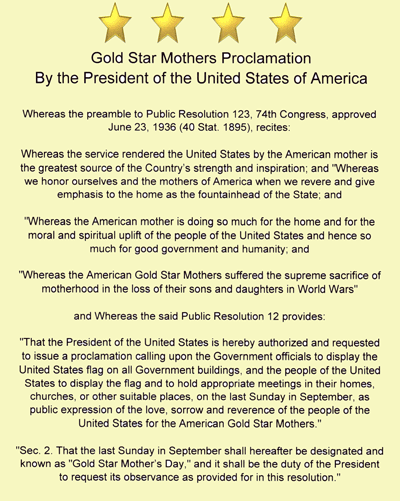 "DOC'S" ADOPTED GOLD STAR MOM
LINDA DRIZA
PHILADELPHIA, PA.
"MISS YOU MOM"
Linda Driza
Gone But Not Forgotten
November 2001
I Will Miss Her Dearly!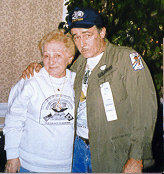 Doc & Linda
11/11/1997
WE MET IN WASH.D.C. AT OPERATION LZ/DC
15TH ANNIVERSARY OF THE WALL!
HER SON STAN & I WERE BOTH MEDICS IN VIETNAM
SHE WAS A WONDERFUL/FUN-ENERGETIC-FULL OF LOVE MOM
WE DANCED TOGETHER-HUGGED TOGETHER-CRIED TOGETHER
GOD I MISS HER- I WILL ALWAYS CHERISH & REMEMBER OUR TIME TOGETHER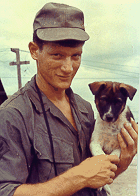 STAN DRIZA
MEDIC WITH THE 2/27TH WOLFHOUNDS
CuChi,Vietnam
KIA December 22,1967
Doc met Linda's son Stan for a brief moment in '1967'
Doc was a Medic right down the road from Stan...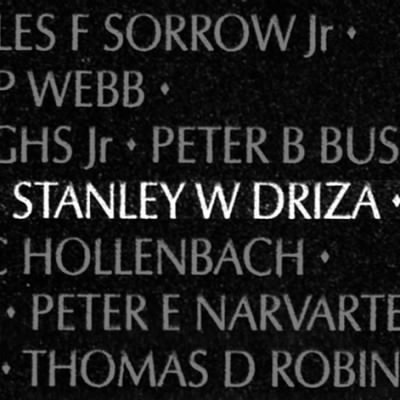 Dear Jeff
January 16, 2017
Thank you so much for creating this wonderful web site honoring Gold Star Mothers.
My son, CPL Nicholas J. Wrobel USMC, OIF died due to his prolonged exposure to the burn pits in in Al Anbar Province.
My name is Tricia Wood. I am the chapter president of the Oregon Gold Star Mothers.
Any Oregon Gold Star Mothers - Please Contact Tricia Wood - woodtaustin@yahoo.com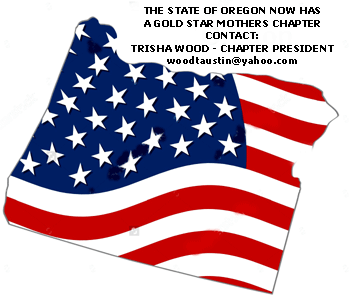 +++++++++++++++++++++++++++++++++++++++++++++++
Such A Wonderful Site
Thank you Doc for your service, and all you are doing for the Gold Star Families
Military Order of the Purple Heart -Post 1849
Robert Hernandez - Fort Worth, Texas
Hello Doc Dentice
I am a Gold Star Mother of LCpl Benjamin H. Gearheart.
I came upon your web page tonight and wish to thank you for it.
I left this page feeling a great sense of caring and understanding from you.
The "Gold Star Mothers" song that was playing. It truly touched my heart.
Sincerely,
Brenda Gearheart
Hello Doc Dentice
I have attached a poem you might wish to add to your web page.
Thank You from the bottom of my heart, for this tribute page.
I lost my son, combat medic Keith Allen Campbell, DSC, BSM, PH 8 Feb 1967 in Vietnam.
I will always miss him.
Thank You for honoring all God Star Mothers.
Esther B.Campbell Gates, San Antonio, TX
++++++++++++++++++++++++++++++
Gold Star Mom
The banner was small,but the star was large,
The color of a blue, night sky.
She hung it in the window with trembling fingers
And tried hard not to cry.
He was so young to go far away
As all soldiers have to do.
She knew that danger lurked everywhere,
As she touched the star of blue.
The weeks went by, the months rolled on
She knew he would not die.
Her faith in God held her head up high.
In her heart she sang a song.
But the battles raged. The news was not good
Why did so many have to die? She was cold,
And she felt terribly old
As the day came that she faced with dread.
When a knock on the door
Shattered her life evermore,
And the blue star turned to gold.
+++++++++++++++++++++++++++++++

CLICK ON THE STATE LICENSE PLATE FOR MORE INFO
COLORADO IS (FALLEN SERVICE MEMBERS PLATE) ON THE FORM
CONTACT DENISE FOR NEW HAMPSHIRE GSM LICENSE PLATE INFO: nhgoldstarmothers@yahoo.com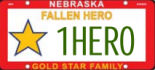 Please visit Darkhorse Lodge
Help Gold Star Mom Gretchen Catherwood build a Retreat for our Combat Veterans.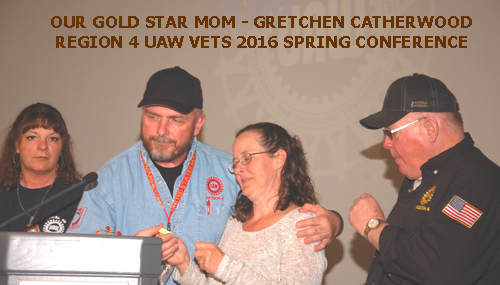 Being There For Our Gold Star Families In Such A Wonderful Way!
SNOWBALL EXPRESS

Oldest living 'Gold Star Mother'
Monteen Purdie 100 Years Old
Los Angeles, California
Her son David, was killed in action Aug. 23, 1968 in Vietnam
One day late in August she came home to find a Marine standing in the family room.
"Oh, good, you know David," Purdie told the Marine. "Can you tell me about David?"
"And he said, 'Ma'am, David won't be coming home. He was killed in Vietnam.

The Gold Star Mothers Pilgrimages, 1930-1933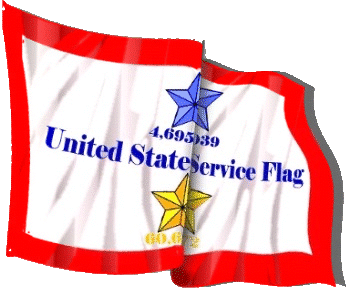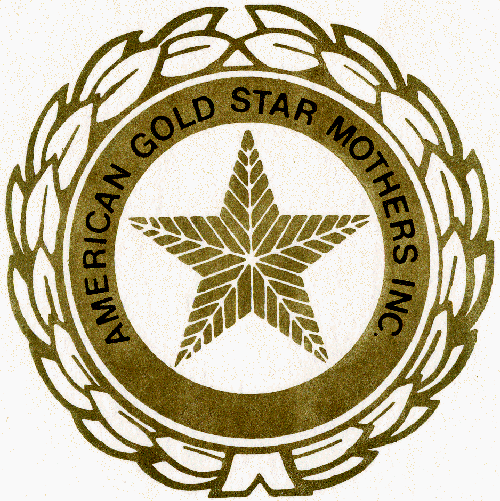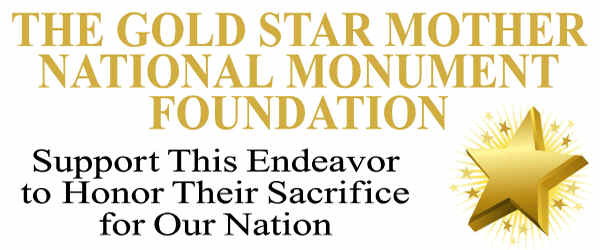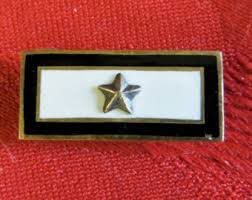 Original 1940's World War II
US Gold Star Mother's 10 kt Gold Pin
Picture From: etsy.com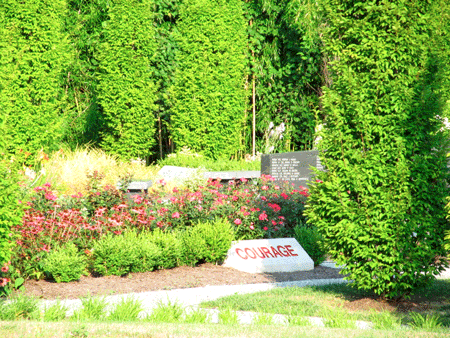 Many Thanks Doc Dentice
Your web site tribute to all Gold Star Mothers is inspiring.
Thank you for your depth of understanding and all the information you put together.
The family serves in their own way, along with the enlisted.
I am SPC Martin Kondor's Mom
Founder of the Gold Star Garden in York, Pennsylvania.
Past AGSM President
Ann Wolcott sent me your link.
Everyone is invited to take the Walk of the Intrepid, through the Gold Star Garden; remember
loved ones, become the connector between heaven and earth, and know your are loved and appreciated.
On the arms of the Star Walk you will find the names of the Pennsylvania Fallen in the War on Terror.
But know that the GSG is dedicated to all US veterans of all time. Gold Star Garden is open, free, to the public 24/7.
Do visit this beautiful peaceful memorial on you way to Washington or Gettysburg or Lancaster.
Love and Gratitude,
Cher Kondor
Martin's mom
PO BOX 3339
York PA 17402-0339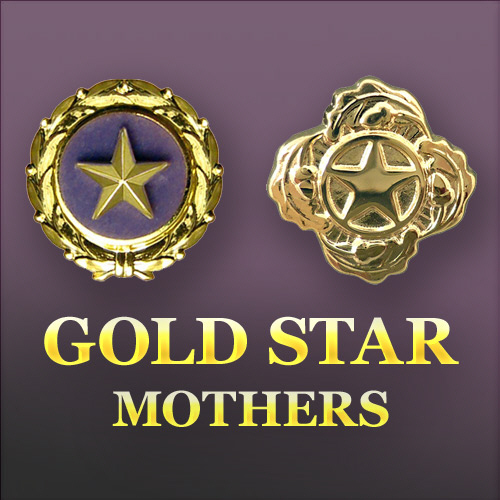 Recorded by the Sons of the Pioneers in the mid to late 1940s
PLEASE CLICK ON THE YOU TUBE LOGO BELOW TO LISTEN TO THE SONG
CLOSE DOCS GOLD STAR SITE SO YOU CAN HEAR THE SONG
THAT WAY YOU CAN LISTEN TO THE SONG WITHOUT HEARING TWO SONGS PLAYING


Gold Star Moms Video Tribute
WHEN YOU CLICK ON THE LINK ABOVE - PLEASE CLOSE DOCS GOLD STAR SITE
THAT WAY YOU CAN WATCH THE VIDEO WITHOUT HEARING TWO SONGS PLAYING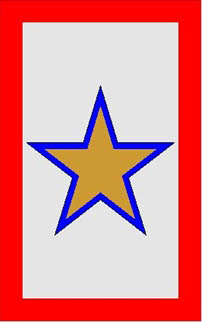 On June 4, 1928 a group of 25 mothers in Washington, DC began plans for a national organization to be known as
AMERICAN GOLD STAR MOTHERS, INC.
They incorporated the following January 5th with 65 charter members.

Eleven years after the end of World War I, the United States Congress took an unprecedented step in the history
of warfare, giving unusual recognition to the mothers of those killed in that war.
In 1929 a law was passed authorizing the Federal Government to disburse funds
for these Gold Star Mothers and Widows (whether they belonged to the
organization or not), to travel to the battlefields of Europe to visit the burial sites of their loved ones.

On February 7, 1930, First Lady Lou Henry Hoover pulled 54 envelopes out of a
large silver bowl in the Red Room of the White House.
Each envelope contained a card with the name of a state or US Territory. The first state to be drawn was the State of
Nebraska, and as each subsequent card was drawn it was handed to the Quartermaster General for disposition.

On May 7th of that same year the first 231 Gold Star Mothers and Widows boarded the S.S. America in New York to
visit the sites where their sons or husbands had made the supreme sacrifice for freedom.
Over the following 3 years, a total of 6,692 such pilgrimages were made.

It was an unprecedented gesture by a grateful Nation, in recognition of the sacrifices on the home front.

On June 23, 1936 the Congress, by Senate Joint Resolution 115 (49 Stat.1895), further recognized the sacrifice
of these Gold Star Mothers when it set aside the last Sunday in September of each year as Gold Star Mothers Day,
and authorized the President to issue a proclamation in observance of that day.

In the words of President Franklin D. Roosevelt in 1944, "There is nothing adequate which anyone in any place can
say to those who are entitled to display the gold star in their windows America lives in freedom because of the
sacrifices of America's finest citizens and of the mothers who raised them.."

Perhaps the single most famous mother to have joined was Aletta Sullivan, the mother of the
five Sullivan brothers, who were killed in action when their ship, the USS Juneau (CL-52) was
sunk on November 13, 1942 during the Naval Battle of Guadalcanal.

There were 60,000 Gold Star Mothers alone from World War I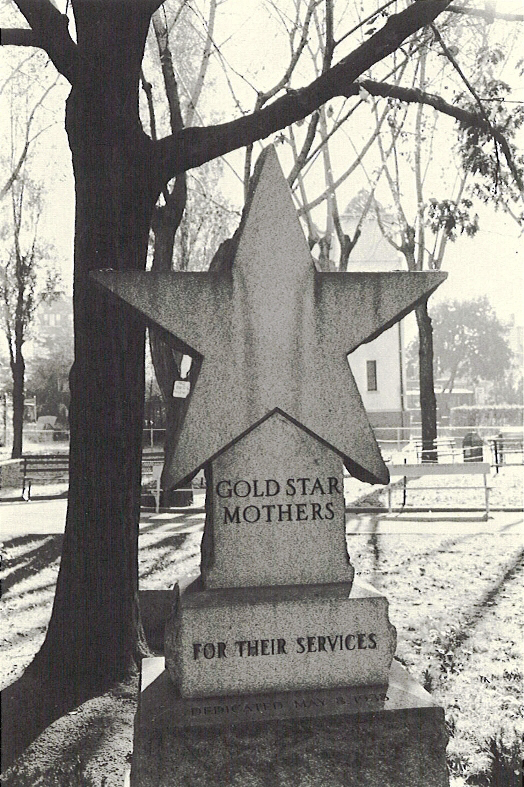 Picture From: library2.binghamton.edu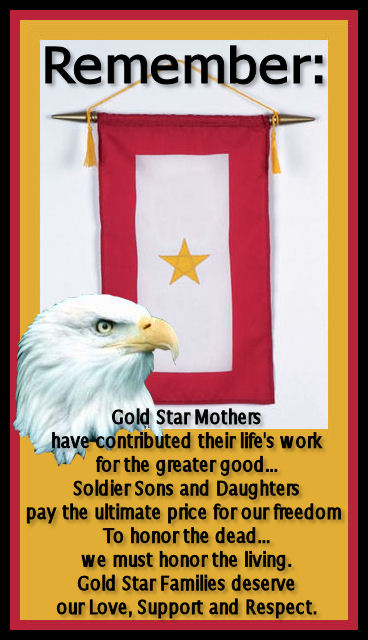 Picture From: ourharleydays.blogspot.com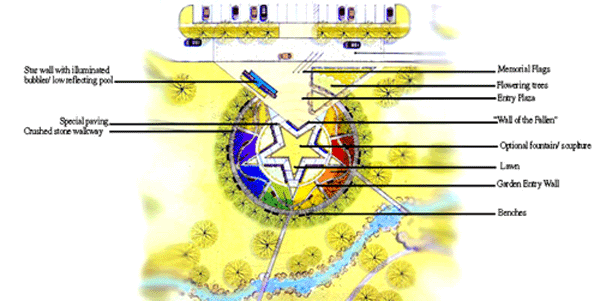 Veterans Memorial Gold Star Healing & Peace Garden
Gold Star Garden
The Gold Star Garden started with the dream of an American Gold Star Mother who lost her son in 2004.
("Gold Star" is a term derived from American Gold Star Mothers Inc., who were formed in 1928
as a family response to lives taken during the first World War. Now, Gold Star is applied to family
members who have lost a loved one serving in the U.S. military.) Eight years later, with the help
of board members, the City of York, and the Gold Star families of Pennsylvania, her dream
of creating a memorial for all veterans came true.
This living monument is a gathering place for those who want to commemorate, remember
the fallen and celebrate the lives of our intrepid sons and daughters who volunteered to protect this country.
The Gold Star Garden is free and open to the public from dusk to dawn all year long.

Picture From: hammandclov.org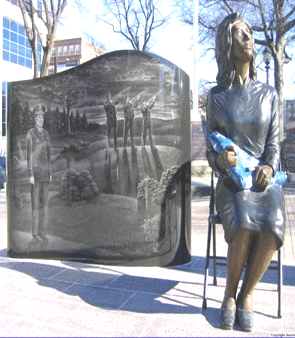 Gold Star Mothers Statue, Yonkers, New York. Image courtesy of Field


GOLD STAR MOTHERS PILGRIMAGE - HISTORY

Universal Gold Star License Plates
New York Times Article
By Dr. Gary Farwell
"During World War I, military families started a tradition of hanging a small banner in the windows of their homes.
The banner had a white background, a red border and one blue star for each family member in the military.
If a family member died in service, a gold star replaced the blue.
That gold star has become a simple, cherished symbol of a dead loved one, a parent's way to hold tight a dead child's memory.
In 1928, the American Gold Star Mothers were given a charter by Congress, and at the end of World War II the Gold Star Wives
of America were also given a Congressional charter. The definition has remained constant to this day. The current president
of the American Gold Star Mothers is Norma Luther, whose son died piloting a helicopter in the Bavarian mountains in Germany
on a routine, obviously noncombat, mission. She says of the 32 mothers who signed the original charter, "5 were mothers of sons
lost from influenza, pneumonia, aircraft accident in Texas and accidental gasoline torch explosion in Italy."
In a 1967 directive, the Defense Department reissued the set of standards that formalized the display of the Blue and
Gold Star Service Flag, and in it the Gold Star family continued to be defined as a family who had lost a loved one in the service of the country in a time of war.
In 1949, the Defense Department started awarding all Gold Star families what is now the first version of the Gold Star pin for
all wartime deaths retroactive to World War I. But then, in 1973, the department started awarding two versions of Gold Star pins
to recently bereaved military families: one for certain conflicts, and another version for nonconflicts or differently defined conflicts.
The department did this even though the Gold Star mothers, the Gold Star wives and the Defense Department's own directive make no such distinctions.
For most of us Gold Star families (but I'm sure not all), the idea of having two different Gold Stars seems to miss the point.
The honor given to a family for the death of a loved one should not vary depending on details of where and when it happened —
at least in the eyes and heart of this Gold Star father. About 34 states seem to agree, as they issue universal versions of a Gold Star family license plate to all Gold Star families.
But Arkansas, California, Colorado, Idaho, Michigan, Oregon, Ohio, New Hampshire, New Mexico, Maine, Georgia, Louisiana, Maine,
Massachusetts, Mississippi and Oklahoma have decided that only those families whose loved ones died in combat or a combat zone
should receive their states' Gold Star status. That means that even Norma Luther, the current president of the
American Gold Star Mothers, would not qualify, if she lived in one of those states."

We thought of you with love today
But that is nothing new



We thought about you yesterday
And days before that too



We think of you in silence
We often speak your name



Now all we have are memories
And your picture in a frame



Your memory is our keepsake
With which we'll never part



God has you in His keeping
We have you in our Heart



Author Unknown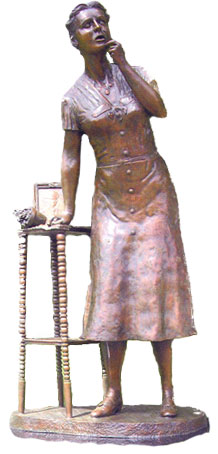 Andrew Chernak creation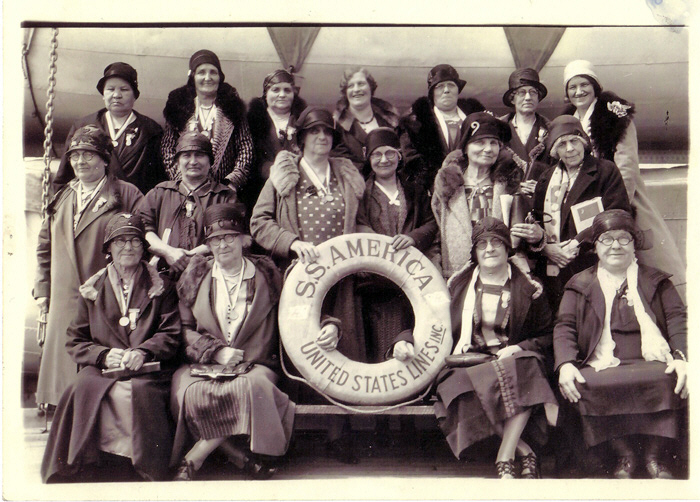 Gold Star Mother's Trip To Europe
Picture From: chicagoscots.net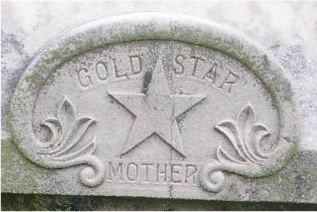 Picture From: escapetothesilentcities.blogspot.com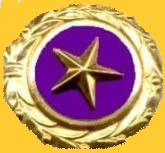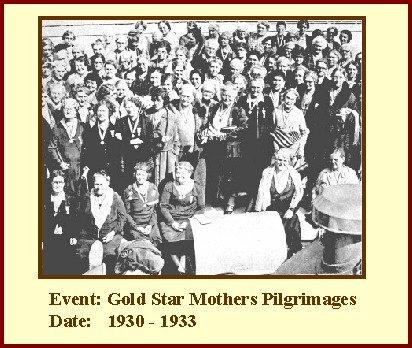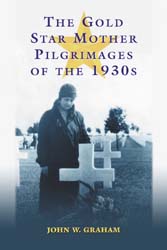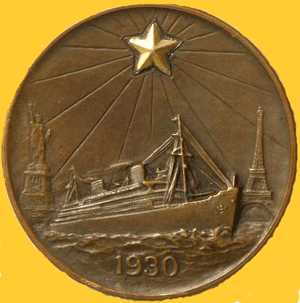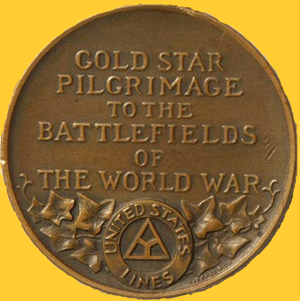 This medal was made by Tiffany of NYC and given to all mothers and widows who went on the pilgrimage to the battlefields and cemeteries of France in 1930.
Sponsored by the United States Steamship Line.
The medal is bronze with a gold star at the top.
It hung from a narrow red, white, and blue ribbon and worn at the neck.
Each medal is numbered, but who the recipients were is unknown.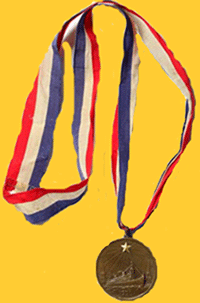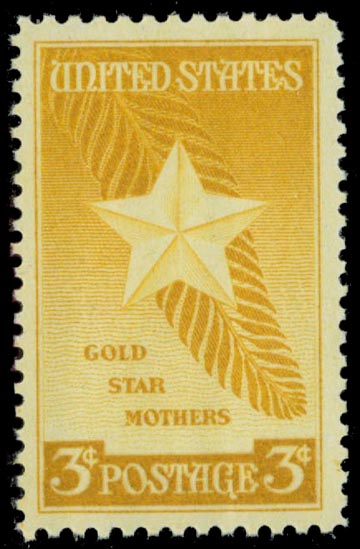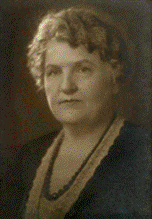 Grace D. Seibold
First Gold Star Mother
WWI Gold Star Mom's
With Permission From @: Bob Chada
| | | |
| --- | --- | --- |
| Mrs. Henrietta Kongable | Mrs. W. A. Richmond | Mrs. E. L. Hirschi |
| Mrs. F. E. Moorman | Mrs. W. W. Rahe | Mrs. Cora Hawkins |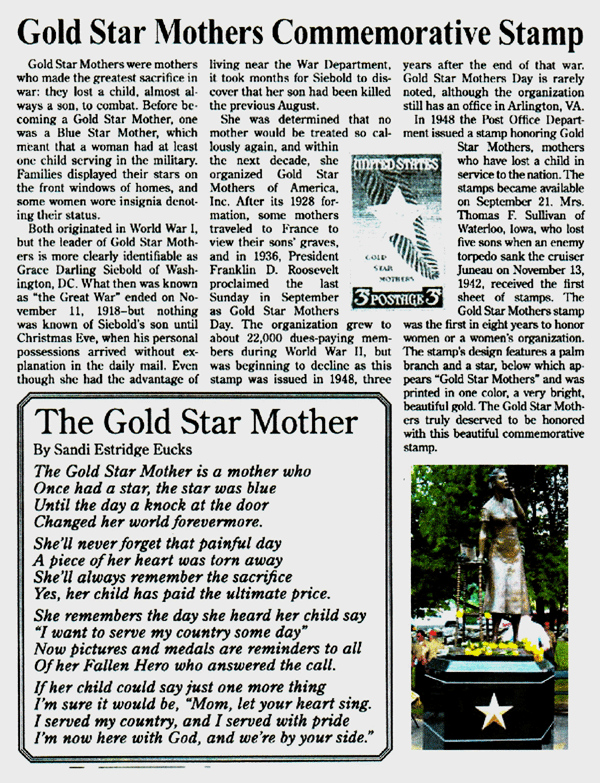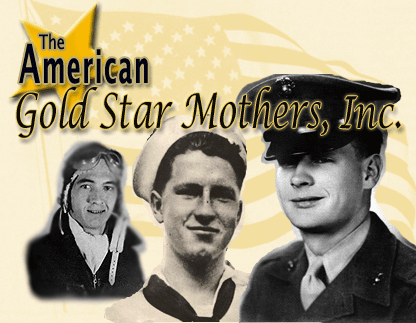 OLD GOLD STAR BRIDGE HELD MANY MEMORIES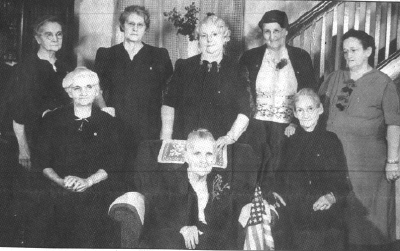 The local chapter of the Gold Star Mothers formed in the early 1930s.
The photo above is believed to have been taken in the 1930s or early 1940s.
The members are (L-R/seated): Mrs. John Sherman, Mrs. Godfrey Kah and Mrs. Julia Heiland; (standing)
Mrs. Anna Nettleship, Mrs. D.W. (Minnie) Williams, Mrs. Walter Pence, Mrs. Richard Hayner, and
Mrs. H.A. (Buelah) Fogt.
A few motorists heading south of Sidney on County Road 25 A take the suggested detour across the Great Miami River past the
jail, but most elect to continue southward and go up Sulphur Heights Hill, bypassing the rapidly concluding construction project
that will result in a new bridge over the river. To most the site is but another construction nuisance
to be left in the rearview mirror, amid a cloud of dust.
Few realize that the ceremony marking the opening of the original bridge in 1933 caused over 5,000 people to march from downtown
Sidney there to pay tribute to a group that always pays the ultimate sacrifice in wartime, but is now largely forgotten: the Gold Star
Mothers. Many will remember this Veterans' Day on November 11 at the bridge, when the new structure is rededicated, and the
surviving Gold Star Mothers recognized. This is the story of the Mothers and how the bridge came to bear their name.
When the battlefield sounds of The World War (as World War I was then known) faded away, numerous veterans groups such as
the American Legion and the Veterans of Foreign Wars were organized to commemorate the memory of those who had
died in the great conflict. Formed of those who survived, these groups honored their comrades in arms routinely on such occasions as
Memorial Day and Armistice Day. The healing process for them had begun. For another group, the broken hearts would never heal.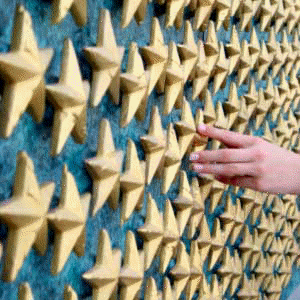 The International Society of Poets, has awarded their OUTSTANDING ACHIEVEMENT IN POETRY
award to Board Member Esther Gates, for this poem. This work will be published by the Gold Star Mothers of America
in their next publication. It has also been published on the "Poetry of Arlington Cemetery.com" web page.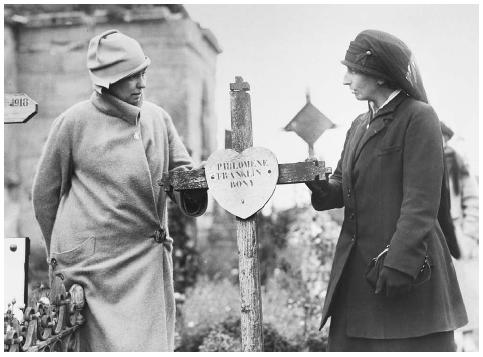 The President of the American Gold Star Mothers with a French Gold Star Mother at Dony Cemetery, France, in October 1925.
© BETTMANN/CORBIS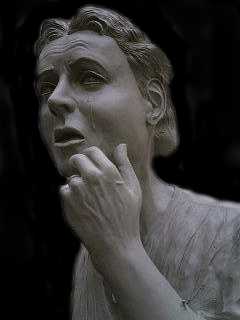 Andrew Chernak creation
GOLD STAR MOTHERS STATUE
Is it true that Hillary Clinton refused to meet with a group of American Gold Star Mothers?
No
This story passed through several people before being reported by NewsMax on May 26, 2001 and the details were lost.
The two mothers who visited Washington did not have an appointment with the Senator and she was not in her office on that day.
The NewsMax article did not get the story correct and we deeply regret the misunderstanding about
Senator Hillary Clinton. Senator Clinton greeted us gratiously on Gold Star Mothers Sunday, 2005.


CLICK ON LOGO ABOVE
THE NEWS....
It's Monday, I am doing laundy thinking of you my dear son
I hear a car pull up and I go to the door to see
I see the two men in uniform
My heart begins to race
Thoughts of no, no, no, go away, please go away
Oh God, let it not be my son
He is so young, no I am not done loving him
I open the door and they say we are sorry...
NO NO NO I scream
They continue, the President of the United States
regrets to inform you of the death of your son
The rest of their words falls on deaf ears
I feel my heart breaking so badly
I fall to the floor saying...
my son is no more....
Kerry "Doc" Pardue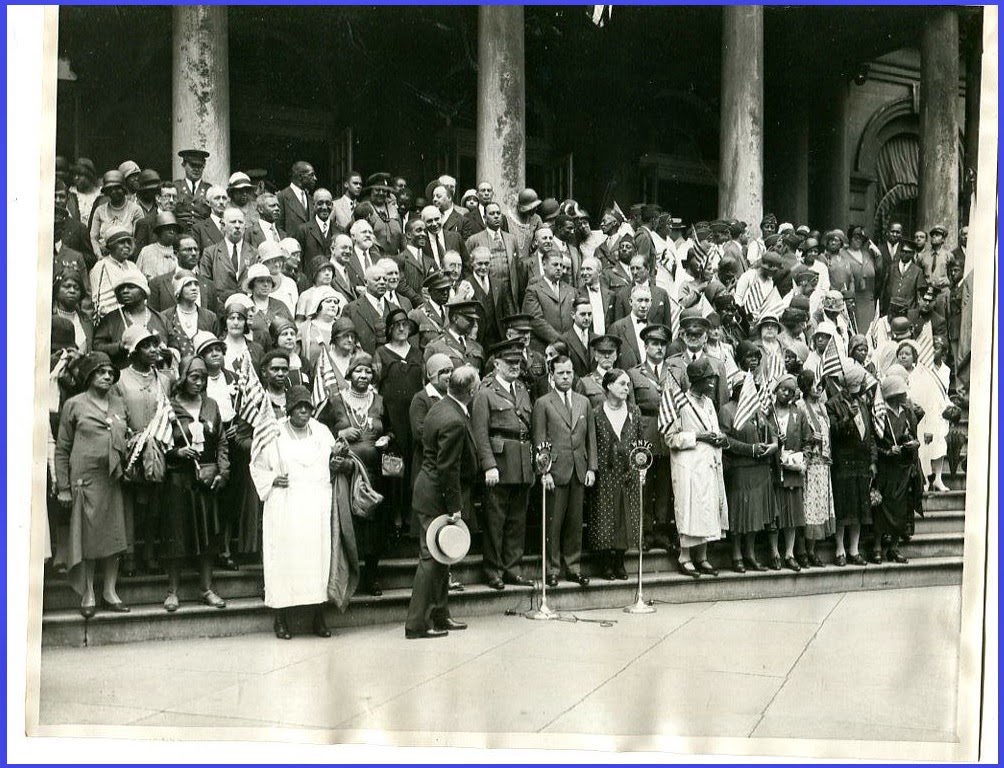 Gold Star Mothers Reception in New York before departure.
Image originally appeared in Crisis Magazine in 1930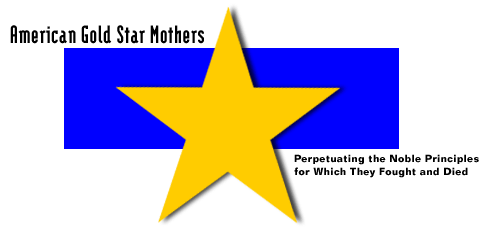 Gold Star Mother gets to keep license plate
The Associated Press - 6.30.2011
CATO, N.Y. — An 89-year-old Gold Star mother from central New York is getting back the special license plate she was forced to relinquish.
When she took her car off the road in May, Ethel Barnes of Cato asked the state Department of Motor Vehicles
office if she could keep the plate that paid tribute to her son Robert Barnes, an Army infantryman who died in Vietnam 44 years ago at age 21.
She was dismayed when told it was impossible.
The Syracuse Post-Standard reports that state Sen. Patty Ritchie stepped in and persuaded DMV to recreate the license plate.
The replica will be presented to Barnes Thursday afternoon. She plans to display it with her son's medals.
Gold Star Mothers accept its first Non-Citizen
September 2005
Carmen Palmer of Mount Vernon, New York, who was born in Jamaica - as a member. The group had banned non-citizens for the
first 77 years of its existence, most notably rejecting the application of Ligaya Lagman whose son Anthony was killed while serving in
Afghanistan. Palmer's son, Marine Cpl. Bernard Gooden, died in 2003 in Iraq at age 22.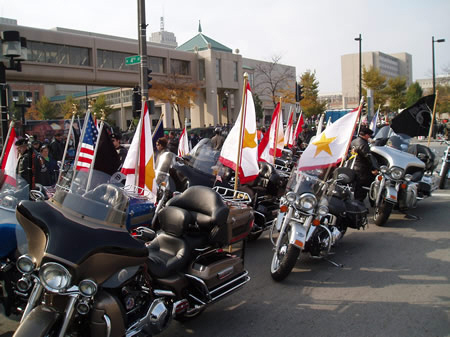 Gold Star family members ride in Milwaukee, Wi. Vets Day Parade


Missouri Gold Star Mothers with General John J. Pershing at the Tomb of the Unknown Soldier,
Arlington National Cemetery, September 21, 1930

The Staten Island Ferry
had a boat in the 1937 series named Gold Star Mother,
in honor of the nations GSM's.Here are two photos from
The Staten Island Ferry by George W. Hilton, published in 1964.
Thanks Joseph D.Korman for allowing me to put the story & photos
on this Gold Star Moms site..
In South Ferry Slip next to the President Roosevelt (Teddy)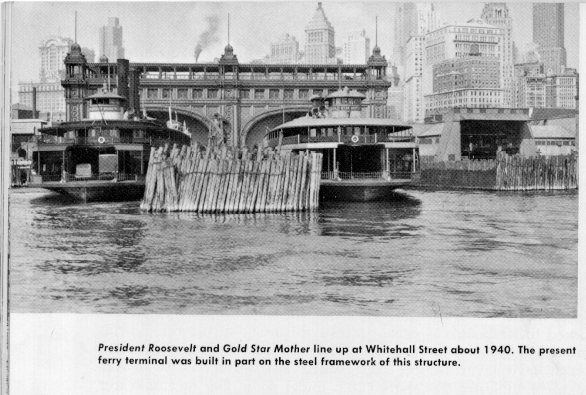 Copyright © 1998 Joseph D. Korman
Passenger Loading Good view of the pilot house and name.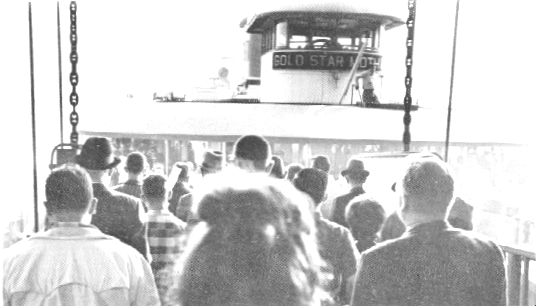 Copyright © 1998 Joseph D. Korman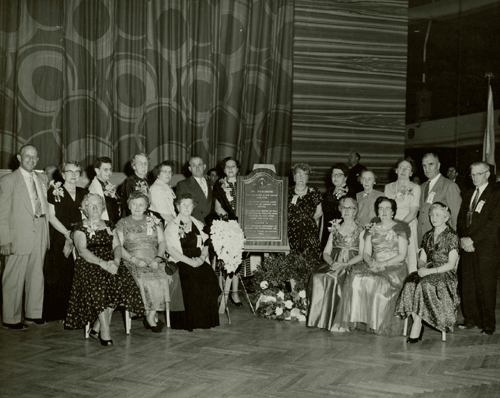 Gold Star Mother Presentation in 1954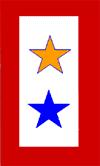 Gold Star Mothers: Helping Others Help Themselves
By Rudi Williams
American Forces Press Service
WASHINGTON, March 21, 2000 -- "I think before we send young
men and women anywhere to fight, we'd better be ready to
take care of them when they come home," Mary Wheeler said.
"I don't mean just token appreciation. I mean take care of them."
With tear-glazed eyes, Wheeler said sadly that she
sometimes sits and wonders where America would be today if
young men and women had refused to fight "when we were
first starting our country."
"Where would we be? What would we be doing?" asked Wheeler,
president of American Gold Star Mothers Inc. She still
grieves over the loss of her son in Vietnam more than 32
years ago. She's devoted the past 31 years of her life
thanking veterans and service members for their sacrifices
-- and invoking other Americans to do the same.
Members of Wheeler's group are mothers whose son or
daughter died on active duty. Gold Star Mothers got their
name from a practice that began during World War I of
families hanging flags emblazoned with a dark blue star for
each living member in the service and a gold one for each
who had died. Mothers whose children are listed as missing
can also join the organization.
"By helping others, I helped myself," she said. "All
veterans are my boys and girls. It's what we imagine our
son or daughter might be doing, or what their life would be
like if they were here now. The main thrust of our
organization is to help our veterans and mothers whose sons
or daughters didn't come home.
"There are not many members in our home chapter here in
Washington and they're all getting old," Wheeler said. "We
have members across the country who are 100 years old and
several in their 90s." She estimated the group has about
2,000 members nationwide.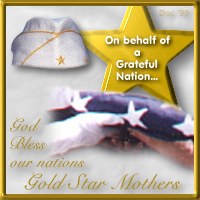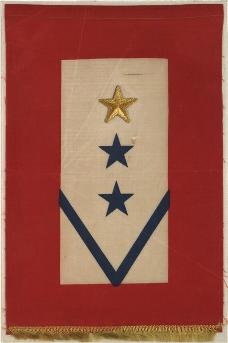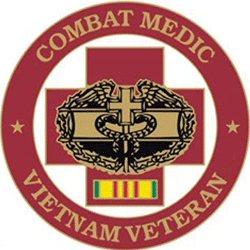 Veterans Website's By Jeff "Doc" Dentice
I Will Help All Veterans-All Military Men & Women & Their Families
If AnyOne Hits The Lottery-Doc really needs some support.
Keeping his Vets sites online - Ink - Paper - New computer etc.
Sites Created By "Jeff Doc Dentice"