Doc's
Vets / Military Information Page


New VA Forms - Claims & Disability
Starting March 24, 2015


Click on events banner below
All Upcoming Reunion's & Events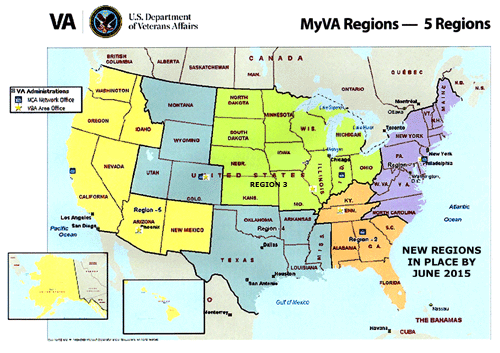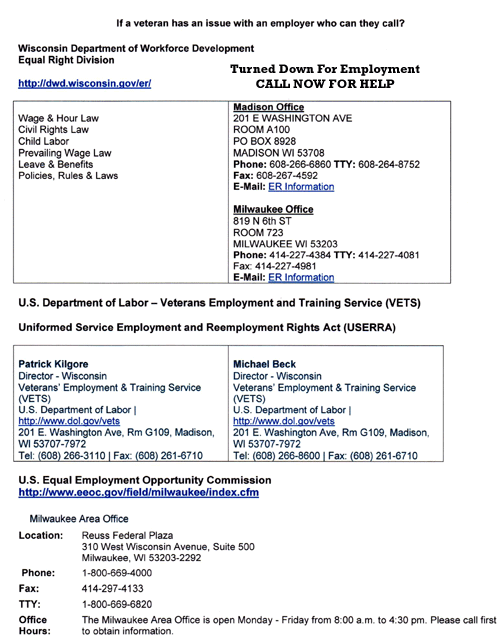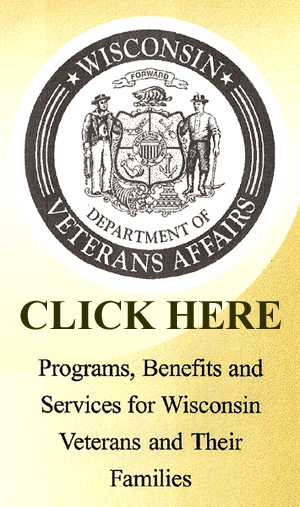 Wisconsin Veterans Home at King
N2665 County Road QQ
King, WI 54946-0600
Phone: (715) 258-5586
Email: Veterans Home at King
Wisconsin Veterans Home at Union Grove
21425 G Spring Street
Union Grove, WI 53182
Phone: (262) 878-6700
Toll-free (866) NOW-VETS (866-669-8387)
Email: Veterans Home at Union Grove
County Veterans Service Offices
& Tribal Veterans Service Offices


Northern Wisconsin Veterans Memorial Cemetery
N4063 Veterans Way
Spooner, WI 54801
Phone: (715) 635-5360
Fax: (715) 635-5363
email: Northern Wisconsin Veterans Memorial Cemetery
Central Wisconsin Veterans Memorial Cemetery
N2665, Highway QQ
King, WI 54946
Phone: (715) 258-5586 ext.2203
Fax: (715) 258-3154
email: Central Wisconsin Veterans Memorial Cemetery
Southern Wisconsin Veterans Memorial Cemetery
21731 Spring Street
Union Grove, WI 53182
Phone: (262) 878-5660
Fax: (262) 878-5664
email: Southern Wisconsin Veterans Memorial Cemetery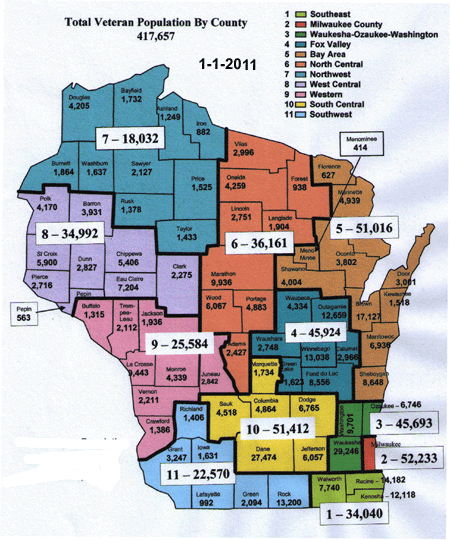 Do you know a Veteran who is homeless or at risk of becoming homeless?
VA has dedicated services you can help that Vet access.
Help A Homeless Vet



Disability Compensation
Education and Training
Employment Services
Health Care
Home Loans and Housing-Related Assistance
Life Insurance
Memorial Benefits
Pension
Spouses, Dependents, and Survivors

THER ARE CURRENTLY 17 VETERANS COURTS IN 33 COUNTIES IN WISCONSIN

VA Launches Updated Post 9/11 GI Bill Tool

Field Guide
Veterans: Education, Employment and Entrepreneurship after Service

Vets Eclaims - Electronic Filing
Disability Claims
Welcome to the GI Bill Web Site
Directory of Veterans Service Organizations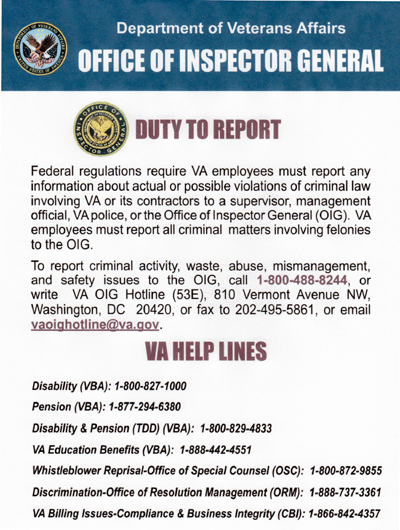 VA INSPECTOR GENERAL HOTLINE
HAVE PROBLEMS AT YOUR VA MEDICAL CENTER
CONTACT THEM AND TELL THEM WHATS GOING ON

Veterans Health Forms, Publications, Manuals
VONAPP VETERANS ONLINE APPLICATION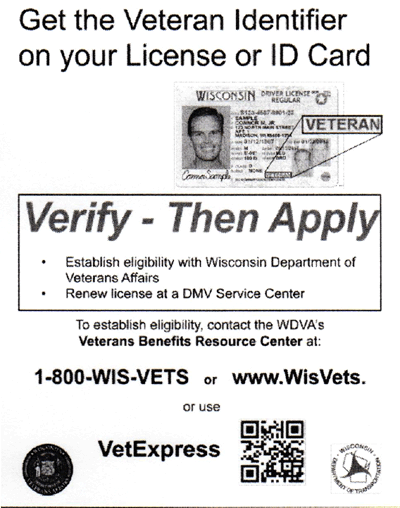 YOUR FEDERAL VETERANS BENEFITS
Dependents & Survivors
Disability & Compensation
Education & Training
Employment Services
Health Care
Home Loans & Housing
Life Insurance
Memorial Benefits
Pensions
Wisconsin Vets Express
Wisconsin Vietnam Vets Registry
Wisconsin Dept. Of Veterans Affairs Logon
Wisconsin Veterans - Spouses - Children Benefits

AL Amyloidosis
A rare disease caused when an abnormal protein, amyloid, enters tissues or organs
Chronic B-cell Leukemias
A type of cancer which affects white blood cells
Chloracne (or similar acneform disease)
A skin condition that occurs soon after exposure to chemicals and looks like common forms of acne seen in teenagers.
Under VA's rating regulations, it must be at least 10 percent disabling within one year of exposure to herbicides.
Diabetes Mellitus Type 2
A disease characterized by high blood sugar levels resulting from the body's inability to respond properly to the hormone insulin
Hodgkin's Disease
A malignant lymphoma (cancer) characterized by progressive enlargement of the lymph nodes, liver, and spleen, and by progressive anemia
Ischemic Heart Disease
A disease characterized by a reduced supply of blood to the heart, that leads to chest pain
Multiple Myeloma
A cancer of plasma cells, a type of white blood cell in bone marrow
Non-Hodgkin's Lymphoma
A group of cancers that affect the lymph glands and other lymphatic tissue
Parkinson's Disease
A progressive disorder of the nervous system that affects muscle movement
Peripheral Neuropathy, Early-Onset
A nervous system condition that causes numbness, tingling, and motor weakness.
Under VA's rating regulations, it must be at least 10 percent disabling within one year of herbicide exposure.
Porphyria Cutanea Tarda
A disorder characterized by liver dysfunction and by thinning and blistering of the skin in sun-exposed areas.
Under VA's rating regulations, it must be at least 10 percent disabling within one year of exposure to herbicides.
Prostate Cancer
Cancer of the prostate; one of the most common cancers among men
Respiratory Cancers (includes lung cancer)
Cancers of the lung, larynx, trachea, and bronchus
Soft Tissue Sarcomas
(other than osteosarcoma, chondrosarcoma, Kaposi's sarcoma, or mesothelioma)
A group of different types of cancers in body tissues such as muscle, fat, blood and lymph vessels, and connective tissues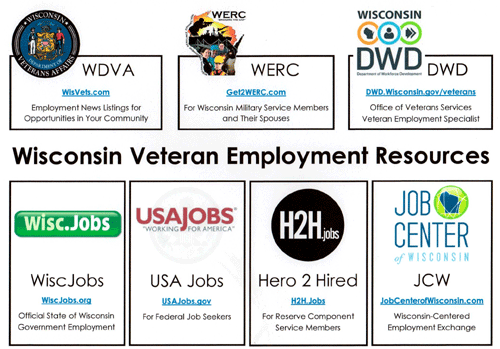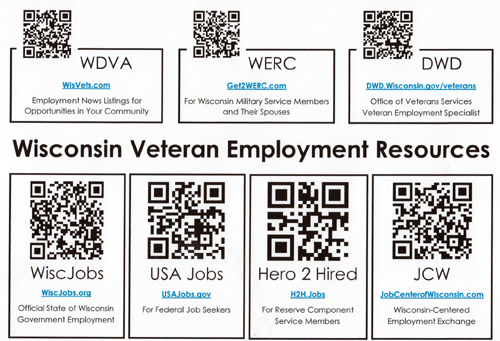 VA GI Bill Feedback System
WHEN SHOULD YOU SUBMIT A COMPLAINT
You may submit a complaint if your school or employer is failing to follow the Principles of Excellence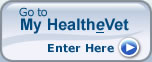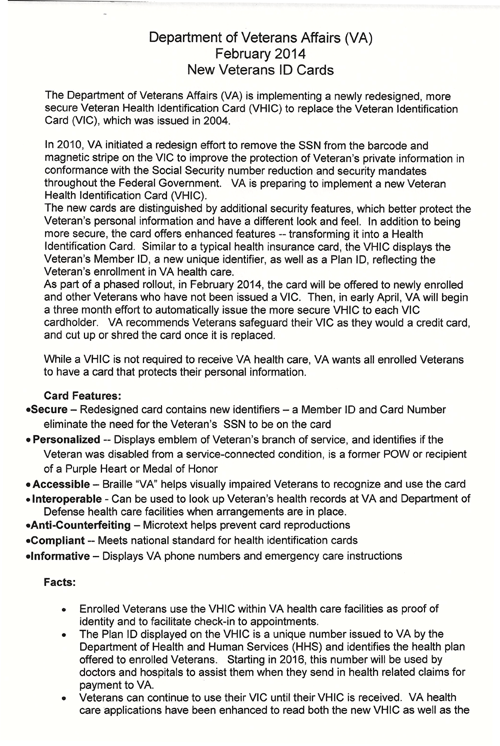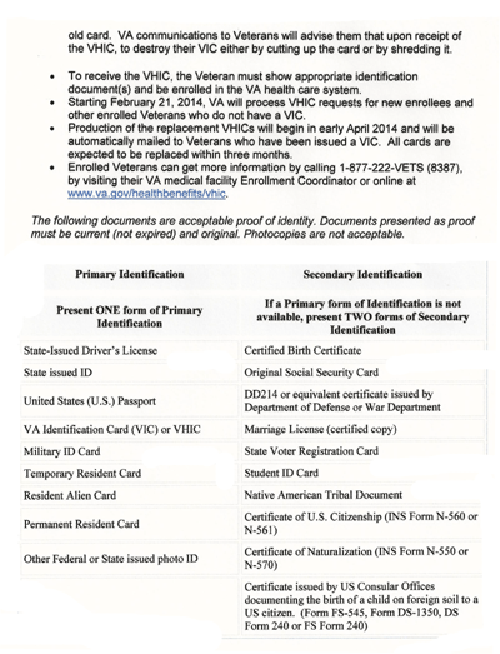 VA Makes Specially Adaptive Housing Grant Eligibility
Automatic for Veterans and Servicemembers Living with ALS
03/19/2014
Veterans and active-duty military personnel with service-connected amyotrophic lateral sclerosis (ALS),
commonly known as Lou Gehrig's disease, are now presumed medically eligible for grants up to
almost $68,000 to adapt their homes, the Department of Veterans Affairs (VA) announced today.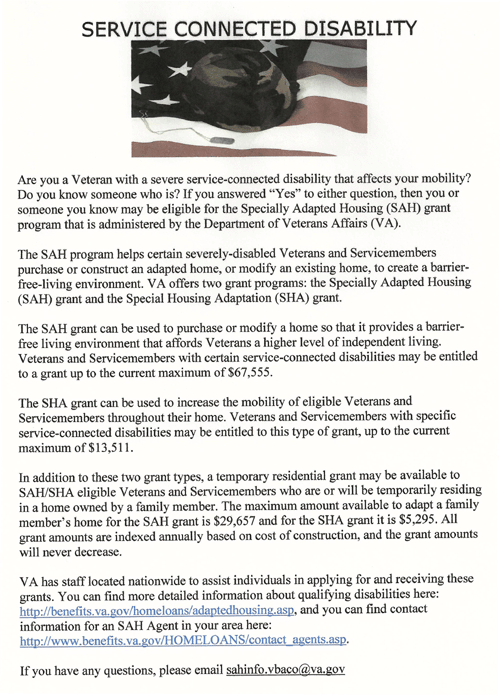 New VA Dental Insurance Program (VADIP)

Vietnam War Casualties by State and City or Town
Vietnam Casualties Database

Request Military Service Records



Request Personnel and or Medical Records Online
More ways to get service records
Learn about military service records (DD Form 214)
Recently separated veteran?
Request DD 214/Separation Document Online
Replace Lost Medals and Awards
Military Personnel Locator Services
Locate a Veteran through the Department of Veterans Affairs
The Department of Veterans Affairs can forward a message to a veteran, providing the
veteran has filed a claim with VA, and their current address is on record.
Air Force Personnel Locator
Marine Corps Buddy Locator
Navy World Wide Locator
DefenseLINK Military Personnel Locator

Department of Veterans Affairs
Vets Information By State

"Everyone Serves"
Free toolkit designed to help our Military Men and Women
Download the Free toolkit
THE WAIT WE CARRY - OUR WOUNDED VETS
New Tool to Help Veterans Waiting for Claims

Caregivers of Recovering Service Members
Resource Directory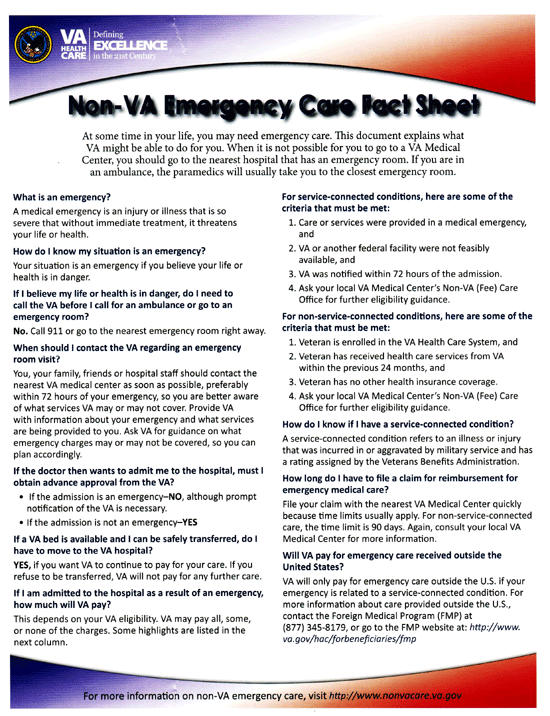 THE WAIT WE CARRY - OUR WOUNDED VETS
New Tool to Help Veterans Waiting for Claims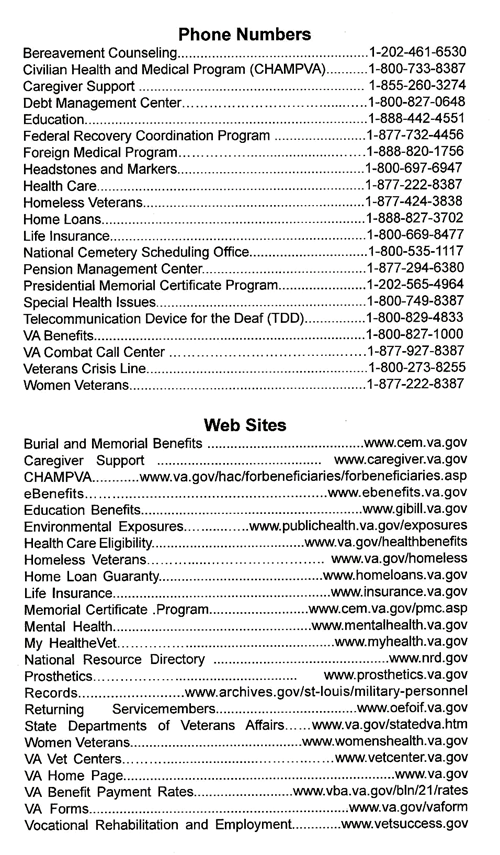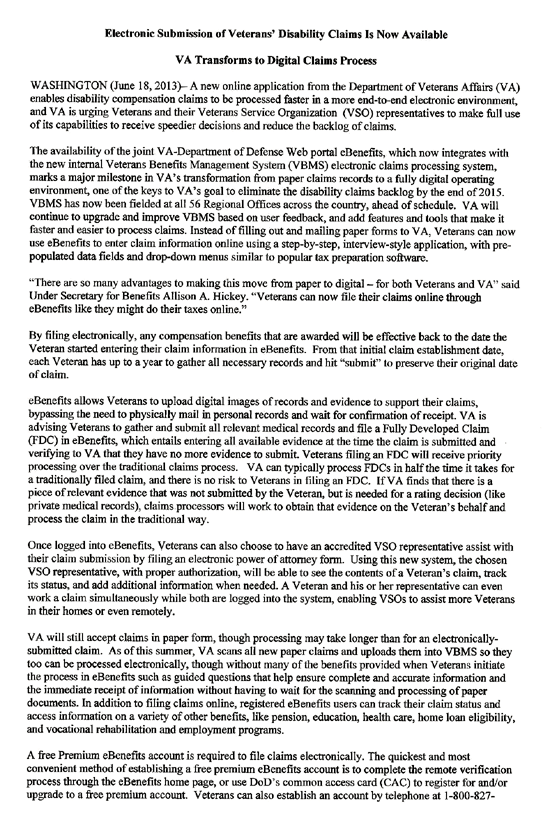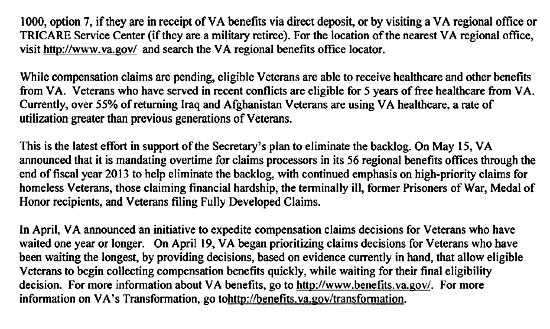 Researchers Link Agent Orange to Prostate Cancer
U.S. researchers say they found a link between the herbicide Agent Orange used heavily
during the Vietnam War and aggressive prostate cancer.
The study, published online ahead of the print edition of the journal Cancer, found Agent Orange exposure
was linked with a 52 percent increase in overall risk of prostate cancer detection by biopsy. Exposure to the
herbicide did not confer an increase in risk of low-grade prostate cancer, but it was linked with a 75 percent
increase in risk of the aggressive prostate cancer, the study said.
In addition, Agent Orange exposure was associated with more than a two-fold increase in the most lethal cancers.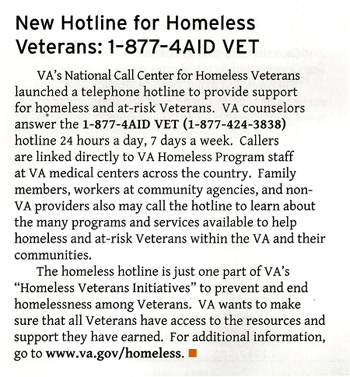 Healthcare for Iraq/Afghan Veterans: Iraq and Afghanistan veterans discharged from active duty on or after
January 28, 2003, may be eligible for five years of medical care. The Department of Veterans Affairs is trying to reach
out to eligible veterans who served "in a theater of combat operations" to let them know that they may be eligible for
complete health care coverage for five years post service. To determine eligibility, visit the Veterans
Health Administration website at: http://www.va.gov/healthbenefits/resources/eligibility_check.asp. The VHA website
provides comprehensive health benefits and includes a link to their fully developed Veterans Health Benefits Guide.
For more information, visit www.va.gov or call 1-877-222-VETS (8387), 8 a.m.-8 p.m. EST.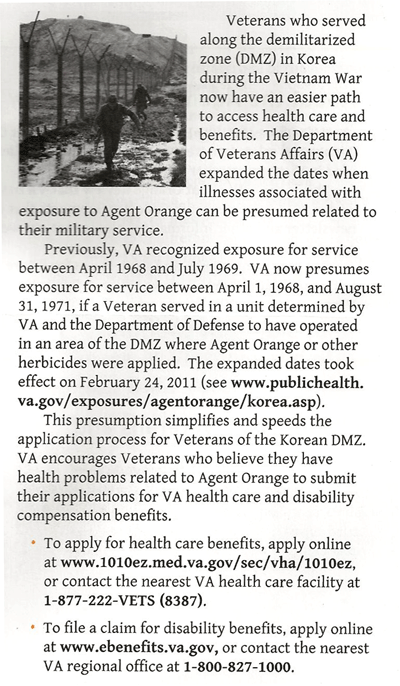 VA Extends Presumptive Period for Undiagnosed Illnesses
On October 16, the Department of Veterans Affairs (VA) published final regulations extending the deadline for
the presumptive period for undiagnosed illnesses for Gulf War veterans until December 31, 2016.
This is great news for the estimated 250,000 Gulf War veterans who remain without treatments.
Homeless Veterans & Families Benefits

Assistance for Veterans' Dependents
The Survivors' and Dependents' Educational Assistance Program (DEA) (also known as the Chapter 35 benefit program)
provides education and training opportunities to eligible dependents of certain veterans. Under the program, the dependent
can receive up to 45 months of educational benefits, which may be used for degree or certificate programs, apprenticeship,
or on-the-job training. Also included under the program are correspondence courses for the spouse of the veteran.
For more information, visit VA's Survivor and Dependents Assistance (DEA) webpage.

Veterans Benefits Explained - You May Be Eligible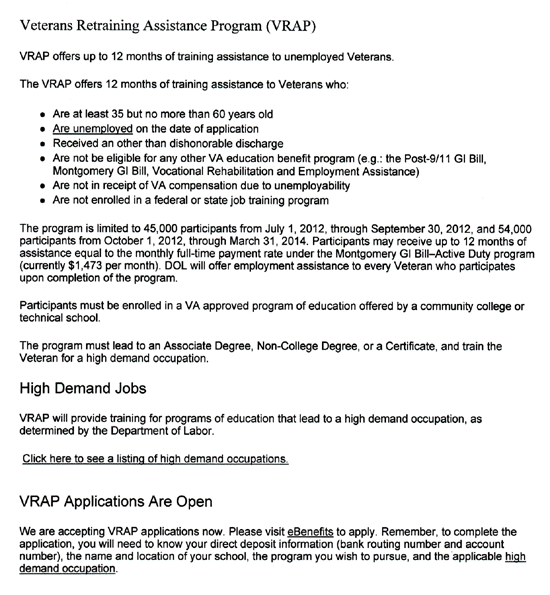 ENTITLEMENT TO Dependency ad Indemnity Compensation under 38 U.S.C. 1318.
Although the Veteran's death may not be due to service-related conditions, Dependency and
Indemnity Compensation benefits may be payable as if the cause of death were service connected if
the cause of the veteran's death was not due to willful misconduct and the veteran was continuously rated
totally disabled by reason of service connected disabilities for a period of 10 years or more immediately preceding death;
or for five years if the total evaluation was continuously in effect from the date of discharge from military service;
or for one year if the veteran was a former POW who died after September 30, 1999.


MILITARY FUNERAL HONORS DIRECTORY
SERVICE POINTS OF CONTACT
Once the family of an eligible veteran has requested Military Funeral Honors, you can use this directory
to locate a military point of contact to help you arrange for the funeral honors detail.
Social Security Benefits For Wounded Warriors
Obtaining Veteran Service Documents
Army veterans and family members are eligible to receive service-related documents for free through official sources.
Soldiers who separated in October, 2002 or later can submit a signed Standard Form 180/Request Pertaining to
Military Records (www.archives.gov/research/order/standard-form-180.PDF) to the U.S. Army Human Resources Command,
ATTN: AHRC-PDR-V/ Department 420, 1600 Spearhead Division Ave., Fort Knox, KY 40122-5402. Soldiers who separated
prior to October, 2002 should submit a signed SF 180 to the National Archives and Records Administration's National
Personnel Records Center, 1 Archives Drive, St. Louis, MO 63132-1002, or telephone the NPRC at 314-801-0800.
National Guard Soldiers should contact their State Adjutant General at their state's address found at
www.nationalguard.mil/resources/states.aspx. Veterans can also access their information directly at eBenefits at www.ebenefits.va.gov .
For more information, telephone the Army Human Resource Command at 1-888-ARMYHRC (276-9472).
MILITARY FUNERAL HONORS
Family members of the deceased veteran should first notify their funeral director of their desire to have military funeral honors rendered.
(There is no cost to the veteran's family to have military funeral honors provided by WDVA or the military.)
The family should provide the funeral director with the following information, if available:
•Name of deceased, date of birth, Social Security number, form DD-214 (discharge), or any other proof of veteran status or eligibility for burial honors.
•Branch of service and type of service (active, reserve, National Guard, retired).
The funeral director or family member, if not using a funeral director, should then contact: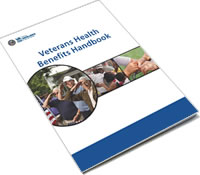 COMING SOON
CLICK ON THE HANDBOOK FOR MORE INFO
Update your VA information Online


Military / Veterans Financial Field Mannual
BBB Military Line
VIETNAM VETS INFORMATION
For the purposes of VA compensation benefits, Veterans who served anywhere in Vietnam between January 9, 1962 and May 7, 1975
are presumed to have been exposed to herbicides, as specified in the Agent Orange Act of 1991. These Veterans do not need to show that they were exposed to
Agent Orange or other herbicides in order to get disability compensation for diseases related to Agent Orange exposure.
Service in Vietnam means service on land in Vietnam or on the inland waterways of Vietnam.
This includes Veterans who either set foot in Vietnam (This includes brief visits ashore, such as when a ship docked to the shore of
Vietnam or when a ship operated in Vietnam's close coastal waters for extended periods and crew members went ashore, or smaller vessels from
the ship went ashore with supplies or personnel. The Veteran further must provide a statement of personally going ashore.) or
served on a ship while it operated on the inland waterways of Vietnam.
Blue Water Veterans are not presumed to have been exposed to Agent Orange or other herbicides unless they set foot in Vietnam or served
aboard ships that operated on the inland waterways of Vietnam anytime between January 9, 1962 and May 7, 1975. Check VA's list of
U.S. Navy and Coast Guard ships that operated in Vietnam. Evidence confirmed through military records must show that the Veteran was aboard one of these ships.
Veterans who were exposed to Agent Orange or other herbicides during military service may be eligible for a variety of VA
benefits, including an Agent Orange Registry health exam, health care, and disability compensation for diseases associated with exposure.
Their dependents and survivors also may be eligible for benefits. Learn more about benefits related to Agent Orange exposure.
The VA can help determine eligible service in Vietnam after you file a claim for disability compensation, survivors' benefits, or benefits for children with birth defects.
Veterans may be eligible for an Agent Orange Registry health exam. You don't have to file a disability compensation claim to receive the exam.
Contact your local VA Environmental Health Coordinator about getting an Agent Orange Registry health exam.
Self-Help Guide to Service-Connected Disability Compensation for Exposure to Agent Orange for Veterans and
Their Families published in June 2011. You may also want to visit the VA website on Military Exposures.


National Personnel Records Center Has Moved
New Address
National Personnel Records Center
1 Archives Drive
St. Louis, MO 63138-1002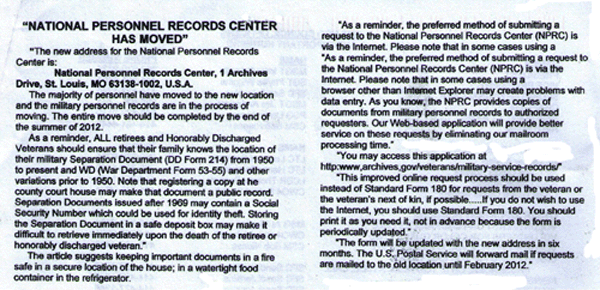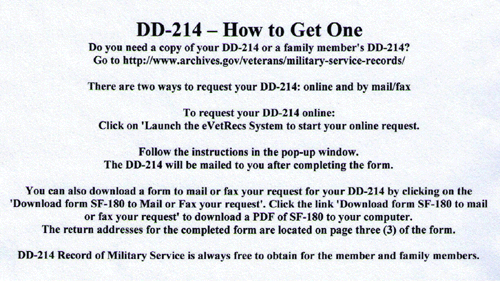 Post-9/11 Military Disability Ratings Could Be Increased for Vets
Veterans discharged between Sept. 11, 2001, and Dec. 31, 2009, with disability ratings of 20% or
lower, are being urged to apply for a review of their military medical disability rating.
Currently, only 3,000 out of 77,000 eligible veterans have applied for the review, with half receiving upgrades to 30% or
more, which would make them eligible for a military medical retirement, retiree pay, access to military healthcare and other benefits.
If you know a Post-9/11 veteran who was separated with a low disability rating, tell him or her to go online to www.health.mil
Click the "About MHS" link atop the page, and then click the "Physical Disability Board of Review" link. They'll thank you for it later.
Rules Ease for Undiagnosed Gulf War Illnesses
Veterans of the Persian Gulf War with undiagnosed illnesses now have an additional five years to qualify for VA benefits.
A recent change in VA regulations affects veterans of the conflict in Southwest Asia.
Many have attributed a range of undiagnosed or poorly understood medical problems to their military services, with
chemical weapons, environmental hazards and vaccinations among the possible causes.
At issue is the eligibility to claim VA disability compensation based upon those undiagnosed illnesses, and the ability of survivors
to qualify for VA's Dependency and Indemnity Compensation. Under long-standing VA rules, any undiagnosed illnesses used to establish eligibility
for VA benefits must become apparent by Dec. 31 2011. The new change pushes the date back to Dec. 31, 2016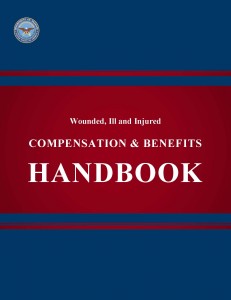 My Next Move for Veterans is an easy-to-use online tool that allows veterans to enter information
about their experience and skills in the field, and match it with civilian careers that put that experience to use.
The site also includes information about salaries, apprenticeships, and other related education and training programs.


The Veteran Gold Card provides post-9/11 veterans with extra support as they transition out of the military.
Once a veteran has downloaded the Veteran Gold Card, he or she can access six months of Free personalized case
management, assessments and counseling at the roughly 3,000 One-Stop Career Centers located across the country.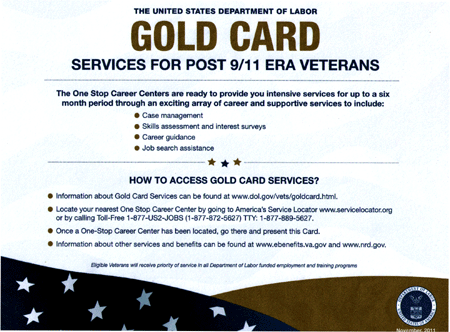 Veterans GI Bill
Agent Orange Vietnam Ship List
VA Regional Benefits Offices
VA Hospitals and Clinics
VA Vet Centers
VA Cemeteries
State Veterans Affairs Offices
Veterans Survivors Benefits
Veterans Home Loans
Download Needed VA Forms
Women Veterans
Military Services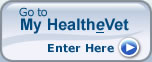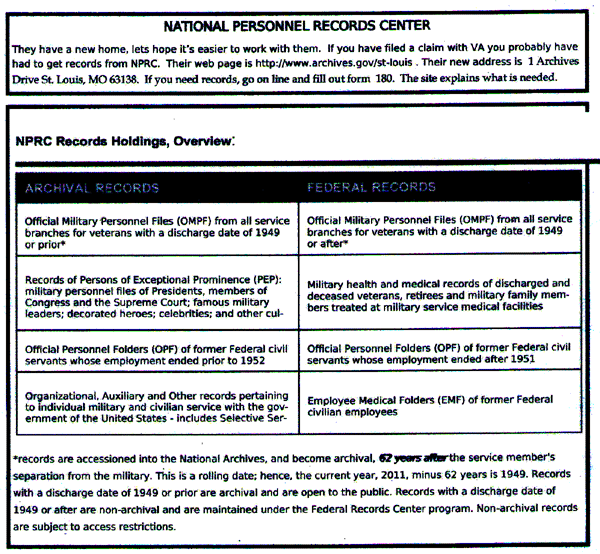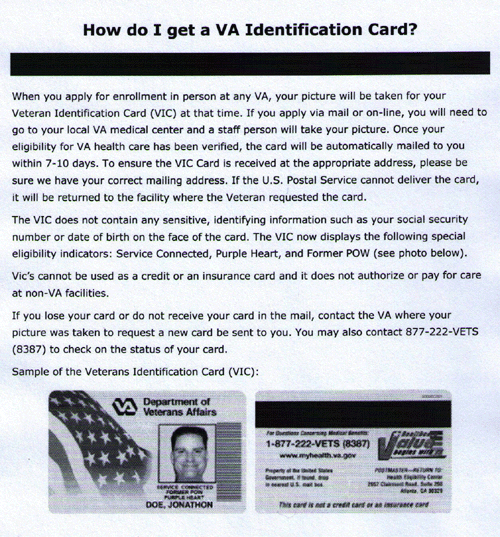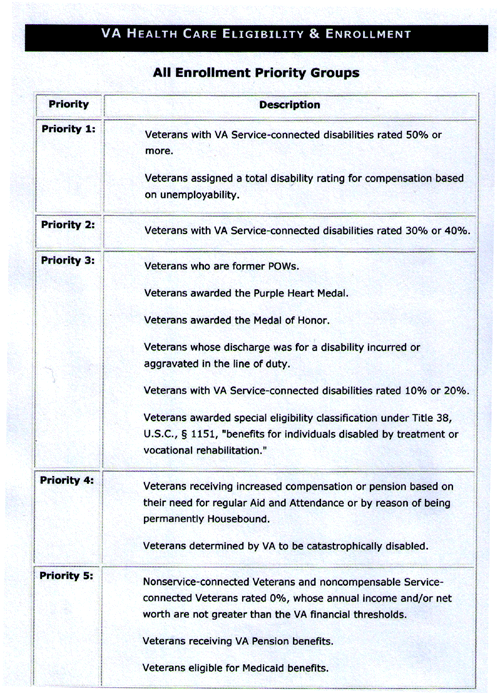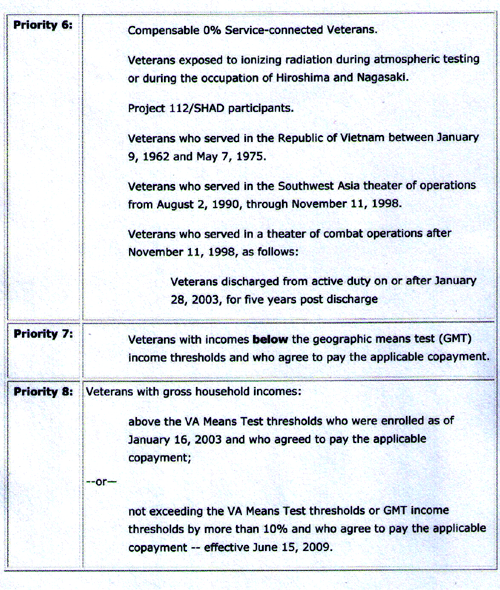 Priority 7-8 Veterans (Have No Service Connected Disability)
Inpatient Co-Payments - $10 day + $1132 for first 90 days $566 after 90 days (Based on 365 day period)
Outpatient Co-Payments - $15 primary Care - $50 Speciality Care
Xrays-Lab-Immunizations - No Co-Payment
$9 for 30 day supply of VA Prescriptions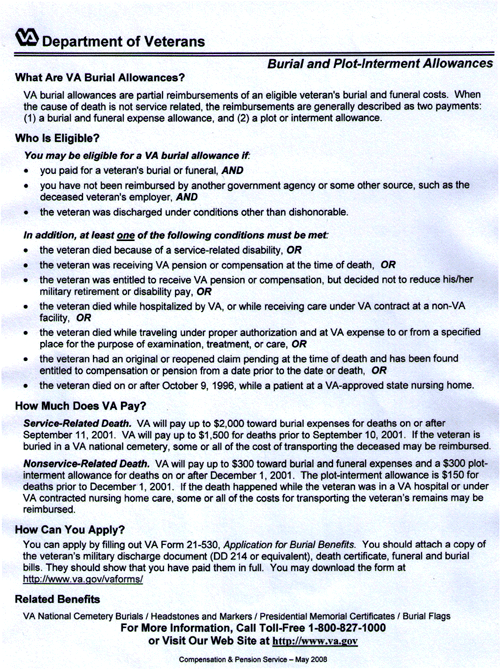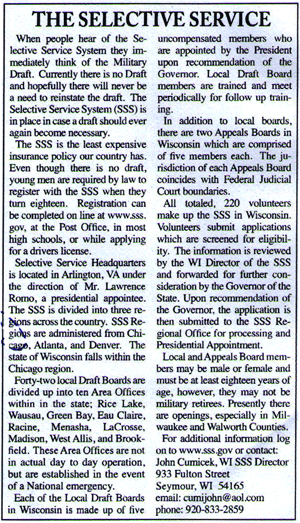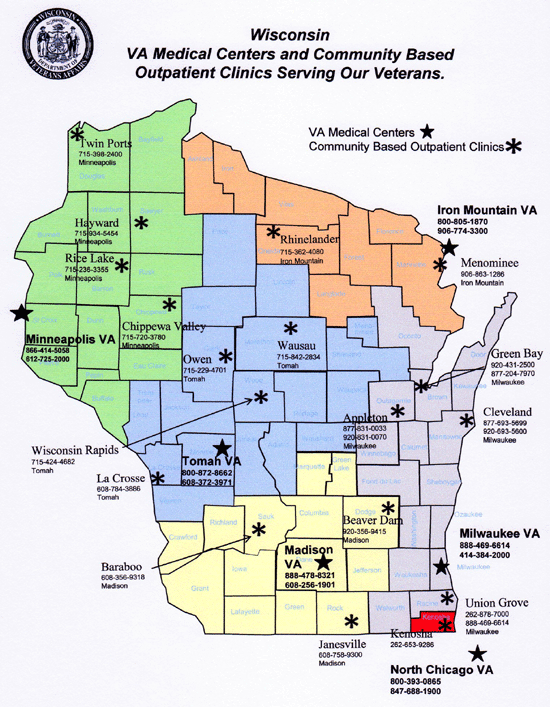 WISCONSIN VETERANS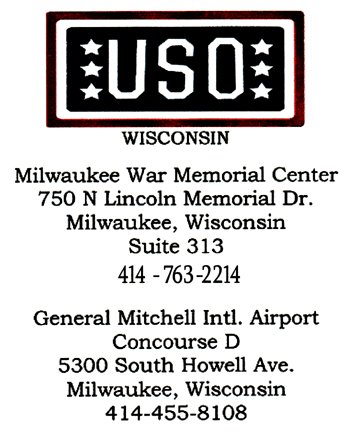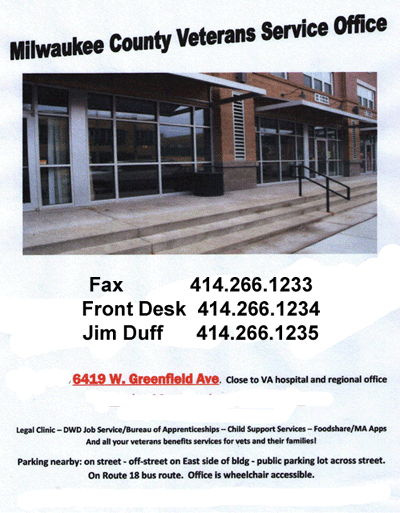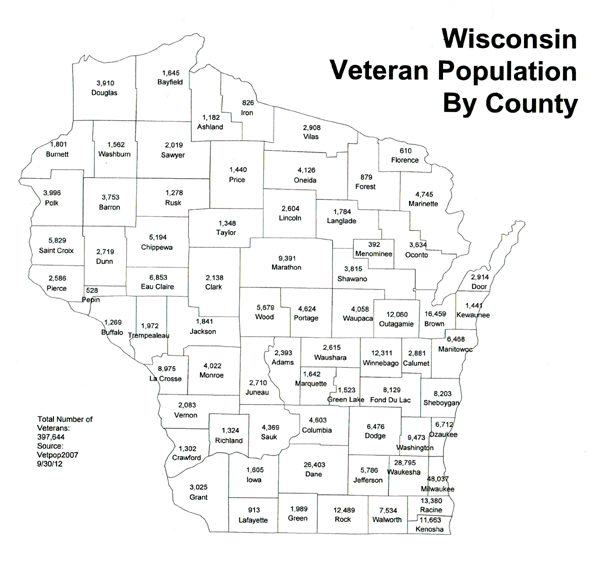 Sites By Jeff Dentice (Doc)