MUSIC PLAYING ON THIS SITE
This Army Medic is Proud to host this site for these
"Special Ladies"
Doc Dentice was a Medic in CuChi, Vietnam in 1967/1968
Welcome Home from "Doc" to all of our Donut Dollies.


__Donut Dollies__
A Trip Back To Nam



Mary Blanchard-Bowe and Dorset Hoogland Anderson
The untold story of American women, who volunteered to go to Vietnam
on an impossible mission: To help the Troops forget about the war.
Two Dollies will retrace their 1968/1969 tour of duty In-Country.
Cu Chi - Na Trang - Tuy Hoa - Cam Rahn Bay - Pleiku - Qui Nhon
Their entire trip to Vietnam, will be captured on film, for all to remember.
CLICK HERE
Watch the video, and help make this happen..........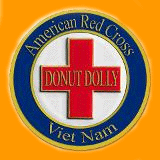 ANY DOLLIES SEEING THEIR PICTURE ON THIS SITE WITHOUT THEIR NAME
PLEASE CONTACT "DOC"
Have pictures you would like to share with other Dollies & our Troops?
Please send them to "Doc"
Name / Names & When & Where they were taken.
Thank You
Doc


Donut Dollies - Service And Sacrifice

Doc has the MP3 if you want to hear a WWII Donut Dollie story.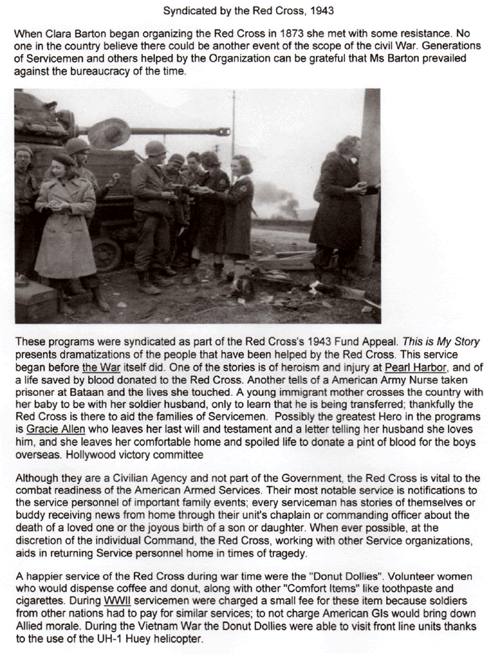 Donut Dollies Honored in Milwaukee, WI. Memorial Day Parade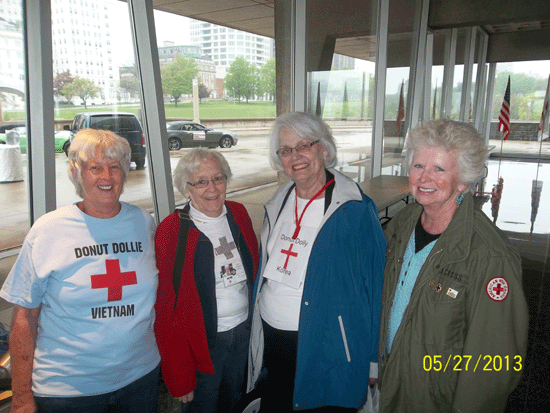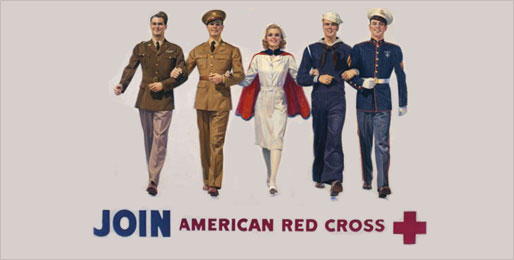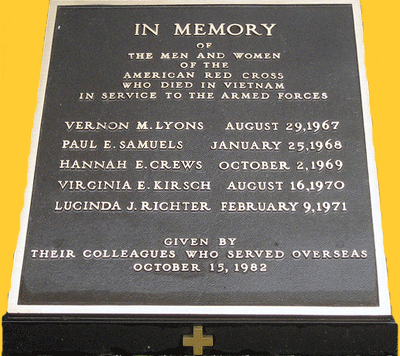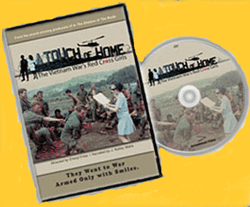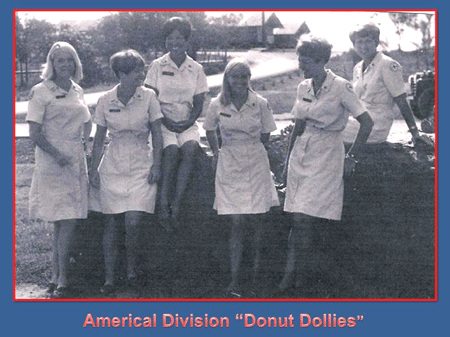 ANYONE HAVE NAMES FOR THESE DOLLIES??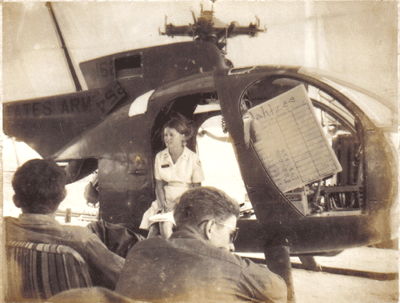 Does anyone know who this Dollie is?
Let "Doc" Know
Also contact Joe Gwizdak
HHC, 3rd Bde, 101st ABN Div.
(Thunder Aviation) at Camp Evans in Northern I corps
Summer of 1969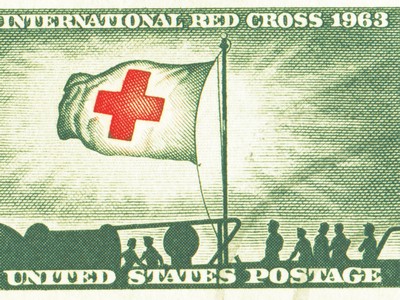 FROM NURSETOGETHER.COM


OKAY DOLLIES - IF YOUR IN THE PICTURE ABOVE - LET DOC KNOW!


MARGOT IS 3RD FROM THE RIGHT IN SUNGLASSES IN THE PICTURE ABOVE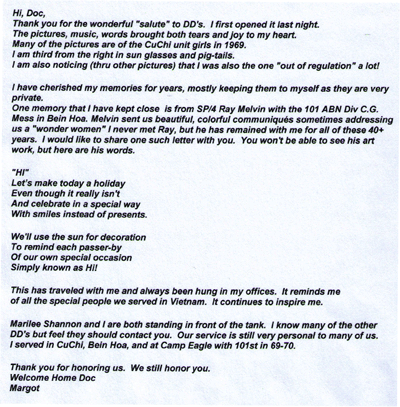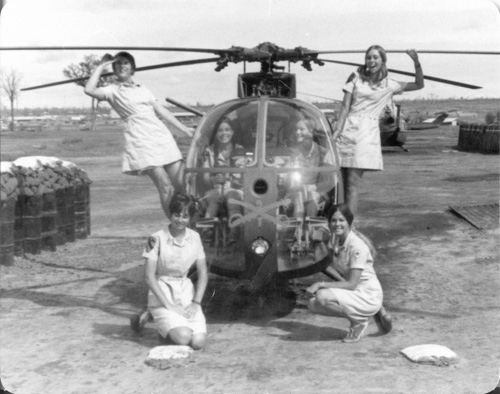 Doc would like to know who these Dollies are, and where the picture was taken.
.
Bryan Smothers would like to credit the person who shot this original, pay them for usage rights, and get a high resolution image.
He is writing a book on his Vietnam experience and wants to use this photo.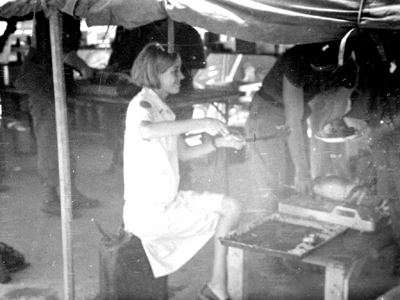 Does anyone know who this Dollie is?
Phu Loi, Vietnam January of 1967
Let "Doc" Know
Also contact
Sgt E5 Terrence M.Fitzgerald
He Talked with this Dollie in Nam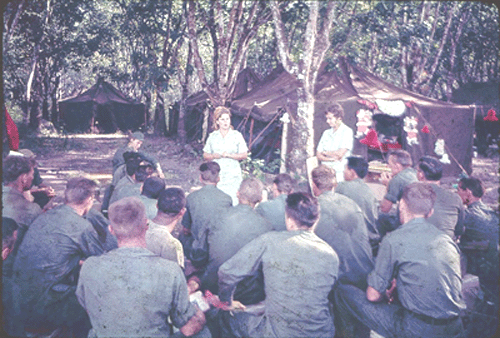 I don't know their names - they were in our lives for only a couple of hours but they were a very nice couple of hours.
The picture was Christmas Day, 1966 in a rubber plantation not far from Blackhorse Base Camp.
The Dollies are entertaining F Troop, 11th Armored Cavalry Regiment.
Glad to see your Donut Dollies Tribute website - those ladies deserve recognition.
They had no political axe to grind, they weren't getting rich and they were a long way from home.
They were there only to make us feel good..
Howard C. Batt, Esq. - Clearwater, Florida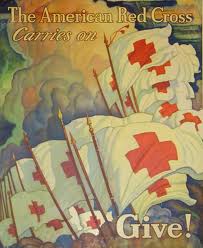 web.pdx.edu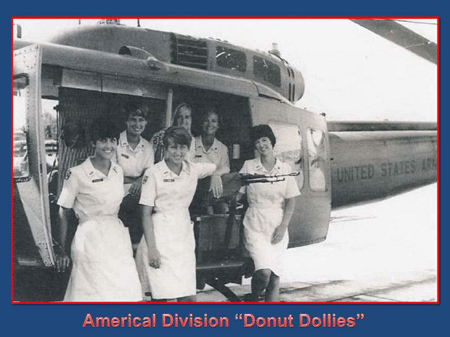 Robert Park is asking who these Dollies are?
General Fred Weyand welcoming two Donut Dollies to CuChi in 1966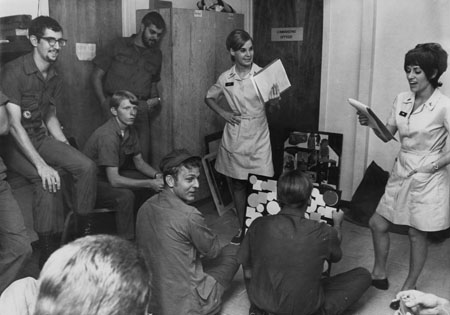 Jackson Library, The University of North Carolina at Greensboro.
I was in VN 70-71, stationed at Chu Lai, Cam Ranh Bay, and Phan Rang…..
Dale "Paige" Dempsey (right) and fellow Red Cross worker Diane Johnson lead a quiz game
for six pictured servicemen as a part of recreation activities at Cam Ranh Bay, Vietnam, in 1968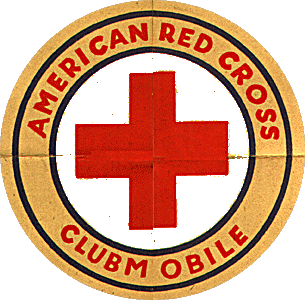 Courtesy of koreaatourofduty.us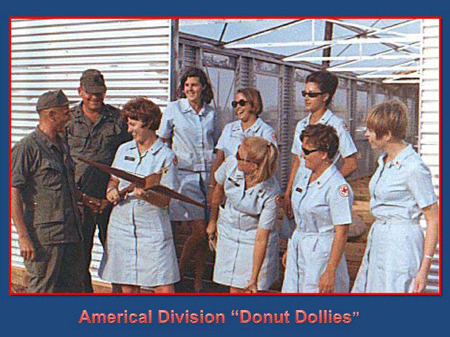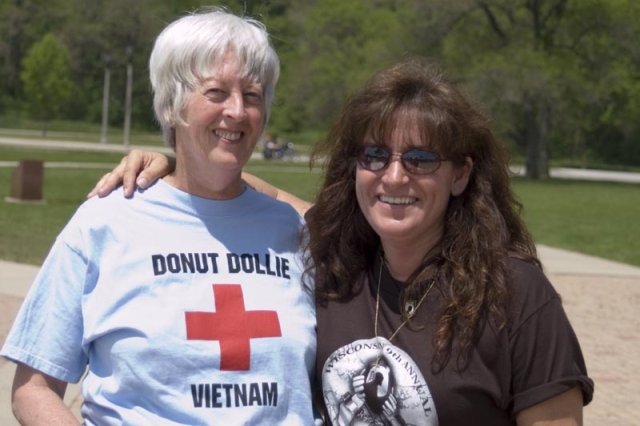 Emily & Julie at Doc's
Wisconsin POW-MIA Balloon Launch in Milwaukee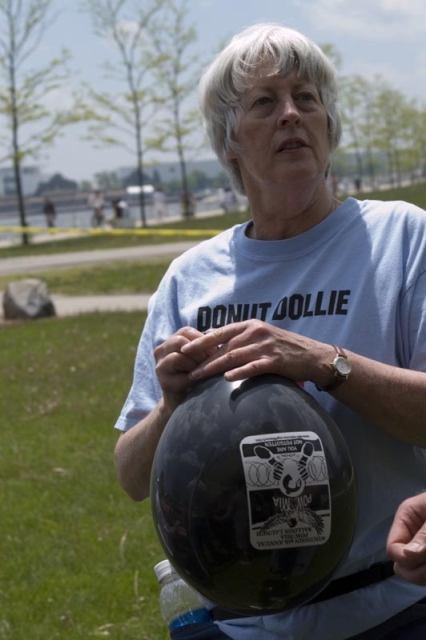 Wow. Just visited your Donut Dollie Tribute.
Thanks Doc so much for doing this......and thank you for your service.
Joyce Rice Denke - Donut Dollie
Vietnam 70-71, Danang and Cam Rahn Bay
Riesel, Texas
jdenke@embarqmail.com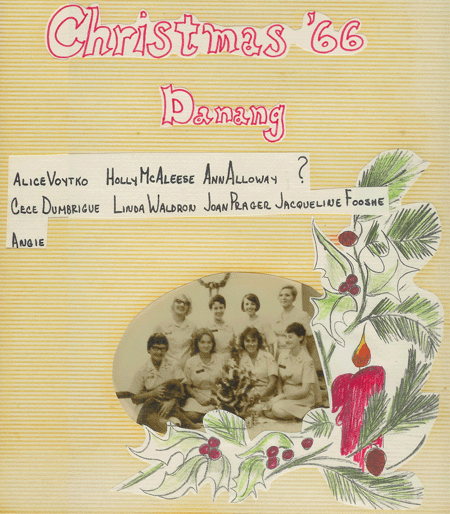 Photos courtesy of Mary Ellen McKeny - Donut Dollie - Vietnam
Nov 66 - Oct 67; Danang / An Khe and Cu Chi
The Dollie top row (R) is Mary Ellen Supak Ypsilanti, MI.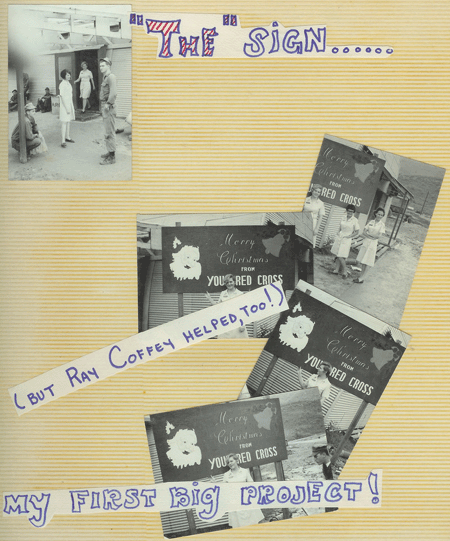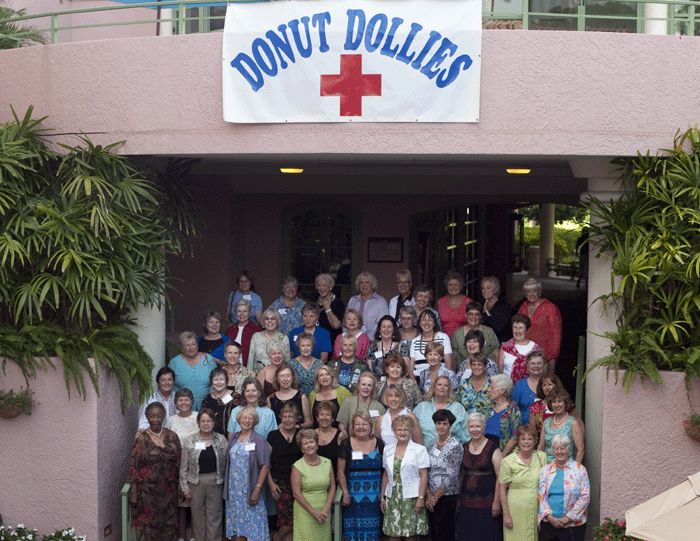 Donut Dollie Reunion July 2010 St Petersburg, Florida
Thanks Mary Jo Schenk
++++++++++++++++++++++++++++++++++++++++++++++++++++++++++++++++++++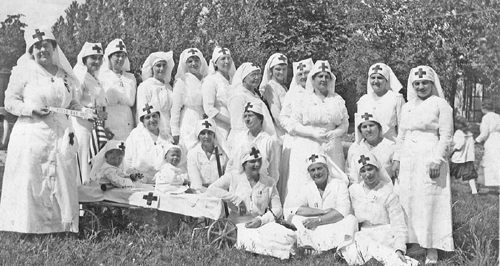 ghmchs.org


Donut Dollie Photos In Vietnam
Pictures For Doc's Dollie Site Courtesy Of Sharon Cummings - Donut Dollie



Dollies At The 2007 Dallas Reunion - Sharon is bottom center in pink.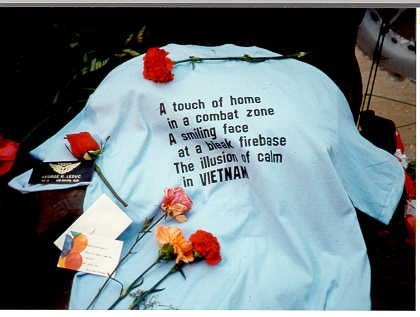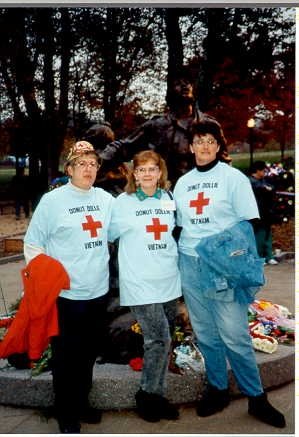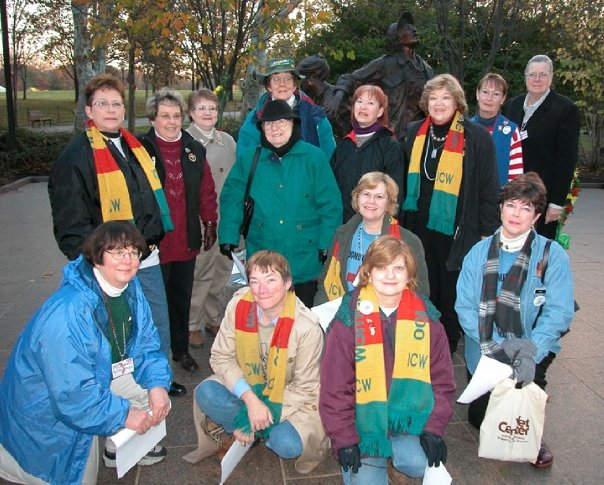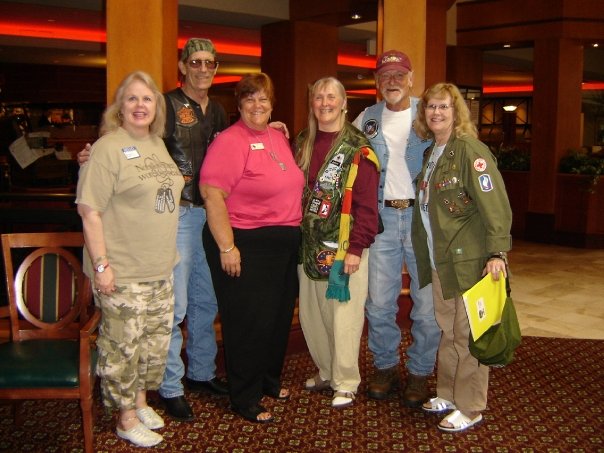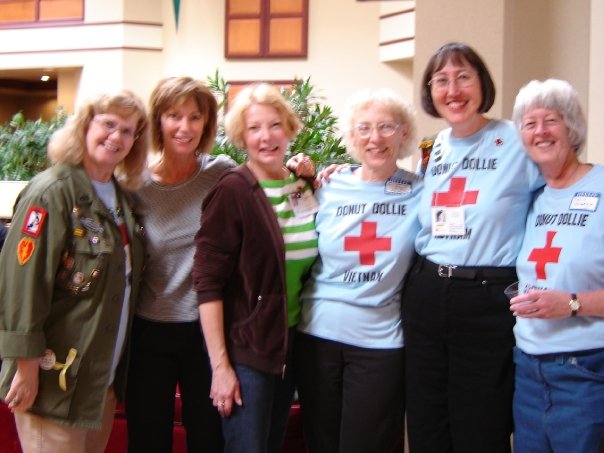 +++++++++++++++++++++++++++++++++++++++++++++++++++++++++++++++++++++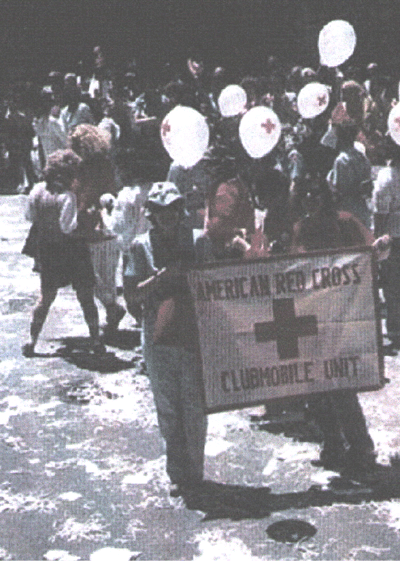 DOLLIES AT CHICAGO WELCOME HOME PARADE 1986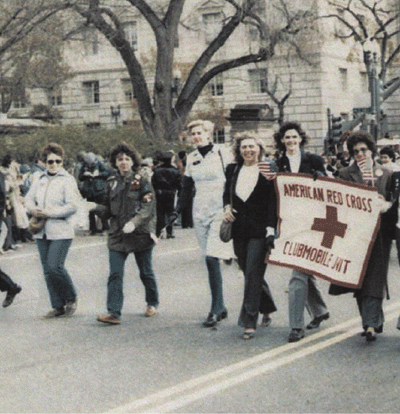 DOLLIES AT WASH.D.C. PARADE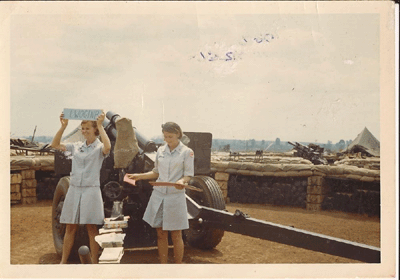 Ginnie & Lori
April 1968 in Phu Loi. Vietnam
Thanks Curt Lance - C Co, 1st Bn, 28th Inf, 1st Inf Div...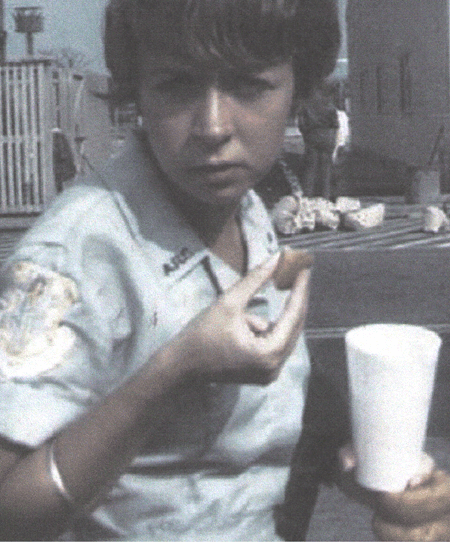 Maggie Ware Pierson - TeT 1968 - Saigon Vietnam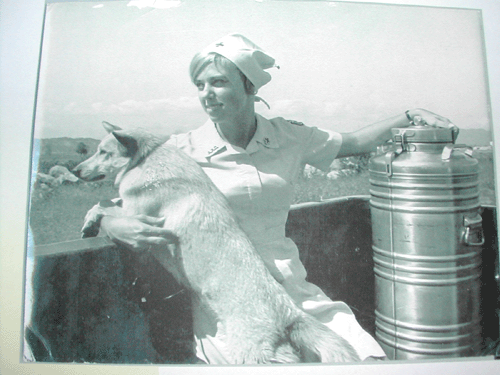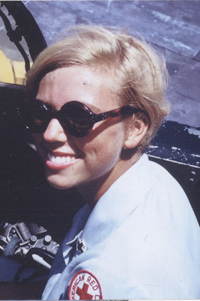 Jeanne Marie Bokina Christie "Sam"
DONUT DOLLIE - VIETNAM - 1967 in Phan Rang
Served In: Nha Trang, Da Nang, Phan Rang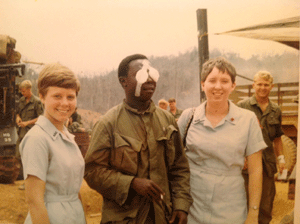 I was with A Troop 3/5 Cav. Supporting the 101st, in 1969.
This picture was taken of one our guys with some (Dollie Betsy?)
Camp Evans area north of Hue City - 101st Dollies
Wanted to pass it on after running upon your website.
Tom Mlynarski



Looking For My Dollie Friends
I served from '68-69 in Qui Nhon and Bien Hoi. I would so love to get in touch with old friends.
Thank you,
Maryd. Coster (Marydiane Coon)
2key2@comcast.net
Looking for Donut Dollie Ginnie Berryman - 68/69 Danang, Vietnam
Rob Wood - Las Cruces, New Mexico
robwood@wwdb.org
Doc,
Thank you for posting the picture of my book.
But, most of all, thank you for setting up this beautiful web site.
I go to it quite often, and truly enjoy the pictures and the memories they bring back.
Other Dollies have told me they sure appreciate your doing this for them.
I have received emails from people who have stumbled upon it.
They email me and tell me that they have found this great Donut Dolly web site and send me the link.
I always go to the web site, spend some time looking at it, and then thank the person who sent me there.
I tell them how much I enjoyed it.
Your work has made a lot of people happy.
Thank you.
Joann Puffer Kotcher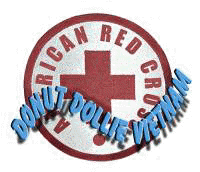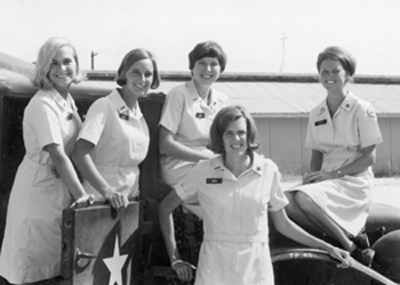 2nd502 Tribute To The Donut Dollies
According to the Red Cross Museum, a total of 899 Donut Dollies served in South Korea from
1953 to 1973 traveling almost three million miles by jeep and helicopter.
Another 627 served with the SRAO in Vietnam from 1962 to 1973.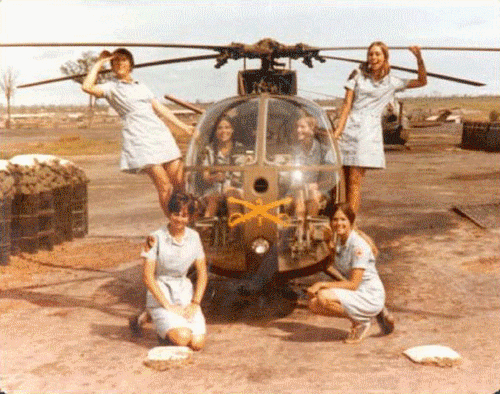 Americal Donut Dollies - Vietnam - Thanks A Company 4/3 for the Pics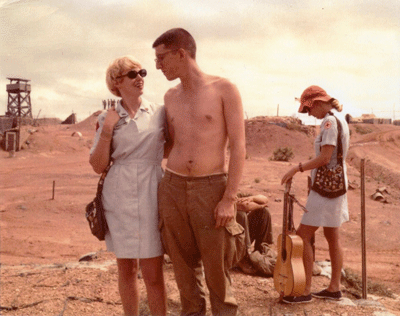 SGT OWENS with 2 DONUT DOLLIES ON FIREBASE CHARLE 2 ON
THE DMZ with 1st Bn 61st Infantry 5th Divison May 1971


American Red Cross - Vietnam AFVN Radio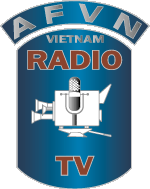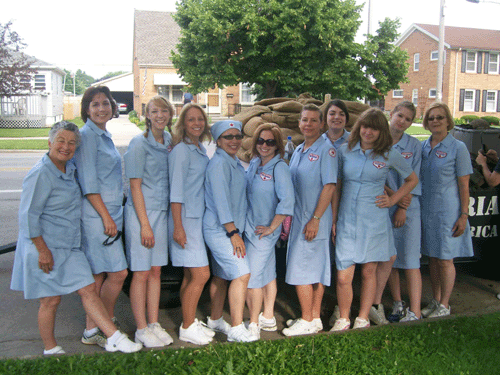 Members and supporters of Vietnam Veteran's Chapter 767, of Racine Wisconsin portray Donut Dollies in the annual July 4th parade.
Donut Dollies was the affectionate name given to American Red Cross Recreational Workers in Vietnam.
These young women brought a "Touch Of Home" to our troops serving in combat zones.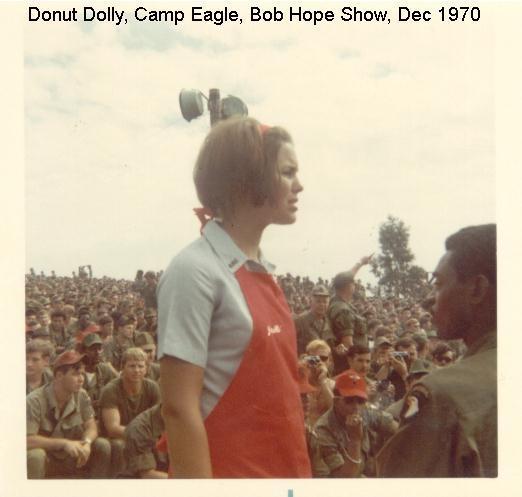 THANKS STEVE - MONROE UTAH
Just wanted to thank you Doc
I was in Vietnam as a "DD" in 69-70 at
Cu Chi, Cam Ranh Bay and Phan Rang
Marrilee Shannon
www.mkshannon.com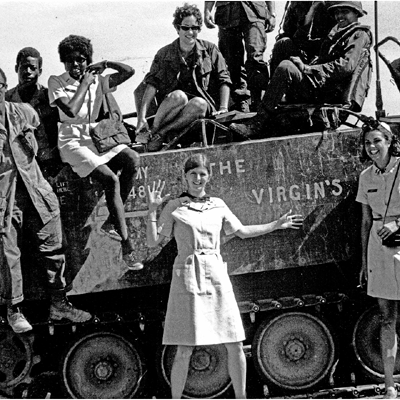 Doc, here is a photo of a group of Donut Dollies in the field. We
were stationed with the 25th Infantry in Cu Chi. This was taken in
early 1970. MK Shannon is front & center. I had this picture taken to send to
my Dad. I was an Air Force brat.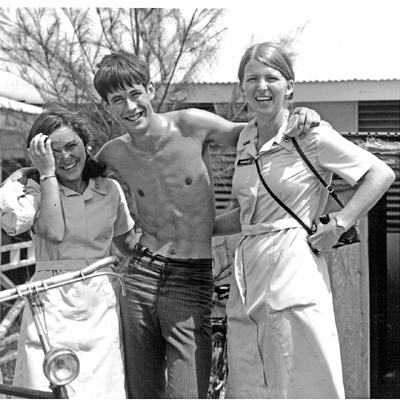 This is from the Air Force Base in Phan Rang
Du Drop Inn - Red Cross Recreation Center.
MK is on the right............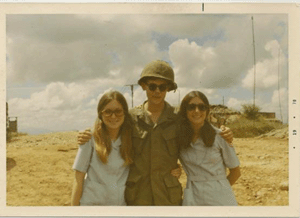 Bob Brunette
1970 at FSB A4 (Con Thien), Quang Tri provence/Vietnam
PLATOON
By Minda Armstrong
I watch her eyes dance to the memory screened before her.
As cast in stone, her body is a speechless monument to buried truths of glory.
Her silence is broken by questions of what was-
With answers of what should never have been.
Her smiles and play-games, mere diversion from death, cloaked the ghosts of an unspoken war.
Dedicated to the "Donut Dollies" of the Red Cross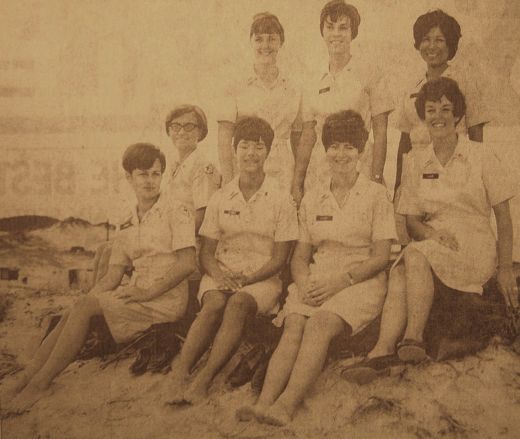 These "Donut Dollies" were Red Cross workers stationed in the "war zone."
In 1968, they posed on the Cam Ranh Bay beach in Viet Nam for a group picture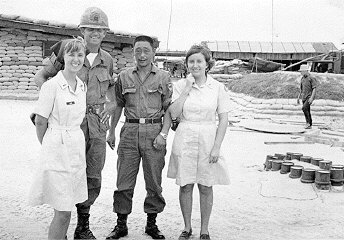 15th Field Artillery Regiment
C/7/15 Captain with
ROK commander and
USO "donut dollies"Vietnam
Photo: Dave Holdorf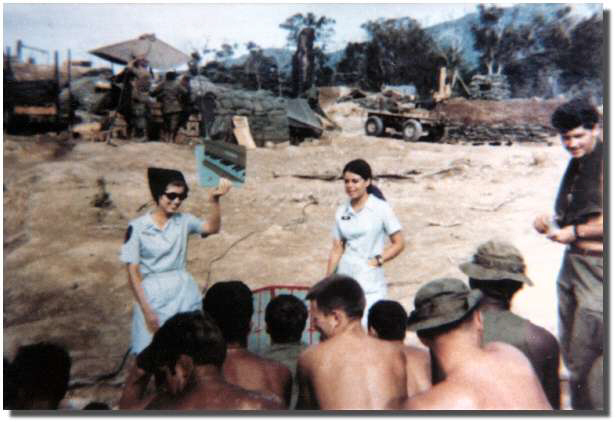 E Company - 2/7 Marines - Vietnam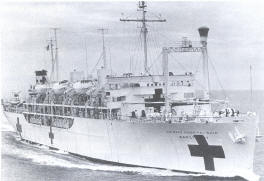 Redcross - Vietnam Sanctuary
nscda.org
THE GALS DRESSED IN POWDER BLUE…
What's a girl doing in a place like this?
You were all so beautiful and full of grace
We could not take our eyes off their round eyes or their legs
And the way the area smelled when they were around
Set our heads and hearts a spinning
They were the girls from back home
That came to help us forget for a while where we were
We called you our Donut Dollies
But they were much more than that to us
You were our moms, our sisters, our girlfriends and wife's
Who brought to us a sense of sanity in an insane world of war
They touched not only our hands, they touch our hearts
But more than that they touched our souls
They shared with us the same hardships, the same sadness,
The same joys that war brings to the mind, heart, and soul
These girls in blue gave us hope, and they gave us love
They gave us themselves in a moment in time
The journey we shared made us brothers and sisters
And a few became our soul-mates of the soul
Thank you for being there, thank you for playing the games,
Serving us meals, for singing to us, and loving us when
So few cared about us from back home
We used to call you our Donut Dollies
But now we call you our heroes dressed in powder blue
We are still amazed by your round eyes and legs
For all of us are still dreaming the dreams of 20 year olds
And we still see you through the eyes of innocent boys
Becoming old men before our time
We found that blue is a great color to wear to a war
©Copyright November 15, 2008 by Kerry "Doc" Pardue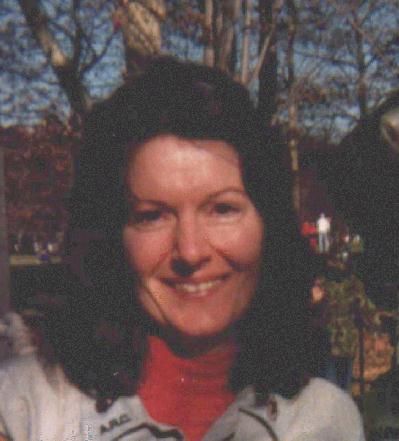 Nancy Smoyer
Red Cross "Donut Dolly" in Vietnam in '67-'68, stationed at An Khe, Danang and Cu Chi
Virtual Vietnam Wall Volunteer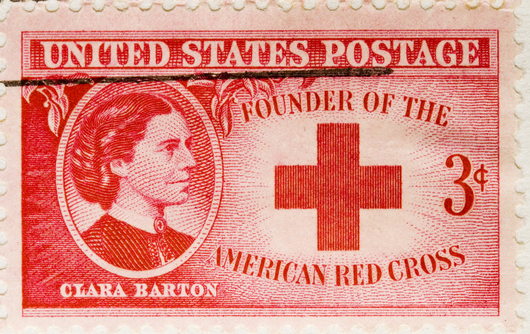 ournostalgicmemories.blogspot.com
Fact
627 Donut Dollies served in Vietnam
$4,800 Approximate annual starting salary
2 million Miles traveled in jeeps, trucks and helicopters
7 years Length of program in Vietnam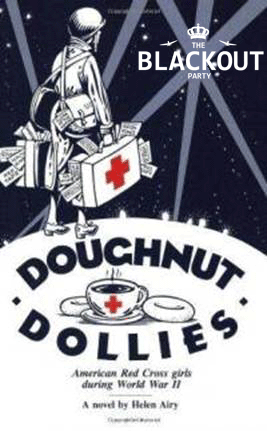 ANYONE HAVING PICTURES OR STORY'S OF DONUT DOLLIES THEY WANT POSTED ON
THIS SITE PLEASE SEND ME AN EMAIL WITH THE PICTURE AND NAME AND SHORT STORY!
Jeff Doc Dentice
Milwaukee, Wisconsin
CuChi, Vietnam 67/68 - Medic
Doc's Email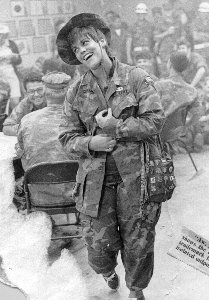 Susan Bradshaw McLean
(Donut Dollie in Vietnam 1970 -71)
An Khe in the Central Highlands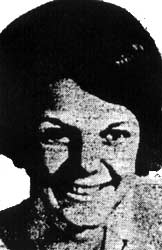 Ginny Kirsch
Donut Dollie-CuChi Vietnam
YOU ARE MISSED GREATLY BY SO MANY........
(Ironic to Doc Dentice to here this story-He was stationed at the 25th at the 25th Med Bn.
which was very close to Ginnys billet area.)But in 67/68-much earlier.
And the fact that this Vet who admitted Killing Ginny, was transferred to Wood, Wisconsin which is
part of the Zablocki VA grounds next to the now Miller Park is surreal.
Doc left Nam in July 68 and worked a mile away from Wood - VA Grounds.
I hung around this entire area for many years.
That he was just released into Milwaukee, and that was that, is pathetic.
Ginny was Susans best friend in Vietnam..
Both met in training in Wash.D.C.
"Ginny is dead. She was murdered last night by a soldier at Cu Chi."
Susan couldn't hear anything after that. She thought "Oh my God no! It can't be true." But it was true!
Ginny was stabbed to death by a GI in her billet at the headquarters of the 25th Infantry.
She had been there only one week.
The Red Cross billet was less that 200 yards from division headquarters and only 100 yards from the Officer's Club.
The billets were under military police guard at night.
Ginny was the first Red Cross worker to have been murdered in the 17-year history of overseas service.
Back at The Wall now, Susan once again feels the pain and anger of Ginny's loss.
She is outraged at the tragic irony of Ginny being murdered by someone she came to serve.
She laments the great injustice of her killer being honorably discharged and residing comfortably in the air-conditioned confines of a psychiatric ward.
And Susan is disappointed that the only recognition of Ginny's sacrifice is her name on a rock in the Red Cross headquarters' garden.
Ginny is a patriot who gave her life for her country.
She has earned a place on The Wall. But her name is not there! And her presence is sorely missed.
READ THE STORY ABOUT GINNY
Best Documentary - AKA Donut Dollies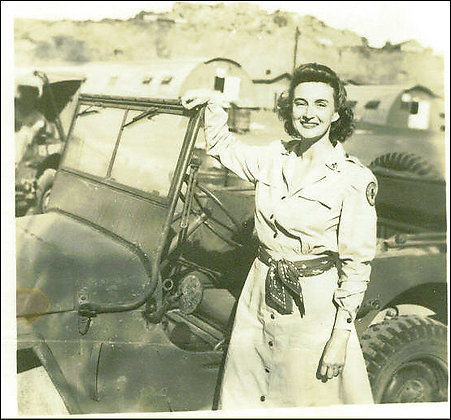 Avonia C. LeVan; Teacher, Donut Dolly in WWII
Avonia Crosthwaite LeVan started a United Service Organization on Iwo Jima.
After the war, she created and managed a Red Cross facility in Germany.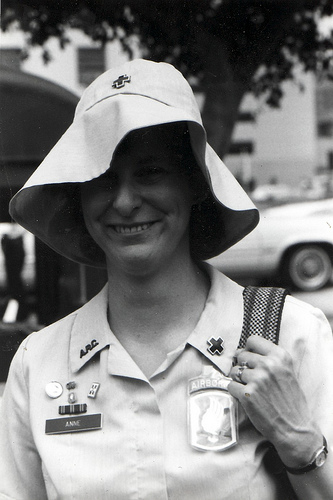 Doc
Found your Dollies site-Thank You
I too was in Vetnam 1967-1968. 25th div. 1/5 Mech.
Maybe you can help me find a Dollie from Cu- Chi????
She was a Donut Dollie from Washington state from a little town called Camas.
She grew up just down the road from there. We spent about 3 hours talking about old swiming holes,
cruising the D.Q. down town. At the time it made me forget about the war.
I would love to find her and thank her. Joe (Red) Burdick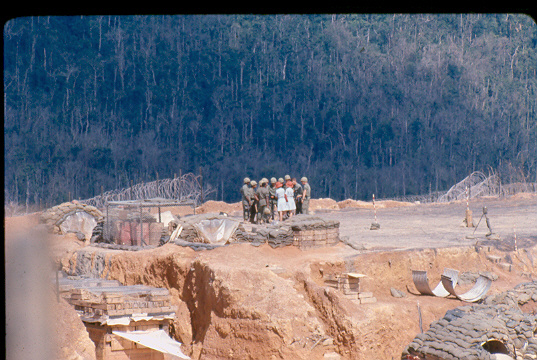 These three pictures were taken at FSB Veghel - I Corps - the summer of 1970.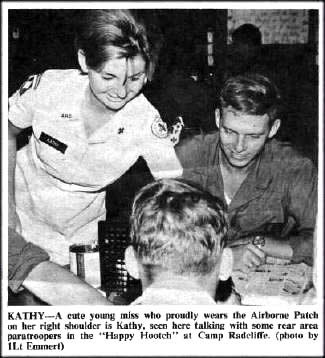 173rd Airborne - Vietnam - 1968
Don Aird
1/83rd field artillery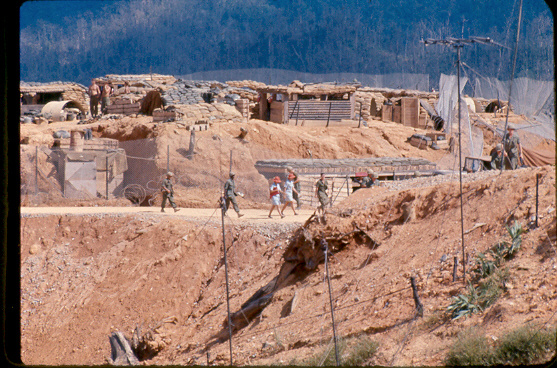 I love the Donut Dollies and give each and every one of them the credit
they deserve for coming over there and visiting with us.
I remember the first time I saw them after not seeing a round eye for a couple months.
It took my breath away, I was scared to talk to them for fear they weren't real.
Each time was really a special occasion.
God bless them all. My hats off to each and every one of them.
Thank You girls for serving your country and thank you for your unselfish act.
You all deserve your very own Award Plaque and a Flag officiated by the United States
of America designated to the Doughnut Dollies of America.
THANK YOU for your service! Sincerly:Roger Bombardier Sp-5 a Vietnam Veteran 69-70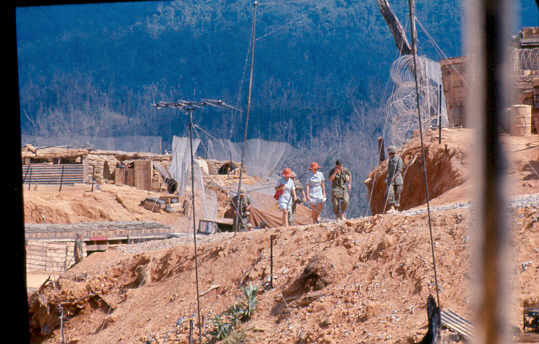 One-time 'Donut Dolly' Has a Lasting Red Cross Connection
Debby MacSwain is nothing if not humble. "Let me tell you who you should really do a story on," she said.
From those words, you would never guess that she has 44 years of American Red Cross service under her belt.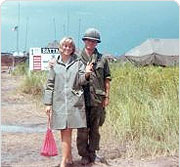 Deborah MacSwain with an unidentified soldier in Vietnam in 1969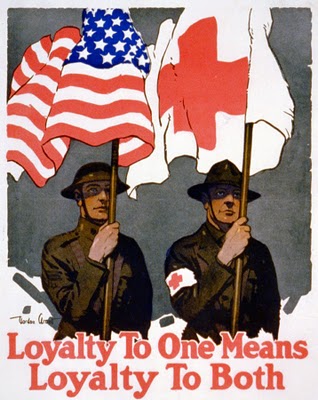 falmanac.blogspot.com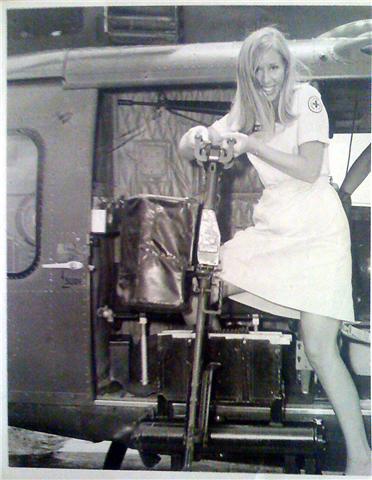 Beth Bryan Critton
Thanks Carrie - I salute your Mom for her service to our Veterans in Vietnam!....Jeff Doc Dentice - Vietnam Medic
Couture Carrie, an East Coast girl who tracks down the latest trends from YSL, Thakoon and all
your other favourites, tells us why her mother still has her
wearing bell bottoms and vintage synthetics, and how it all started with wartime slide shows.
My earliest true fashion icon was my mother. By the time I understood the intrinsic power of fashion -
subscribing to Vogue at age 12 and saving my babysitting money
to buy clothes - my mother's style had (d)evolved into a fairly utilitarian soccer-mom sort of chic
that I had no desire to emulate. My inspiration derived, rather, from her past.
My mother was a Donut Dolly with the Red Cross during the Vietnam War,
and she and her fellow Dollies would often put on "fashion shows" for the soldiers in Vietnam to entertain them...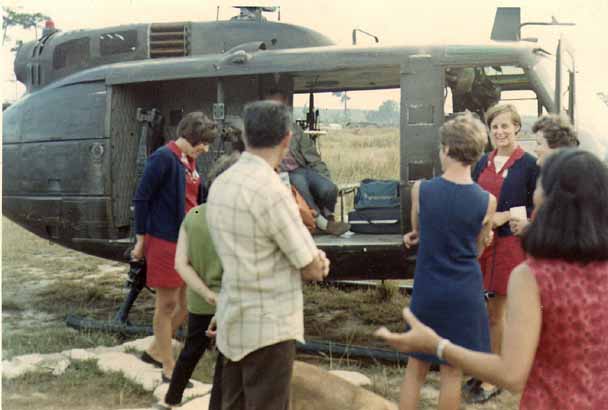 MACV- Ferry's Dollies around Vietnam
(Christmas in Vietnam, 1969)
by Jim Schueckler

Honoring Donut Dollies from the Vietnam War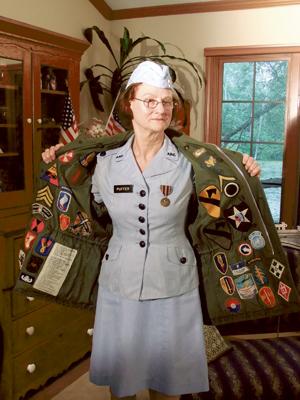 By SHARON LONGMAN
Special to The Oakland Press
Joann Kotcher was a "Donut Dolly" during the Vietnam War.
A Vietnam Christmas - Donut Dollie Elizabeth Arant West




The recruitment ad circa 1967 asked "Are you creative? Could you develop an interesting program on travel, holidays, sports, music,
or current events? The American Red Cross Needs Qualified Young Women Who Are Willing To Serve One Year Overseas….
" Among the qualifications: "The job requires considerable ingenuity and a capacity for hard work under far less than ideal conditions.
" More than 600 young, college-degreed women took the job.
The Vietnam War Donut Dolllies hopped helicopters and duece-and-a-halfs to combat zones armed only with a smile and a bag of games,
bringing "round eyes" and a touch of home to troops in the field. Three decades after the war, they tell their untold story.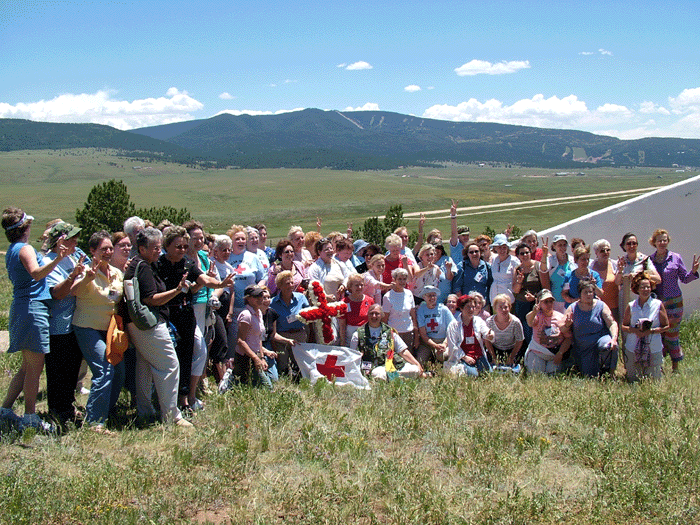 Arrowhead Films, who made the touching movie
"In the Shadow of the Blade"
has created a documentary about the Donut Dollies.
"A TOUCH OF HOME:
THE VIETNAM WAR'S RED CROSS GIRLS"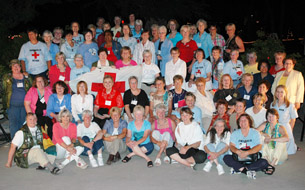 The World Premiere of this movie was in Dallas, Texas.
April 21, 2007: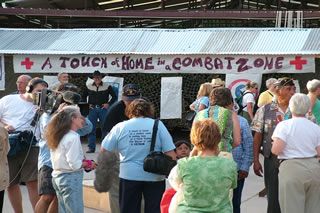 For details contact: donutdolliereunion@yahoo.com
View photos and film clips at:
www.arrowheadfilms.com/atouchofhome.html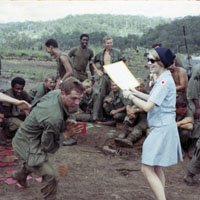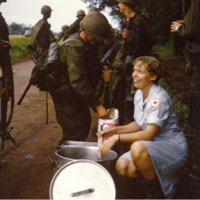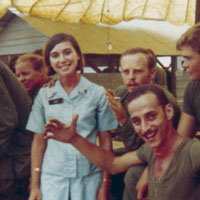 The women who served in the American Red Cross Supplemental Recreation Activities Overseas (SRAO) program
that we refer to as "Donut Dollies" were civilians. We volunteered to go to war and, for the most part, could
choose where we were stationed (not the unit, but the country) and when we left.
Regarding the name, Donut Dolly. We didn't make or serve donuts--too hot! In fact, there were no donut
machines in Vietnam and most of don't recall ever having seen any donuts during our entire tour.
Here's a little history about the name. It was the GIs in Korea (in the 1950's) who gave the Red Cross Recreation workers
the nickname, "Donut Dolly." The women had donut machines and could make up to 20,000 donuts a day when the
troop ships came in. As you can see they earned that name! We just inherited it.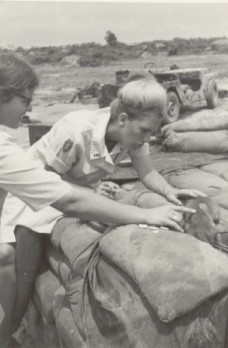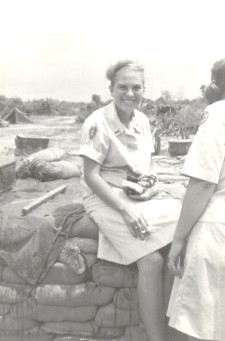 Who is this Dollie in CuChi, Vietnam?
The blonde is Christine Campbell ... Sharon Cummings is on the left.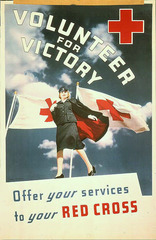 Donut Dollies: Women in Vietnam
Sharon (Vander Ven) Cummings
ARC SRAO (Donut Dollie)
South Vietnam
April 1966 – April 1967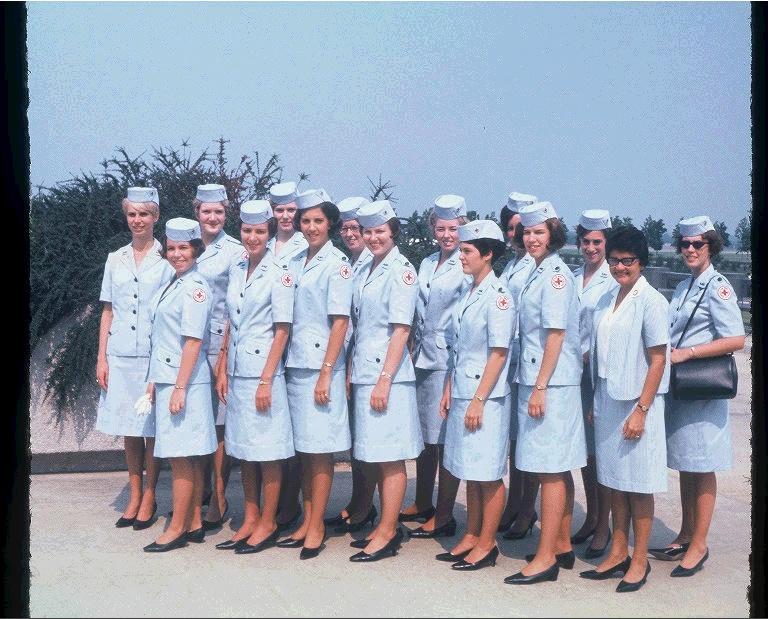 Washington, DC - Training Classbookmark this member invite this member to be a friend From album Donut Dollies by member 1ltken
.....Submitted by Betty Denney, Red Cross Donut Dollie, Korea 1967/68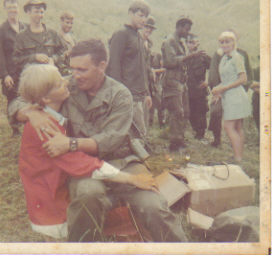 Dec.25,1970
Around or near Hiep Duc Valley
Anyone know these Dollies?
3rd platoon, Co. A, 4/31st, 196th, Americal troops
So far, no one on the Donut Dollie list has been able to identify the 2 DDs in the photo.
However, it has brought up an interesting discussion about how the rules changed ......................
or more accurately were ignored ................ between when the first DDs went in country '65-'66 and
when they were pulled out '70-71 ...................... such as the length of uniform skirts and physical contact with the men.
Thanks for the memories.
See you Doc in New Glarus,WI. for Winterfest 2012
Emily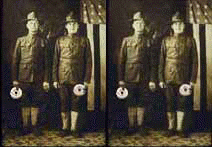 In the Middle of World War I, millions of homesick American "doughboys" were served up countless
doughnuts by women volunteers, trying to give the soldiers a taste of home.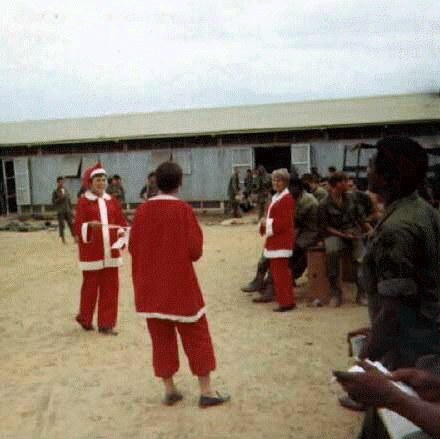 Dollies at FSB bases in Vietnam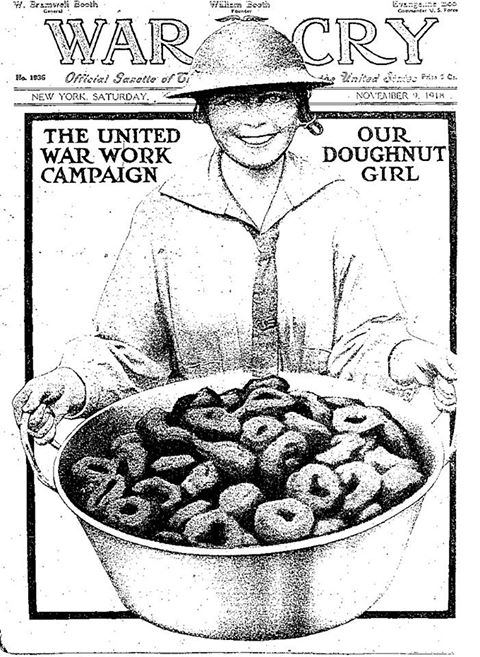 Asheville VA Medical Center - Asheville, NC


'Donut Dolly' serving in Iraq
35 years and still going strong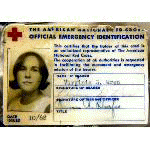 By Spc. Blanka Stratford
CFLCC PAO
CAMP ANACONDA, Iraq (March 19, 2004) - During the Vietnam War, the American Red Cross provided aide to
U.S. servicemembers as well as Vietnamese refugees. At the height of its involvement in 1968, the Red Cross sent approximately 480
field directors, hospital personnel, and recreation assistants to support the growing number of servicemen at various bases and hospitals.
Virginia Wren, now serving in Operation Iraqi Freedom, was one of these people.
Wren was a 7th grade teacher in 1968 when she decided to take a leap of chance and go to an employment agency,
asking for public service work and travel. They offered her Girl Scouts or the Red Cross.
While Wren was in Vietnam, the Red Cross also lost one woman named Hannah Crews.
The closure, said Wren, came in 1993, when the Women Veterans Parade Group had the Women Veterans of Vietnam memorial in
Washington D.C. Hannah's father came to meet the Doughnut Dollies, helping them through unshed tears.
Immediately after Vietnam, Wren went to the Ft. Campbell, Kentucky, hospital to take care of fellow veterans. She did hospital service
from the early to mid-70s, then spent most of the 80's working for the Red Cross in Germany. From 1991 to 1993, she served in the
first Persian Gulf War. Following the Gulf War, she arrived in Landstuhl, Germany, six days before the Sarajevo bombing. She stayed in
Germany until 1997, and then served in Korea and Japan until 1999.
"One of the happiest moments in my life occurred right after I arrived in Landstuhl," she said. "I ran into a soldier at the main intersection
who recognized me from the 47th Field Hospital in Bahrain. He came up to me and said, 'you were the one who
gave me my first birth announcement, and this is my son."
Wren said she was absolutely delighted.
Currently, Wren's permanent station is at Cherry Point Marine Corps Air Station, N. Carolina. She is scheduled to stay in Iraq
until June 2004 and will then leave for the Azores Islands off the coast of Portugal, having completed more than 35 years of Red Cross service.
"I plan on staying with the Red Cross as long as it remains fun and I can pass the physical," said Wren.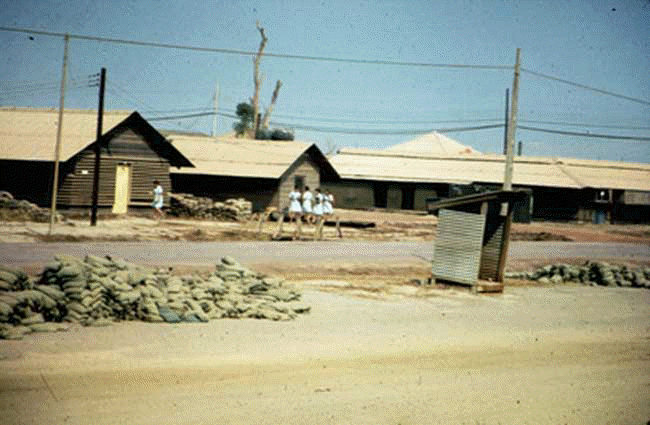 Photo courtesy of David Bledsoe
Donut Dollies at Firebase Moore-Vietnam

RED CROSS DONUT DOLLIES ENTERTAINING TROOPS AT SKYTROOPERS FIREBASE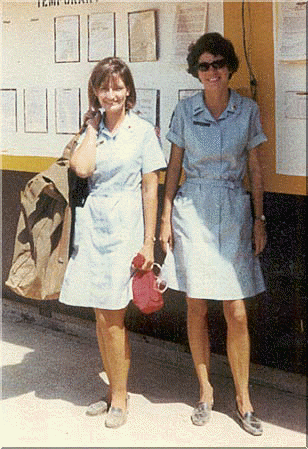 "Donut Dollies" (names unknown)
Phu Bai base camp

Photos by Sharon (Vander Ven) Cummings
(Doughnut Dolly)Vietnam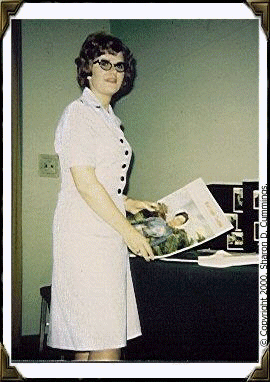 Sharon (Vander Ven) Cummings in her Class A Uniform
in Washington DC before heading off to Vietnam, April 1966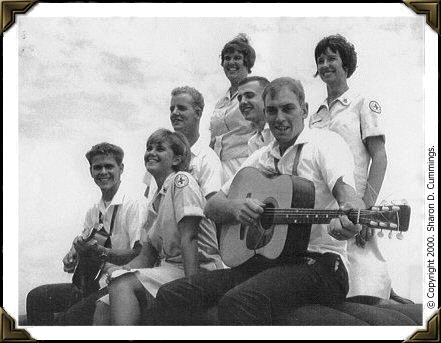 The Sandpipers, performers were (bottom, left to right):
1st Row: Skip Stiles, Sharon (Vander Ven) Cummings, Barry Curtis
2nd Row: Tom Appleby, Bill Bates
3rd Row: Bobbi (Hudson) Crocker, Sara (Yapple) Varney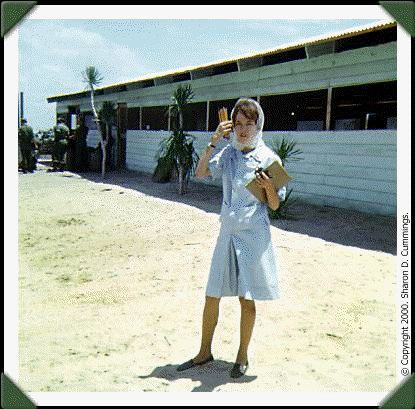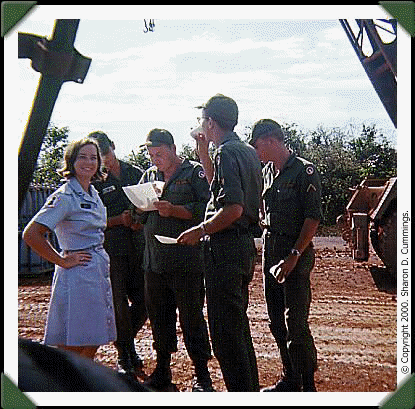 Cam Ranh Bay Long Binh: Lindsey with soldiers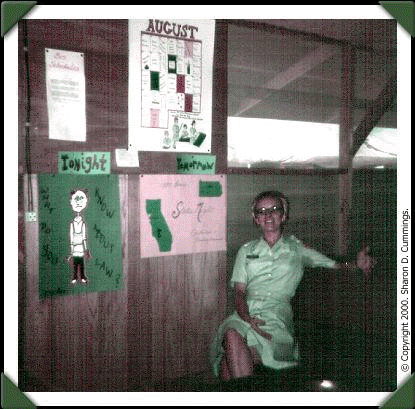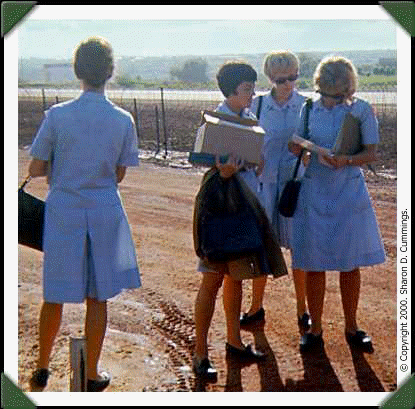 Alice in our recreation center (Cam Ranh Bay) Catching our bus after work from Long Binh back to Bien Hoa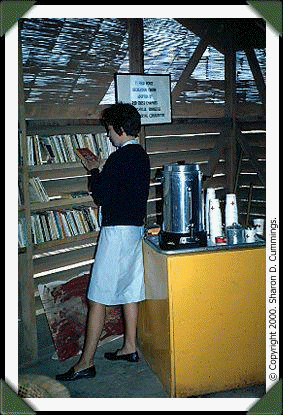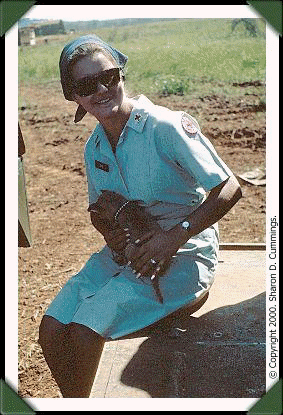 Patty at Long Binh Jan holding a new puppy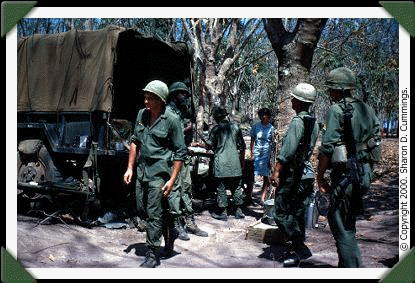 Soldiers arriving for programming by the Red Cross girls in Dau Tieng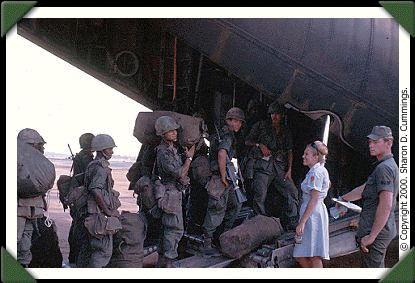 Chris saying goodby to the soldiers moving from Tay Ninh to Da Nang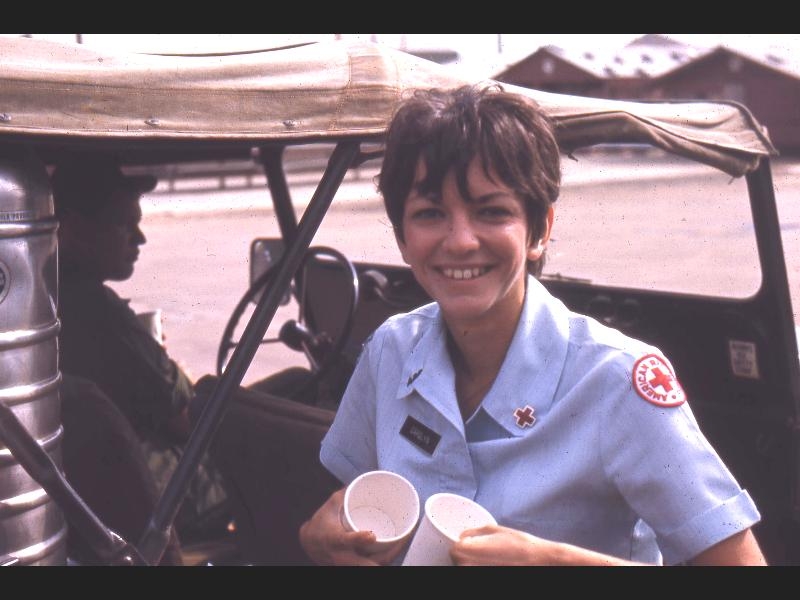 This Dolly named Carolyn visited my Marine squadron at ChuLai in 1969. I hope she can be
found to thank.These women provided a great boost to morale and I will always be grateful to them.
L. Wiseman
USMC RVN '69-'70
San Jose,CA
6yiamlky@sbcglobal.net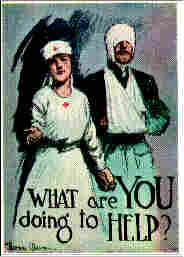 THANKS TO PATRIOTIC POSTERS
FOR USE OF THIS PICTURE!